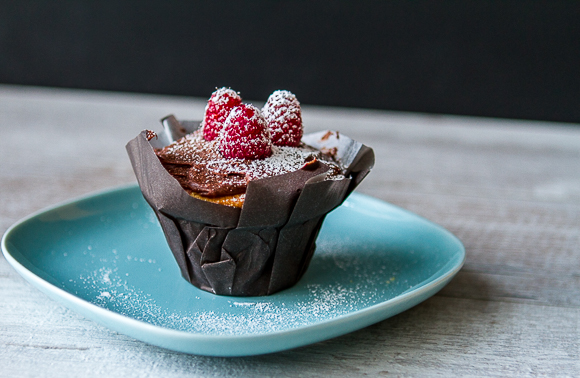 It's my first mother's day tomorrow and I'm psyched! Psyched for promised pancakes to be made my husband, psyched to go to my good friend's house for homemade pizza, and psyched for my little guy finally feeling good after being sick for a week. I was ill-prepared for how gut wrenching it would be to see my wee little baby suffering from being sick. We've had a rough couple of weeks but things are looking up! I can't believe Baby P is four months old today. I'm positive I've posted WAAAY too many photos of him on Instagram. He has commandeered my feed for sure. Food schmood, I have become one of those people who think everyone else wants to see photos of my kid. Sigh, oh well. He's too darn cute not to share with the world!
I told my friend I'd bring dessert tomorrow and felt inspired to bake cupcakes. I did bake the cupcakes from scratch but cheated on the frosting. To be honest it was amazing that I was able to bake cupcakes, photograph AND write about them all while catering to the needs of a 4 month old today, so I feel ok about being a frosting cheater. You can really make these cupcakes look extra special with fresh fruit and confectioner's sugar.
I highly recommend a small ice cream scooper for even distribution of cupcake batter. Let's get going!
Vanilla Cupcakes
(Adapted from Joy The Baker's Homemade Decadence Three-Layer Yellow Cake)
Prep time: 20 minutes
Bake time: 20 minutes
Makes: 12 cupcakes
Ingredients:
2 cups cake flour
1 teaspoon baking powder
3/4 teaspoon baking soda
1/2 teaspoon salt
1/2 cup (1 stick) unsalted butter, room temp
1 cup sugar
1 tablespoon pure vanilla extract
2 eggs, room temp
1 cup buttermilk
frosting of your choice
Method:
Preheat oven to 350 and arrange cupcake papers in a cupcake pan.
In a medium sized bowl, whisk together flour, baking powder, baking soda, and salt.
Using a stand mixer fitted with the paddle attachment, cream the butter and sugar on medium speed until light and fluffy. Add the eggs, one at a time, then add the vanilla. Mix until well-incorporated.
with the mixer on the lowest speed, add in half of the flour mixture, and beat until incorporated. Add half of the buttermilk, and once well-mixed add in the rest of the flour mixture. Add the rest of the buttermilk, mixing until just combined. Don't forget to scrape down the sides of the bowl from time to time!
Using a small ice cream scooper, place 2 scoops into each cupcake paper.
Bake at 350 for 20-25 minutes, or until a wooden toothpick comes out clean when inserted in the middle of a cupcake.
Frost cupcakes with preferred frosting, top with favorite fruit and sprinkle with sifted confectioner's sugar.