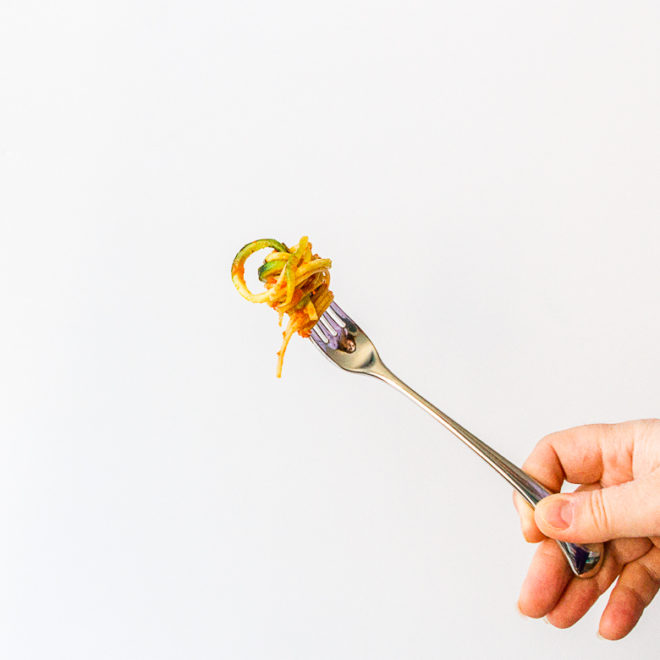 If the month of March's slogan is, "comes in like a Lion",  I think January's slogan should be, "comes in like a slap"!  Let's face it, we just finished almost two straight months of gluttony; Thanksgiving dinner, Thanksgiving leftovers, Christmas cookies, multiple holiday parties and feasts (more leftovers) and don't forget something lavish for NYE, too!  Now all of a sudden… BOOM, it's January.  Time to renew that gym membership and reconsider doing Whole 30!  Long gone (but not forgotten) are December's shiny magazine covers of sugar cookies and racks of lamb.  Time to make room for juice cleanses, quinoa bowls, and fad diets for a "New Year, New You!".  January's cruel joke of traditionally being the month in which one is supposed to make healthy resolutions is also the month I especially crave stews, pasta, potatoes and casseroles (and more potatoes).  Due to the new political climate, 2017's winter cravings have definitely been worse than normal.  More potatoes and wine, anyone?
Cue the ultimate comfort food: Pasta.  This recipe tries to appease both the healthy and hearty sides of my January new-leaf-healthy-eating conundrum.  My generous sister-in-law bought me a spiralizer attachment for my mixer last Christmas and it's awesome for turning veg into "noodles" or making quick work of peeling apples for pies.  Probably the most popular veg used for making "noodles" is the zucchini.  I have to admit, I've gone full zoodle (zucchini noodle) before in place of spaghetti with sauce and meatballs and lemme tell you, zoodles are not by any means a replacement for noodles.  So I think this recipe is a good compromise of mixing half zoodles with noodles while using lean ground turkey (instead of delicious ground beef, veal and Italian sausage) for meatballs.  You can even get crazy healthy and use whole grain pasta!  Let's all ease into a healthy, yet hearty 2017 together!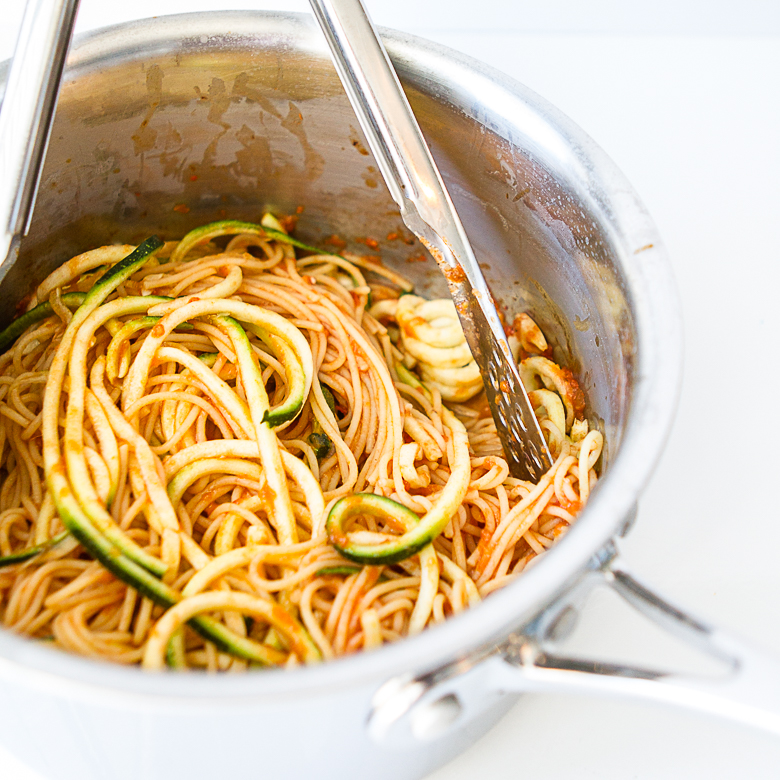 Ever since Ina said, "it's ok", I've been trying out different jarred (gasp) pasta sauces.  I'm partial to Paul Newman's and Rao's marinara.  Hey, if my Queen Ina says it's ok, IT'S OK.  Using sauce from a jar sure does make this recipe go a lot faster too!  Just be sure to add 1/4 of a cup of your pasta water to the jarred sauce.  The pasta water really helps the sauce come together and adhere to the pasta.  If you don't want to eat your zucchini raw (as I do), you can throw it into your boiling pasta for the remaining 2 minutes before draining.
I like to pull the stringier green parts of the zucchini rind out and toss it.  I also wrap the zoodles in a paper towel to absorb some of the moisture.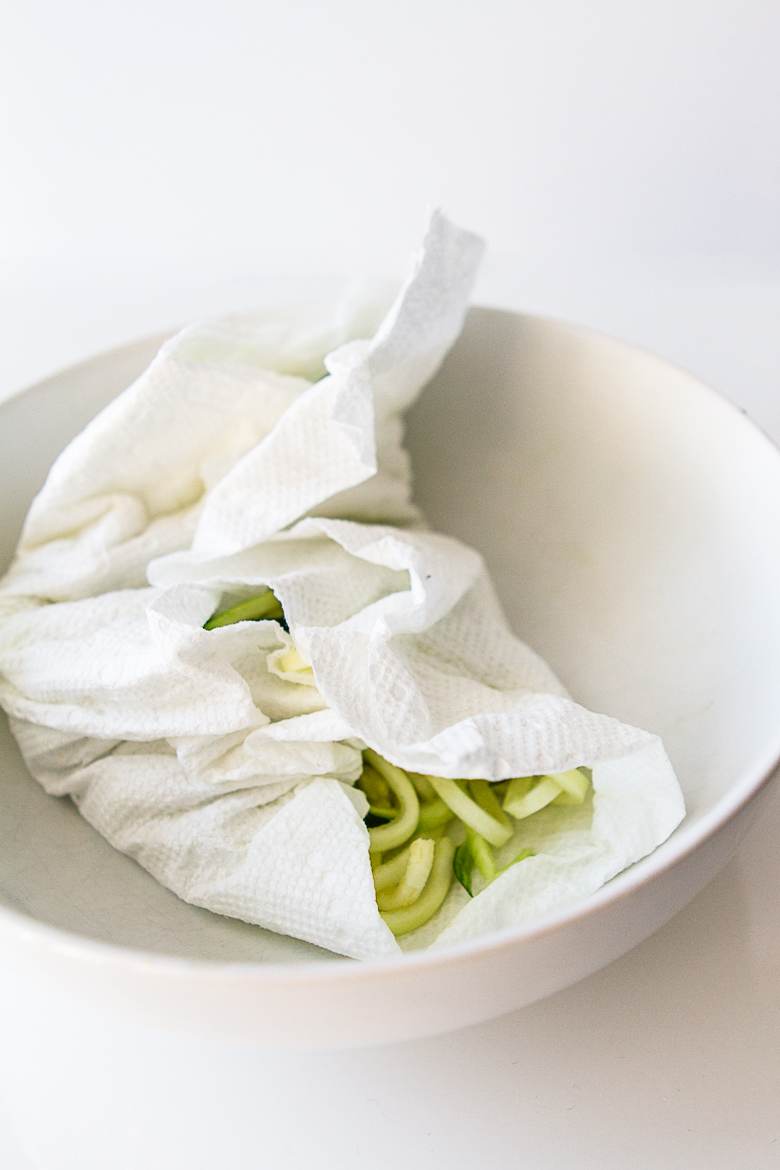 Don't forget to garnish with grated parm and torn fresh basil.  Slurp with a nice bottle of red because, no diet is worth skimping on drinking red wine with spaghetti and meatballs!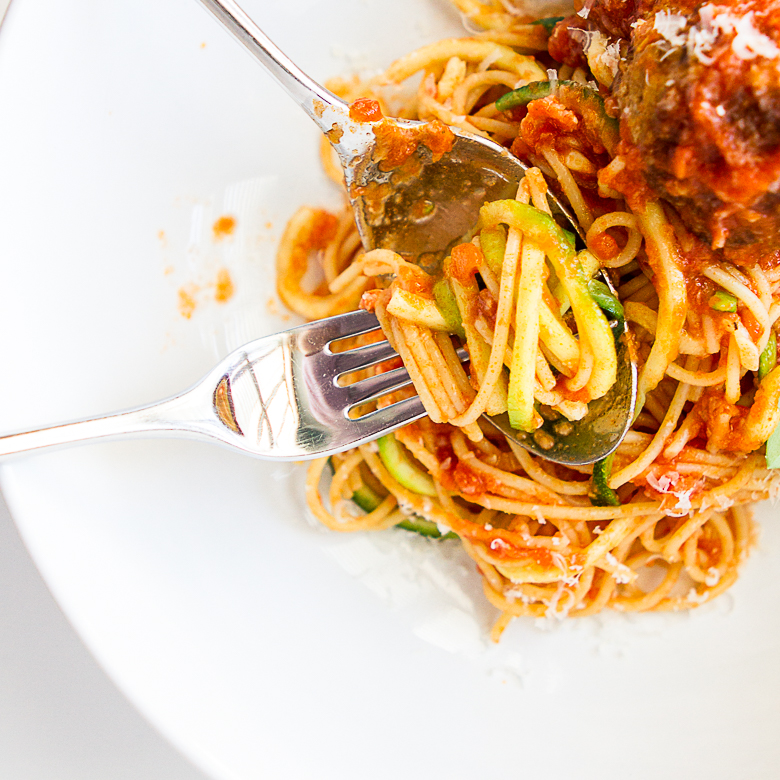 Turkey Meatballs with Zoodles and Noodles
Prep time: 30 minutes
Cook time: 30 minutes
Serves: 4
Ingredients:
1 pound raw ground turkey
4 baby bella mushroom caps, cleaned, stems removed, and finely diced
1/2 large vidalia onion, finely diced
2 cloves garlic, zested
1 egg, beaten
1/2 cup panko breadcrumbs
1/2 grated parmesan cheese
2 tablespoons olive oil, divided
salt & pepper to taste
1 tablespoon table salt (for pasta water)
1/2 lb (half a box) of dried spaghetti
2 straight zucchinis, ends trimmed
a jar of good marinara sauce
fresh basil (a few sprigs for garnish)
Method:
Add 1 tablespoon olive oil to large non-stick pan.  Over medium heat sauté onions and mushrooms until softened (about 3-5 minutes).  Turn heat down to low and stir in zested garlic cloves.  Cook one minute longer then remove from heat.
Spread mushroom mixture on a plate and allow to cool.  Reserve mushroom pan for later use of browning meatballs.
In a large bowl, beat egg well, then mix in the ground turkey.  Add panko breadcrumbs, grated parmesan cheese, and a generous pinch of salt and pepper.  Mix well.
Add the cooled mushroom mixture and use hands to mix everything together.  (If mixture feels too wet, add more panko, 1 tablespoon at a time.  The meat mixture should stay together well enough to form a ball.)
Using hands or a scoop, form turkey mixture into 1″ sized meatballs.
Heat tablespoon of olive oil over medium heat in previously used mushroom pan.  Place meatballs in pan, turning after 2-3 minutes time, allowing them to brown on all sides.
Once browned, the meatballs will not be fully cooked through.  Add marinara sauce overtop of meatballs, reduce heat to low, cover and let simmer for 20-30 minutes.
Bring a large pot of water with 1 tablespoon of table salt to a rolling boil.  Add pasta and cook per package directions until al-dente.  Add 1/4 cup of the pasta water to your pasta sauce.
While pasta is cooking, make zucchini noodles (zoodles), discarding the stringier parts of the green rind.  Wrap zoodles in paper towel to absorb moisture.
Drain pasta and mix with raw zoodles and meatballs.  Toss everything with sauce.
Serve with freshly grated parmesan and a torn basil leaf garnish.