I hail from the Midwest so you know I enjoy a good meatloaf.  You will find a lot of meatloaf at the Meat and Threes here in The South, typically smothered in gravy with a side of buttery mashed potatoes.  Delicious, yes, but also pretty fattening.  I lightened my loaf with ground turkey and panko crumbs in place of beef and bread.  I also bake potatoes and veg in a foil packet with a smidge of olive oil plus salt and pepper rather than mashed potatoes mixed with butter and cream.  I like to get crazy, toss out the loaf pan, (gasp!), and free-form my meatloaf.  Not only does a free-form turkey loaf allow you to get in touch with your creative side, it also lends to an exterior crust on all sides and coveted end pieces.  Much like the super crunchy outer crust of tadiq on Persian rice, The Hubs and I also fight over the crusty ends on the free-formed turkey loaf.  Here's how I make mine!
To begin, heat olive oil in a non-stick pan and sauté the onion and pepper until softened, about 6-8 minutes.  Add the garlic and cook for 90 seconds longer, stirring and taking care not to burn the garlic.  Remove from heat and allow to cool.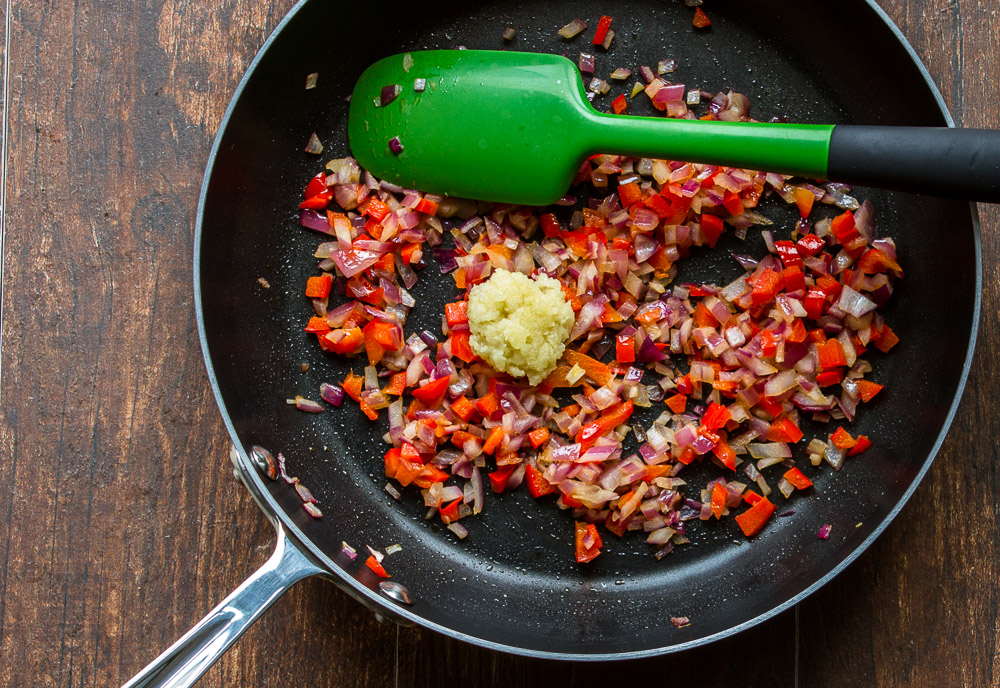 Preheat the oven to 400 degrees.  In a large bowl, place the turkey, cooled onions, peppers, and garlic, along with a pinch of salt, a few cranks of pepper, a tablespoon of fresh thyme leaves, 1/2 a cup of the panko bread crumbs (reserving the other 1/4 of a cup), an egg beaten with a tablespoon of water, and a tablespoon of worcestershire sauce.
Place a piece of parchment paper onto a baking sheet.  Roll up your sleeves and take off your rings because hand mixing is the only way to masterfully blend these ingredients into The Perfect Loaf.  Place and form the loaf into your desired shape on the parchment-lined baking sheet.  Mine usually ends up being an inch and a half high.  Take remaining 1/4 cup of panko breadcrumbs and sprinkle over top.  Drizzle with olive oil or go lighter and hit it with a spritz of cooking spray (this helps to brown the panko and give an extra crispy crust).
Bake at 400 for an hour, turning the baking sheet around halfway through to ensure even cooking.  (I add veg and par-boiled potatoes [boil 10 minutes] in the foil packet drizzled with olive oil into the oven for the loaf's final 30 minutes, flipping the packet at the 15 minute mark.)  If the top isn't browning up, I'll usually broil it for a few minutes.  Keep a close watch when broiling, as you wouldn't want to burn your loaf masterpiece!
Serve with veg, potatoes, wine (for me) or beer (for The Hubs).  The rules of meatloaf are: there are no rules!  Last week I watched a cooking show make a meatloaf using ground hazelnuts, cabbage, pork, parsnips and prunes!  Get creative and add what YOU like to your loaf.
I think sliced turkey loaf looks quite pretty when garnished with fresh thyme sprigs, but it's totally optional.  The insides should be moist and the outsides should be crisp.  This loaf is bursting with oniony, garlicky thyme-y flavors!
Turkey Meatloaf
Prep time: 20 minutes
Cook time: 1 hour
Serves: 4 people
Print This Recipe!
Ingredients:
1 lb ground turkey
1 tablespoon olive oil
1/2 red onion, diced
1/2 red pepper, diced
2 large or 4 small cloves of garlic, zested (or minced)
1 tablespoon olive oil
3/4 cup panko breadcrumbs, divided
1 tablespoon fresh thyme leaves, plus a few sprigs for garnish
1 pinch of salt
1 egg, beaten with 1 tablespoon of water
1 tablespoon of worcestershire sauce
many cranks of fresh cracked black pepper
Method:
Preheat oven to 400 degrees
Heat 1 tablespoon of olive oil in a non-stick pan over medium heat.  Sauté onions and pepper until softened.  Add zested garlic and stir for 90 seconds longer, taking care not to burn the garlic.  Remove pan from heat set aside to cool.
In a large bowl, combine ground turkey, 1/2 cup panko breadcrumbs, thyme leaves, pinch of salt, a few cranks of fresh cracked black pepper, beaten egg mixture, worcestershire sauce, and cooled onion, pepper, and garlic mixture.  Mix with hands until well combined.  Do not over mix.
Line a baking sheet with parchment paper (or foil sprayed with cooking spray).  Shape the meat mixture into a loaf form.  Sprinkle remaining 1/4 cup of panko crumbs on top and spray with cooking spray (or drizzle with olive oil).
Place in 400 degree oven for 1 hour, turning halfway through.  To ensure an extra browned outer crust, broil loaf for final 2 minutes.
Garnish with a sprig of thyme and serve with side of roasted potatoes and veg.