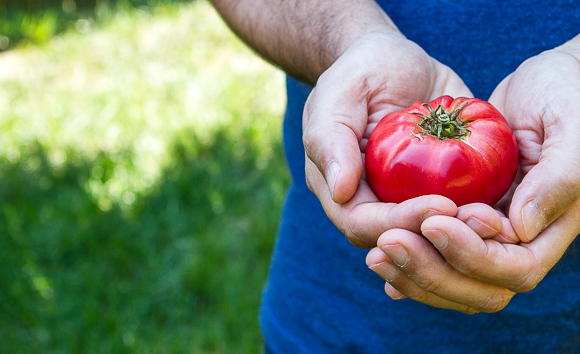 It's (still) summer even though I'm already doing what hubs calls "forcing fall" – wearing long sleeves, jackets and sweaters before it's truly cold enough outside to do so. I love beginning of  the fall season, the first time you see your breath in the morning, first frost on the grass, until finally, the smell of the first snow is in the air. Fall is great but winter is my absolute favorite season.  I feel alive and energized when it's bone-chillingly cold outside. Most people who live in TN moved here to escape winter. Not me! I miss winter and it doesn't matter what age, 4, 10, 21, or 41, I still feel giddy when I wake up to a quiet blanket of snow covering everything.  Nothing makes me happier than hearing the squeak of fresh snow underfoot… I can't wait to play in the snow with Baby P this winter!
But I digress, this post is supposed to be about summery gazpacho soup because, guess what!? We produced ONE TOMATO from three plants this year. Sad, but true.  I suppose we've been too busy baby rearing to care much about tomato plants.  The latest with Baby P?  We like to encourage him try to "eat" cheerios (read: throw on the floor) and we've also been putting toys just out of reach then watching him belly crawl/scoot towards them.  He provides us with endless hours of entertainment and fun!
Other than Baby P, guess what else is growing like gangbusters?  The two habanero plants I didn't even want but my father-in-law insisted we plant.  We need to mail those habaneros to him in MI because they are too dang hot for me!
Hopefully you were more successful with your tomato plants than we were and you'll be able to make your own delicious gazpacho with them.  Unfortunately, my gazpacho tomatoes are store-bought and overpriced.
I was going to make this recipe for our former condo neighbors last weekend.  That was, until Lindsay posted this recipe which pretty much sums up her hatred for traditional tomato gazpacho.  Ha!  Remember those salsa commercials where the woman gets caught drinking the last of the salsa out of the jar?  I am that woman.  Well, not with store-bought salsa, but with homemade salsa.  If you give me a spoon and homemade tomato-ey salsa-eque soup, I'm a happy girl.  Any who, this recipe is another take-off from Brother Bob.  Within 20 minutes of chopping, zesting, and grinding, you too can have homemade gazpacho.  First timer food mill tip: chop the tomatoes into rough chunks large enough to get caught under the grinder's flat hood part.  My grinder did NOT grind a whole tomato into pulp, it needed a little extra effort.  If you don't have a food mill, you can dice tomatoes and leave them chunky.
Let the soup sit in the fridge for a few days for best garlicky potency.  Serve with a dollop of sour cream or greek yogurt and homemade French bread croutons and you'll have Summer in bowl!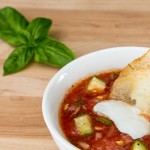 Gazpacho Soup
Prep time: 20-30 minutes
Fridge time: 1 hour to 3 days
Serves: 4-6
Ingredients:
6 good sized tomatoes (better boys, heirloom, something big)
1 vidalia onion, diced
1 english cucumber, diced
1 jalapeño, seeds removed and finely diced
1 yellow bell pepper, diced
2 cloves of garlic, zested
1/2 cup chopped fresh Italian parsley
1/4 cup chopped fresh basil
1/4 cup chopped fresh oregano
1/4 cup chopped fresh dill
1 lemon's juice + zest
1/4 cup red wine vinegar
1/4 cup olive oil
2 teaspoons sugar
salt & pepper to taste
Method:
Using a food mill, grind the tomatoes, removing the skin and stems.
Place tomato pulp, diced onion, cucumber, jalapeño, bell pepper and zested garlic into a large bowl
Give ingredients in bowl a good stir before adding remaining ingredients.
Taste continuously to see if more salt, pepper, or sugar is needed.
Soup is best when refrigerated overnight.
Serve with avocado garnish, a dollop of Greek yogurt or sour cream and homemade croutons. (Chop day-old bread into cubes, toss with 1 tablespoon olive oil and season with salt and pepper and toast until golden.)