I love to grill meat!  The great outdoors, the smell, the flames, the seared, browned exterior crust over a juicy meaty interior; honestly, what's not to love?  Did you know May is National Barbecue Month?  I learned this news nugget when Four Roses Bourbon approached me and asked if I would create a BBQ sauce from their single barrel bourbon.  Absoflippinlutely, I responded!
As a dedicated dirty martini drinker, bourbon is not a spirit with which I'm very familiar.  Oh sure, I've partaken in the obligatory mint julep on Derby Day, but beyond a signature drink for a once-a-year event, I was clueless.  A quick wiki peek and some googling definitely helped me gain a better bourbon background.  Did you know, if it's made in another country, it can't be called bourbon?  It's true; bourbon comes from the United States only, and almost all bourbon whiskeys are distilled in Kentucky.  This helped me to understand Nashville's obsession with bourbon, as we are located less than an hour's drive from the Tennessee/Kentucky border.  Bourbon must be distilled from 51% corn (other grains can be added like rye or barley) and is traditionally aged in white oak barrel casks, which give the bourbon it's caramel color and maple-woody flavor.  Upon my first sip of the single barrel bourbon, I tasted the faintest hint of cherries with floral undertones and immediately wanted to add brown sugar and molasses to see what might happen.
Smoke flavoring in my BBQ sauce is definitely not my jam.  I like my smoke to come from grill flames only.  Sweet with spice was the route I wanted, so I started digging through the pantry to find what ingredients might make the perfect bourbon BBQ sauce.  I viewed tons of BBQ sauce recipes on-line, and even consulted with mom at one point.  I didn't want to have too many ingredients and I wanted to allow the bourbon to impart it's subtle, oaky flavor without being too boozy.  I also knew I wanted to use soy sauce and Worcestershire for that "what is that?" can't-quite-put-my-finger-on-it umami flavor boost.  I also added hot sauce, dijon mustard, ketchup, and apple cider vinegar, for that final tangy pucker.  Not pictured in the above photo are red pepper flakes, which were gratuitously added later.  Gather the ingredients and begin by sautéing the onion with olive oil over medium heat in a saucepan until translucent, about 5-7 minutes.  Reduce heat to medium-low then add zested garlic, stirring it with the onion for one minute longer, taking care not to burn the garlic.
Next add the bourbon and all other ingredients to the pot.  Bring the pot up to a gentle simmer, and simmer for 35 minutes, or until thickened to your desired consistency.  Once sauce cools, it will further thicken.  At this point you can choose to purée the sauce.  I prefer to keep my chunks of onion and bits of garlic whole because they char up nicely on the grill or in the broiler.  It's all about personal preference.  Well, that and less dishes to wash…
Next step?  Queue chicken drumsticks.  Good grief, I hope you bought some drumsticks.
Since it was raining and our communal condo grill is 250 paces too far away, I opted for oven baking my chicken drumsticks.  DELISH!  I highly recommend it if you are an apartment or condo dweller without access to outdoor flames because of silly balcony fire code grill restrictions (harrumph!).
Preheat your oven to 400 degrees.  Rinse and pat dry the drumsticks (or thighs or wings) and place on a pan fitted with a grate or cookie sheet.  Elevating the drumsticks is best for even cooking and all-over crisped skin.  Bake at 400 for 25 minutes, then broil for 2-3 minutes, so the skin gets super crisped and brown.  Next step, baste legs all over with BBQ sauce.
Set oven to broil and broil drumsticks until charred to your preference, about 2-3 minutes, then flip, baste again, and broil another 2-3 minutes.  The crisped skin, the spicy sweet bourbon sauce and the juicy tender meat; it's the perfect bite!
The hubs gave this sauce two thumbs, way up, and declared that it was even more delicious on the second day.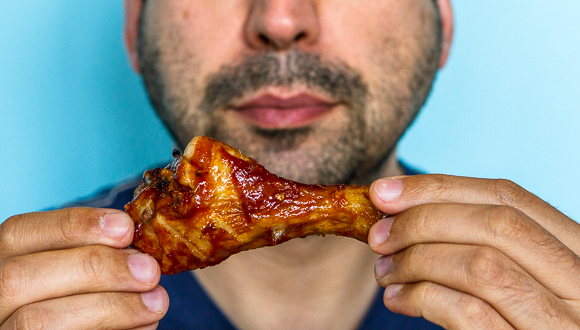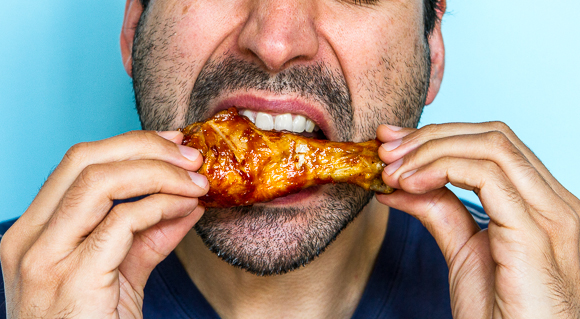 (Disclosure: Four Roses provided me the bourbon, but opinions are solely M's Belly's.)
Sticky Sweet Bourbon BBQ Sauce
Prep time: 10 minutes
Cook time: 35 minutes
Yields: Approximately 2 cups
Ingredients:
1 tablespoon olive oil
1/2 a medium onion (about 2/3 cup), diced
3 cloves of garlic, peeled and zested
1/2 cup bourbon
1/2 cup apple cider vinegar
2 tablespoons dijon mustard
1 cup ketchup
1/4 cup molassas
1 tablespoon soy sauce
1/2 cup brown sugar
2 tablespoons Worcestershire sauce
1 tablespoon hot sauce (I used Frank's)
3 three-fingered pinches of red pepper flakes
Method:
In a saucepan over medium heat, sauté diced onions in olive oil 5-7 minutes, or until translucent.
Add zested garlic to onions in pan, sautéing for one minute longer, stirring constantly.
Add remaining ingredients and bring to a gentle boil.
Boil sauce for 35 minutes, or until it reduces to desired consistency.
Store in an airtight container in refrigerator for up to 2 weeks or freeze leftovers for up to 3 months.