This weekend good friends helped to throw my Nashville baby shower for me.  It was so nice to be surrounded by such thoughtful, lovely ladies!  I thought I'd share some photos along with the sorghum cider punch recipe in which I didn't imbibe but happily made for others to enjoy!  The Hubs swore an expletive when he tried the punch, and since he's my ultimate recipe sound board, I'd say it was pretty @$&* good.  Packed with warm cinnamon, cider and sorghum flavors, this chilled punch is perfect for your fall Thanksgiving festivities.  Two highlights of the shower were Donut Den's croissant-donuts ("cronut" is copywrited) and Mod's Jackson Pollock inspired onesie she painted from craft corner.
Something you should think a day ahead about before making the cider is the ice ring.  Do you have a bundt pan??  My mom bought me a beautiful one as a wedding gift that I utilized as a mold to make a gorgeous ice ring.  Even though I could only fill the mold halfway full to make sure it fit into the punch bowl, the ring still turned out wonderfully.
Some of my Northern counterparts (mom) might be asking, what the hell is sorghum?  Well, it's kind of like molasses but where molasses is a byproduct of cane sugar, sorghum is made from sweet sorghum grass stalks which have a high sugar content.  Sorghum is less sweet and A LOT thicker than molasses.  A pretty traditional Southern breakfast would consist of hot biscuits and sorghum syrup.  Now that you've had your fun fact for the day, here's the recipe!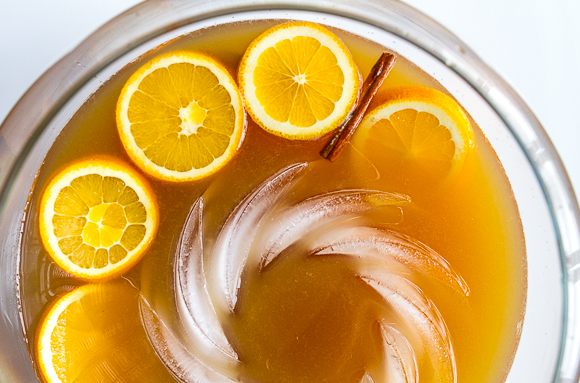 Sorghum Cider Punch (from My Recipes.com)
Prep time: 10 minutes for punch, 24 hours for ice ring
Serves: 6-8 people (makes 1 gallon)
Ingredients:
6 1/2 cups chilled, unsweetened, unfiltered apple cider
3 (12 oz) bottles chilled ginger ale
2 (12 oz) bottles chilled dry hard cider
2 cups bourbon
1/4 cup freshly squeezed lemon juice
1/4 cup sorghum syrup
6 dashes Angostura bitters
1 orange, sliced
5 cinnamon sticks
Method:
Pour water into mold and place in freezer 24 hours before serving punch.
30 minutes before guest arrive, mix together first 7 ingredients until well blended.  Sorghum will need 30 minutes to dissolve into liquid.
Add ice mold, oranges slices and cinnamon sticks for garnish.