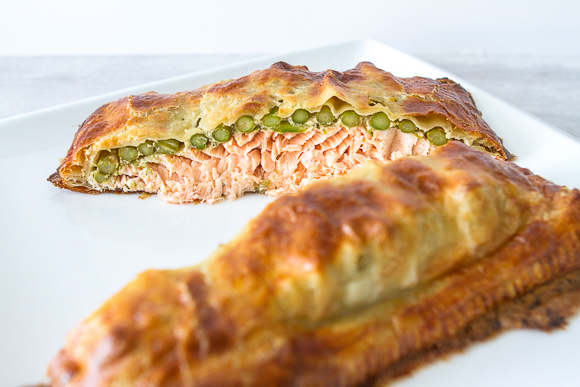 One of my favorite long-ago-cancelled-but still-running cooking shows is French Food at Home, featuring Laura Calder. Laura makes cooking French food seem like a snap and this most impressive looking salmon recipe is one of the best testaments to easy, yet snappy-looking, French fare. Your guests will think you've slaved for hours when, in fact, once you get this recipe down, you can make it all happen in under an hour. "En croute" simply means to wrap something in pastry. Beef Wellington would be an "en croute" recipe, too.  Puff pastry is awesome because you buy it in the freezer section, let it thaw in your fridge, and POOF (puff?) you have an instantly perfect flaky package for your salmon parcel. And let's be honest, everything tastes better wrapped in puff pastry. You'll have to follow a few steps but none of them are too difficult or labor intensive.  Let's get started…
Firstly, choose a piece (pieces?) of salmon based on how many folks you are feeding. Figure about 5 to 6 oz of salmon per person and you want to be able to slice one piece in half to feed two people, so you want 10 to 12 oz fillets. I'm making this recipe for two people, so from here on out that the portion on which I'll be basing my ingredients. Don't be shy, ask your fishmonger to cut you a square piece from the middle of the fish and also have him remove the skin. (You'll want to avoid the tail end because you'll be attempting uniform thickness.) Again, try to get one 12 oz piece for every two people so you can cut the final product in half and have the beautiful presentation for two, as above and below pictured. To start, you'll need a sheet of puff pastry, asparagus, lemon zest, dijon mustard, Greek yogurt, fresh dill, and salt and pepper to taste.
Take the asparagus and trim off the tips and the ends.  Save the tips and trimmed stalks, but discard the woody ends.
Boil the asparagus tips in a small pot of salted water for 3 minutes, then plunge into a small bowl filled with ice water to halt the cooking process and retain their green color. Remove from the ice water and let drain on a paper towel.
Using a blender (or immersion blender), blend the asparagus tips, lemon zest, dijon, yogurt, dill and salt and pepper until creamy. Next, roll out your thawed puff pastry. If you have great foresight, take it out of the freezer the night before and let it thaw in the fridge before use. If you are like me and forget to do things, take it out of the freezer when you begin your recipe and it should be ready to roll by now. For one 12 oz fillet, I used one sheet of puff pastry. Flour your surface and the top of the puff.  Roll out the puff so it is in the shape of a square large enough to fit two of your salmon pieces (remember you'll have to fold it over on one piece the salmon). Rinse and pat dry the salmon fillet. Salt an pepper both sides and place it on one side of the pastry so you have about an inch and a half of a border on the bottom of the sheet.
Next, generously slather the asparagus tip yogurt mixture overtop of the salmon fillet.
Take the saved, trimmed asparagus stalks and place overtop of the salmon, pressing them into the yogurt spread.  Most likely, you'll have to do extra trimming for a good fit. Lay the stalks this across the short length of the meat, so the stalks are laying across the shortest width of the fish. Remember which way you've laid the stalks so you know how to cut the parcel later.
It's fun, like building things with food.
Fold the pasty overtop of the salmon and crimp the ends together with a fork. Beat one egg with a tablespoon of water then brush the top with the egg wash.  Cut slats in the top to allow steam to escape.
Bake for 20-24 minutes in a 450 degree oven, or until puff pastry is a deep golden brown. Let cool for 5 minutes before slicing.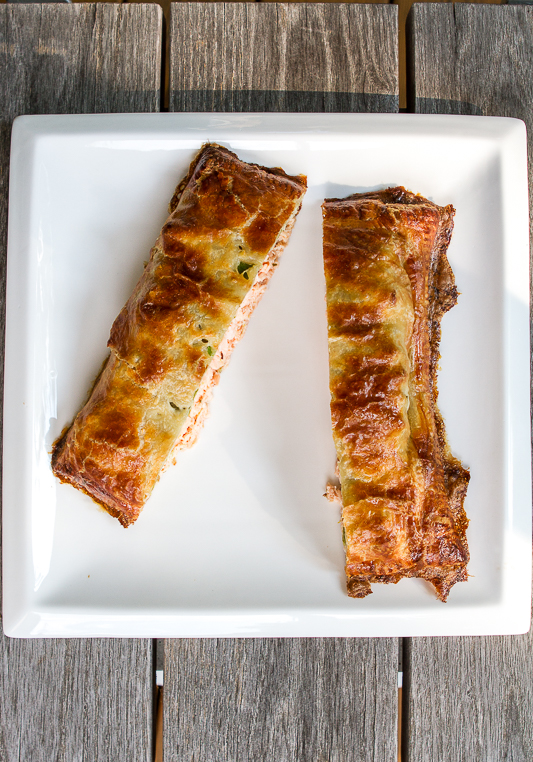 Remember to slice across the asparagus, so you get the beautiful presentation effect…
Voila! Collect pats on the back, accolades and, if single, marriage proposals!
Salmon en Croute
(Adapted from Laura Calder's French Food at Home)
Prep time: 20-30 minutes
Bake Time: 20-24 minutes
Serves: 2 people 6 oz of salmon each
Ingredients:
1 10 to 12 oz salmon fillet, skin removed
1 lb asparagus
1/4 cup Greek yogurt
3 tablespoons chopped, fresh dill
1 tablespoon dijon mustard
zest of 1 lemon
1 sheet puff pastry, thawed
1 egg, lightly beaten
salt & pepper to taste
Method:
The night before, place frozen puff pastry to thaw in fridge. Remove salmon from fridge and trim if necessary to make a square/rectangular shape.  Rinse with water and pat dry.  Salt & pepper both sides.  Preheat oven to 450 degrees.  Boil salted water for the asparagus tips.
Soak the asparagus to get rid of the dirt.  Cut off and save the tips, trim and discard the woody ends.  Reserve the raw stalks for later use.
Boil the asparagus tips for 3 minutes.  Prepare an ice water bath for tip plunging.  After shocking the tips in the ice bath, dry well with paper towel.  (The ice bath stops the cooking process and also helps the tips retain their vibrant green color.)
Purée asparagus tips, yogurt, dill, lemon zest, dijon mustard, a pinch of salt & and pinch of pepper.  (I used my immersion blender.)
Roll out puff pastry on a floured surface until it's large enough to hold double the size of the salmon piece.  Salt and pepper both sides of the fish and lay your salmon on one side of the pastry so there is an inch and a half of a border at the bottom of the sheet of puff.  Slather top of salmon with yogurt asparagus tip dill sauce.
Begin laying the reserved (tipless) asparagus stalks overtop of the sauce. If necessary, trim stalks for a perfect fit.
Paint 1 1/2″ edge of puff with egg wash, then fold puff over the salmon and crimp with a fork. The egg wash on the edge will help to better seal the pastry. Brush all over with egg wash and cut a few slits in the top for steam to escape.
Transfer to a parchment paper lined baking sheet.
Bake at 450 for 20-24 minutes, or until golden brown.
Let cool for 5 minutes before slicing.  Be sure to slice across the center of the asparagus stalks.