This is a recipe that is not only easy, but it will also make your house smell like awesome holidays.  Michele, you ask, what do awesome holidays smell like?  THESE NUTS!!!  I'm telling you, this intoxicating scent is better than the roasted pecans in the every mall – mainly because you made them yourself.  Feel free to use your own favorite mix of nuts.  For this recipe I chose pecans, walnuts and cashews.  Make the nuts ahead of time and bust them out when unexpected holiday guests arrive.  You are welcome!
Aside from the o.j. and the maple syrup, the above photo shows all the ingredients you'll need for this recipe.  My good landscape architect friend RR told me my beloved rosemary bush should survive the winter on our balcony.  It has already snowed once and so far so good, thanks RR!  I figured four 5″ sprigs equals roughly 2 tablespoons of chopped rosemary.  First things first, crank the oven to 375 and start roasting your nuts.  Spread the nuts in an even layer on a parchment lined baking sheet and roast for 12 minutes at 375.
While the nuts are roasting in the oven, start chopping your rosemary.  You want to chop it as finely as possible, as no one likes to eat big honking pieces of surprise rosemary.
Melt the butter in your largest skillet over medium heat.  Add the maple syrup, rosemary, cayenne, brown sugar, and orange juice.  Stir over medium heat until the sugar dissolves, then remove from heat.  Toss the nuts in the rosemary sugar mixture, stirring up from the bottom of the skillet to make sure all nuts are coated.  Spread nuts in an even layer on lined baking sheets.  Salt as desired before the nuts dry so the salt will stick.
Serve warm or at room temperature; you can strategically place bowls of nuts around your home during parties for lovely holiday snacking.  Sweet, salty, spicy, and the rosemary lends just the right amount of holiday taste to these nuts.   Yummmm.
Awesome Rosemary Holiday Nuts (Inspired by Ina Garten's How Easy is That Cookbook)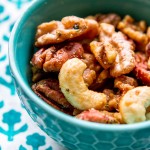 Roast time: 12 minutes
Prep time: 10 minutes
Makes: 6 cups of mixed nuts
Ingredients:
2 cups cashews (unsalted)
2 cups whole pecan halves (unsalted)
2 cups whole walnut halves (unsalted)
4 tablespoons unsalted butter
1/4 cup maple syrup
3 tablespoons orange juice
1/3 cup packed brown sugar
2 tablespoons finely chopped rosemary leaves
1 teaspoon cayenne powder
sea salt for seasoning (I used 4 good 3-fingered pinches of salt per baking sheet)
1. Evenly spread the nuts on a parchment-lined baking sheet.  Roast at 375 for 12 minutes.
2. While the nuts are roasting, melt the butter over medium heat in a large skillet.  Add the maple syrup, orange juice, brown sugar, rosemary, and cayenne, stirring just until the sugar is dissolved.  Remove from heat.
3. Toss the roasted nuts in the butter/rosemary mixture until all nuts are well coated.
4. Evenly spread nuts back onto the parchment-lined baking sheet, season with salt, and allow to cool.
5. Store in an airtight container until ready for use.  Serve warm or at room temperature.