I looooooove figs.  LOVE THEM.  Sweet, sticky, with tiny seeds that pop when you bite down, figs are among the richest plant sources of calcium and fiber.  Pair them with fresh ricotta cheese, honey and pistachios and you've got a delicious, quick snack, or a pretty appetizer for guests.  This recipe is awesome because minimal cooking is required.  Only a small pan and some nut toasting – that's it!
Let's get this started, I'm salivating already!  Four ingredients in this recipe make it extra easy.
Shell the pistachios and toast them in a pan on the stove over medium heat.
Toast the nuts for 3-5 minutes, or until fragrant, frequently shaking the pan to turn the pistachios.
Once the nuts are cooled, give them a good chop, then set aside.  Cut the dried figs in half and using your thumbs, form a little bowl, working the insides of the fig towards the edges.
The fig bowl doesn't have to be perfect, just concave enough to hold the ricotta cheese.  Take a small spoon and stuff the bowled out figs with ricotta.
Next, drizzle figs with honey…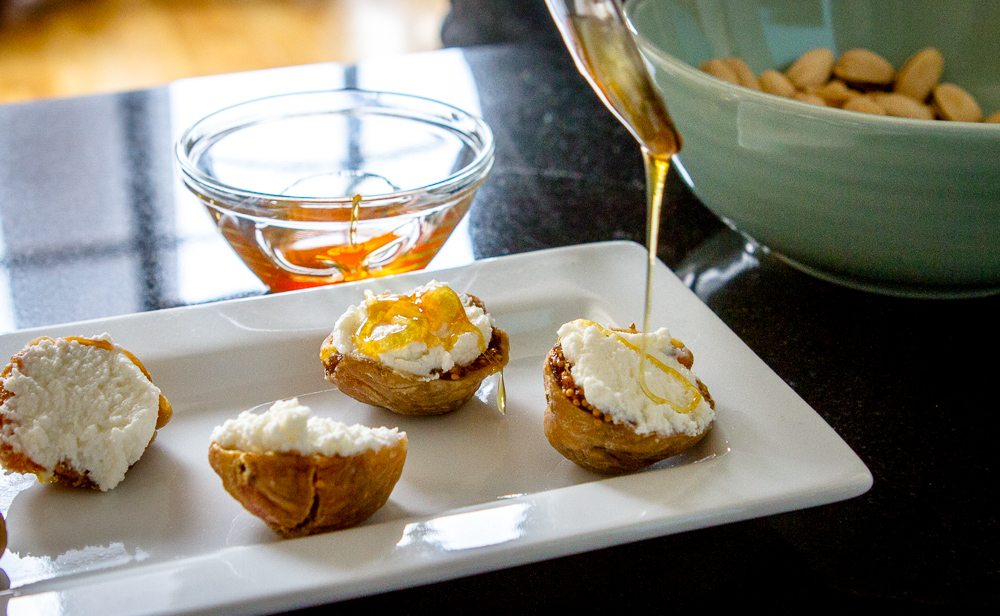 Lastly, dust the tops of the honey-drizzled figs with the chopped pistachios.  If you used unsalted nuts, add a tiny pinch of finishing salt overtop figs.  If serving as an appetizer, it's nice to have grapes and maybe a little salami with crackers on the side, too.  Delish!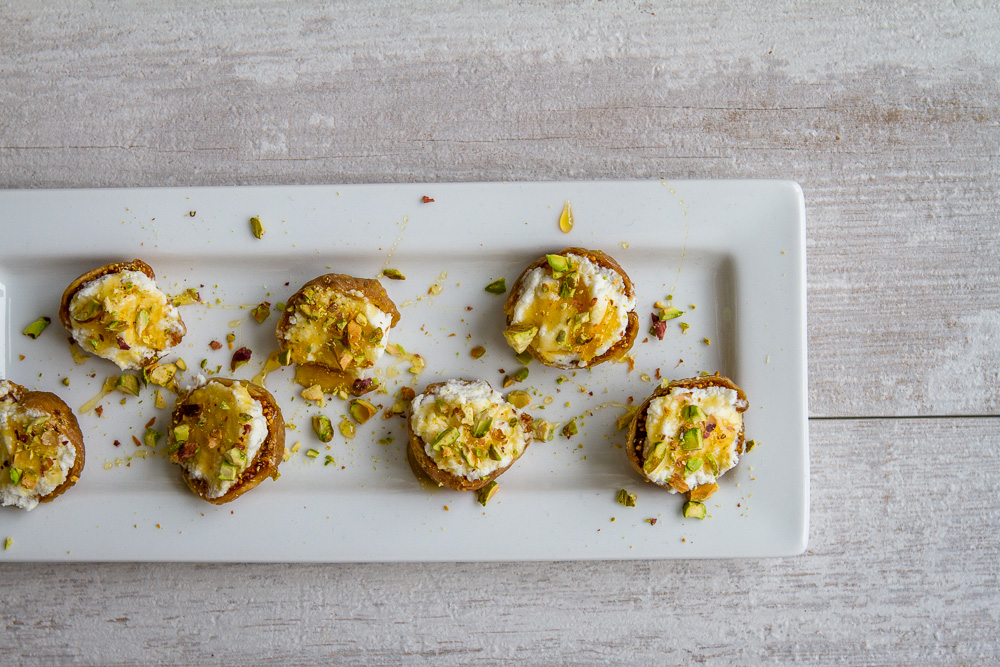 Ricotta Stuffed Figs (Ellie Krieger's recipe)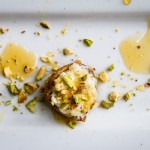 Prep time: 20 minutes
Cook time: 5 minutes
Makes: 4-6 appetizer servings
Ingredients:
10 dried figs (calimyrna or black mission)
1/2 cup ricotta (I used part skim)
1/4 cup pistachios, unsalted
3 tablespoons honey
Pinch of finishing salt, such as maldon
1. Shell the pistachios and toast in pan over medium heat for 5 minutes.  Once cooled, rough chop the nuts, then set aside.
2. Cut the figs in half .  Use thumbs to form a bowl, working the insides of the fig towards the outer edges.
3. Scoop small spoonfuls of ricotta into hollowed out fig halves.
4. Drizzle honey overtop of ricotta, then dust with chopped pistachios and finish with scant pinch of salt.