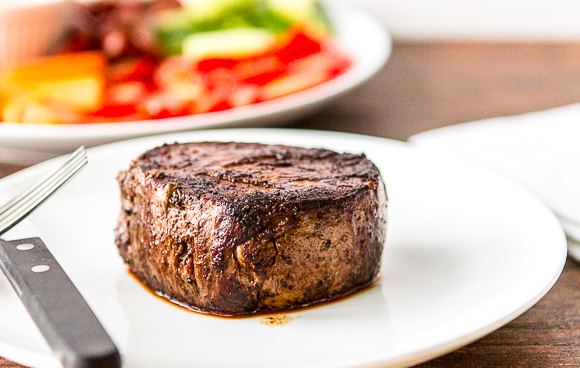 As I mentioned in the last post, I always cook a special dinner for The Hubs on Valentines Day.  This filet is the To Die For cornerstone of said special meal.  If you like meat and have a fancy occasion on which you are willing to drop a few extra bucks, this recipe is for YOU.  This year's V-day was slightly different than last, featuring a new, extra demanding, one-month old special guest star.  Even though we had to hurry up and eat in-between his cries for diaper changes and feedings, I wouldn't have traded it for any other Valentine's Day dinner.  Our meal was delayed by one day because by the time Saturday night rolled around severe sleepless fatigue set in and we ended up ordering a pizza (for shame!).  The Hubs then gave me the greatest Valentine's Day gift possible; he told me to go to bed and he took ALL the night feedings.  I slept from 8:30 PM to 6:30 AM.  Ten hours of glorious sleep – I truly have the best husband on the planet.  I felt SO AWESOME the following day. Amazing what sleep can do for you when you've not had it in a month.
We are slowly but surely getting the hang of this parenting thing… I am gradually coming to terms with my new role as mom and trying to balance my old selfish self with this new selfless caregiving role.  Believe me, this is not an easy feat after being self-centered for forty years and running on three non-consecutive hours of sleep!  By the way, whomever coined the term, "sleeping like a baby", definitely never slept in the same room with one.  Baby P snores, squeaks, beeps, grunts, burps, farts, and cries on cue as soon as you feel yourself drifting off to sleep or attempting to eat a meal…
Which brings me to why the filet is totally awesome; this recipe is so solid, I could cook it in my sleep.  I probably have cooked it in my sleep, or at least in my dreams, it's that good.  The secret to the most juicy and flavorful filet mignon served in your home just like a steakhouse?  Butter.  Plain and simple.  Salt and pepper, then sear all sides in butter in an ovenproof skillet (such as cast iron), and don't just sear the tops and bottoms, sear all the other sides too!  Lastly, finish off with a pat of butter atop each steak in the oven.  In 20 minutes and under $80, you are eating a filet mignon dinner better than any fancy restaurant could produce.  I'm being generous with the dollar estimate, as I've included an allowance of $25 for a nice bottle of wine.  Lastly, we like to use bison in place of beef filet.  Bison is better for you and more flavorful.  Let's get this started.
Take your steaks out and let temper unwrapped for one hour.  Be sure to blot them with a paper towel so they are dry, then preheat your oven to 400 degrees.  Smash two cloves of garlic and rub all sides of steaks with garlic cloves.  Discard used cloves after rubbing on steaks.  Generously salt and pepper all sides of your steaks.  One 2-fingered pinch of salt per side should do it.  Use double the amount of pepper to ensure a good crust.
Next, melt 2 tablespoons of butter over high heat in an oven safe skillet.  Once the butter is melted and sizzling, add your steaks.  Let sear on all sides until a brown crust is formed.  Brown crust = flavor.  You will notice the butter turning brown as you are searing; this is a good thing and just lends more flavor to the steaks.
Once all sides are seared, while still in the oven safe skillet, place a scant pat of butter atop each steak and place steaks in skillet in a 400 degree oven for your desired amount of doneness, using tongs to flip halfway through the cooking time:
4-5 minutes in the oven = rare
7-8 minutes in the oven = medium
10-11 minutes in the oven = well
(If you think your oven heat is wonky, click on this link and scroll to the bottom to learn how to use your hand as a guide to tell the doneness of your steak.)  Remove your steaks from the skillet and place onto a plate to rest.  Allow to rest for 10 minutes so the juices redistribute and you'll have a succulent steak.
Filet Mignon (recipe inspired by Ina Garten)
Prep time: 1 hour, 5 minutes
Cook time: 17-23 minutes
Serves: 2 people
Ingredients (for 2):
2 bison or beef filets
2 cloves smashed garlic
3 tablespoons butter
salt & pepper
Method:
Preheat the oven to 400 and let steaks temper for one hour.  Remove excess moisture by blotting with with paper towel.
Once steaks have come to room temperature, rub all over with smashed garlic.  Discard used garlic.  Liberally season on all the sides of the steaks with salt and pepper.
Heat 2 tablespoons butter over high heat in an oven safe skillet.  When butter has melted and begun to sizzle, add steaks, searing on all sides for about 2 minutes per side, 12 minutes totally, or until browned.
Once all sides are seared and browned, cut remaining tablespoon of butter in half and place butter pats overtop of steaks while still in skillet.  Place skillet in oven for desired amount of time/doneness.  Flip with tongs halfway through cooking time.  5 minutes for rare, 8 minutes for medium, 11 minutes for well.
Remove steaks from skillet and allow to rest on a plate for 10 minutes.
Serve with salad, mashed potatoes, green beans and a bottle of red wine.
Collect accolades and Valentine kisses!