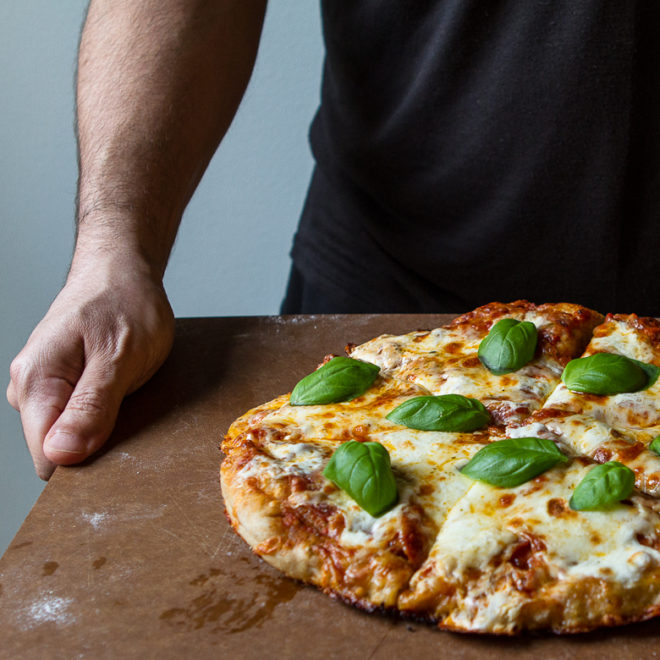 The most important thing I'm learning as a new mom is that a routine is the key to a happy toddler, and therefore a happy household.  Trust me when I write, if your toddler is unhappy, EVERYONE is unhappy!  A favorite routine from my childhood was Pizza Night; without fail, my amazing, beautiful mother made her family pizza every Saturday night when I was a kid.  She'd roll out the dough from a can and always let me help add the toppings.  (I distinctly remember hot dog slices for me and canned mushroom slices for everyone else.)  We'd move right past the kitchen table and hunker down in the family room to eat while watching the latest episode of The Muppet Show.  It's one of my happiest childhood memories and it happened EVERY Saturday, without fail.  Good job, Mom!
Now that my kid mows down solid food by the fistful, (because, who has time for forks?), I hereby declare a Pizza Night routine for my own little family!  Homemade pizza dough takes advance night-before-forethought, but once you've made this recipe a few times, you barely need to glance at it before throwing all the ingredients together.  This recipe is my own version of Jim Lahey's no knead pizza dough, and it makes one 12″ pie; which is the perfect amount for two and a half people.  I add a little bit of whole wheat flour to get some whole grain into my fella's bellies.  Whole wheat flour also lends great flavor and chewiness to the crust.  The recipe can either be doubled, tripled, (or quadrupled!) if necessary.
First of all, as long as you have a nice kitchen scale, pizza dough is silly easy to make.  Plan ahead the night before and set aside five minutes to throw together the ingredients.  If you don't have whole wheat flour you can definitely use 100% all-purpose flour.  Measure out both flours into a medium-sized bowl.  Add the salt and yeast and stir with a spoon or whisk to mix everything together.  Pour in the water and mix with a spoon.  It will look like you did not add enough water, but be patient!  Use your hands to knead the dough for a minute.  Form a ball and mop the loose flour from the sides and bottom of the bowl with the dough ball.  Knead for another 30 seconds or so, until you have a nice round ball.
Cover the bowl with plastic wrap and set it aside until tomorrow or for at least 12 hours.
The following day, the dough will double in size and show bubbles forming.  (Most noteworthy: if it did not double, it means your yeast is probably old and inactive.  Pro tip; go buy new yeast!)  Preheat the oven to 500o F and while you are at it, open a nice bottle of red.
Next, flour your work surface, hands, and dough and remove the dough from the bowl.  Using your hands, drive the car, meaning, pretend like you are holding a steering wheel and just keep turning until you reach your desired pie size.
After driving the car, I also do the knuckle stretch.  Flour the tops of your hands, and gently stretch the dough from the center outward.
Since the dough is quite springy, try to make the pizza size slightly larger than what you want because it will retract a bit.  If you feel the need to use a rolling pin, have at it.  You can bake your pizza on a pizza stone or sheet pan, but my new fun way utilizes a cast iron skillet.  Pour a tablespoon and a half of olive oil into a cold, cast iron skillet.  This will make for a super dooper crisp bottom crust.  Place your driven, knuckled pizza dough into the skillet, pushing it to fit up to the edges of the pan.
Next, top with desired ingredients (I swear I'm no longer a hot dog topper!) – we like to use good jarred sauce (current favorite is PN's Common Good Organic Marinara) and combine fresh and grated mozzarella.  Don't forget a final sprinkle of kosher salt and oregano over top of the cheese.  Cook the pizza in the skillet on the stovetop over medium high heat, 3-4 minutes, until the bottom is slightly brown.
Finally, place the skillet in the 500o F preheated oven and let cook for another 7-10 minutes, until the cheese is melted and the crust is browned.  I'll usually broil the pie for just a minute or two to get extra browned, bubbly cheese.  Use potholders to grab the skillet and transfer the pizza to a wire rack.  Let the pizza cool for a few minutes before placing on a cutting board to cut into slices.  Always remember your skillet is screaming hot so be sure not to grab it with bare hands.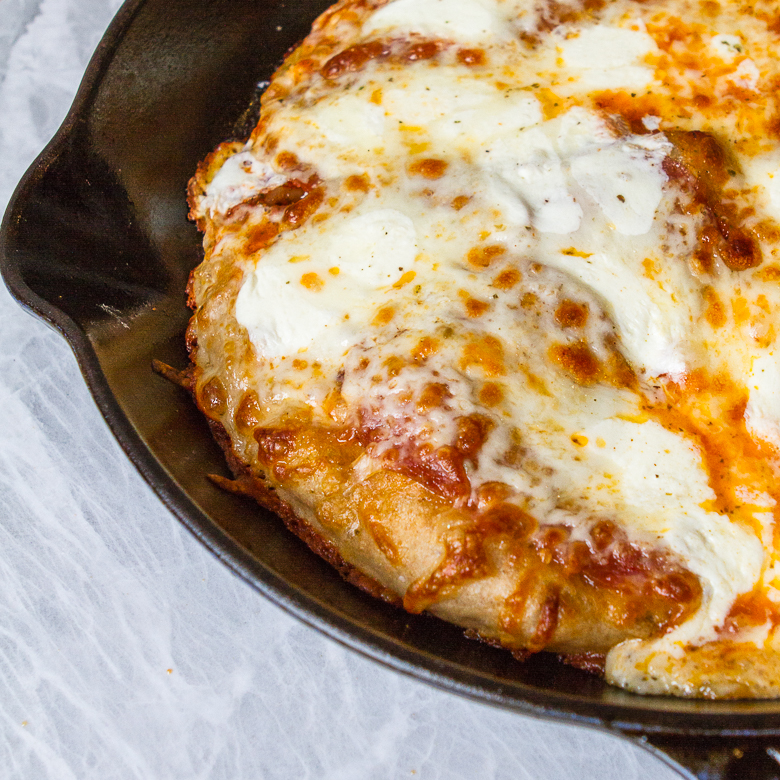 The pizza is soooooo good cooked with olive oil in the pan.  Remember all the bubbles the dough had before you drove the car?  They are especially relevant because they give the dough air pockets, and as a result, nooks and crannies.  Also noteworthy, the cheese forms an amazing crisp crust where it escapes and touches the sides of the skillet.  Lastly, finish with fresh basil leaves for a clean, bite.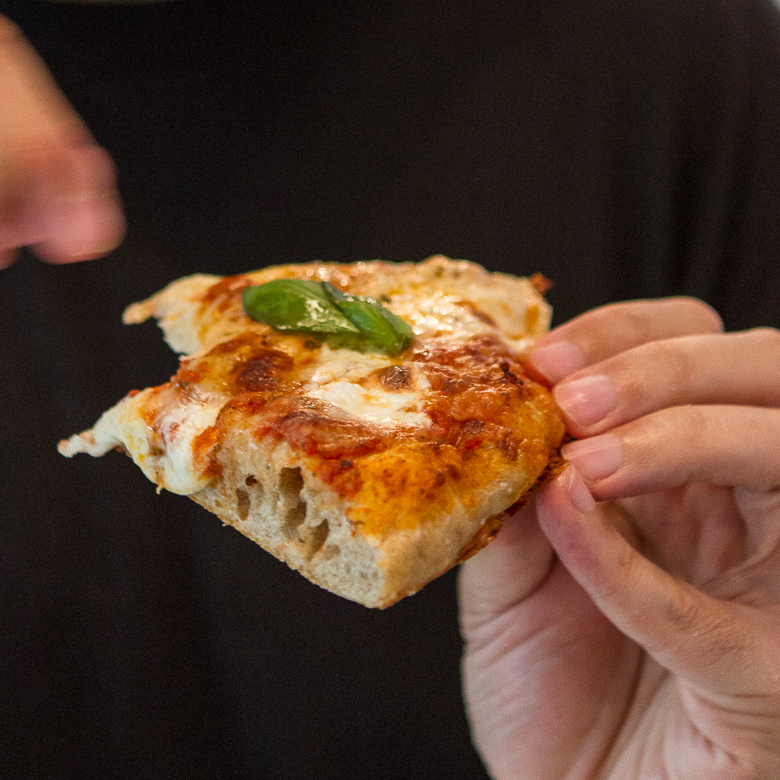 While making your own dough seems intimidating at first, you will quickly see it is an easy practice that is well worth the extra effort!
Pizza Dough Recipe
Yields: Enough dough for a single 12″ round pizza
Rise time: 12-24 hours
Ingredients:
185 grams all-purpose flour
65 grams whole wheat flour
1 teaspoon kosher salt
1/8 teaspoon yeast
175 grams (3/4 cup) water
Do it:
Pour both flours into a medium-sized bowl.
Add the salt and yeast and stir with a spoon or whisk to mix everything together.
Slowly pour in the water and mix with a spoon.
Next, use hands to knead the dough for one minute.  Form a ball and mop up the loose flour from the sides and bottom of the bowl with the dough ball.
Knead for another 30 seconds or so, then cover with plastic wrap and let sit overnight (at least 12 hours).
The following day, the dough will have doubled in size and formed bubbles.
Lastly, with floured hands, shape dough into desired size and bake at 500o F using desired method (see above for instructions on cast iron skillet method).