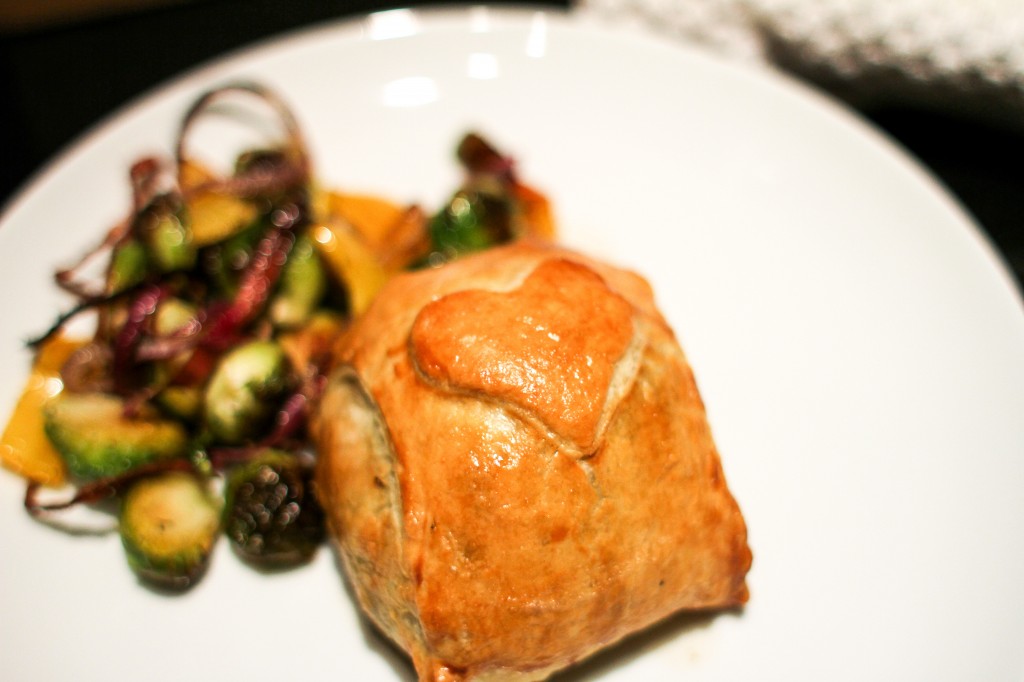 I made my true love mini beef wellington for Valentine's day last month.  This recipe seems daunting and looks super fancy, but is in fact, quite simple!  In an hour's time you, too, can serve up retro baby beef wellies to your true love!  The key to this recipe is to check your meat's temperature at the halfway cooking point so you do not overcook the beef!
(2) filet mignon (beef or bison) 1″
(2) sheets puff pastry
(1) tablespoon unsalted butter
(1) egg, beaten
salt & pepper to taste
For the mushroom duxelles…
(1) lb mushrooms (i used baby bellas) finely chopped in a food processor (OR with your favorite kitchen tool and mine, the immersion blender!)
(2) tablespoons unsalted butter, divided
(3) tablespoons finely chopped red onion
salt & pepper to taste
(1/2) teaspoon dried thyme or (1 1/2) tablespoons of fresh thyme leaves
(1/4 cup dry vermouth or dry white wine (like chardonnay – yum!)
First things first, preheat your oven to 400 degrees.
Thaw your puff pastry according to directions on box.
If your filets are irregularly shaped, you can tie kitchen twine around them to make them as round as possible.
Preheat your non-stick skillet over medium heat.  Add butter and swirl in pan to melt.  Salt and pepper both sides of the filet and sear on ALL sides, edges too, about 2 minutes per side until well-browned.
Allow filets to cool then wrap in plastic and chill in the freezer for 10 minutes while you prepare the mushroom duxelles and your puff.
Add chopped mushrooms to a few paper towels and squeeze out as much of the juice as possible over the sink.  Heat a large non-stick skillet on med-high and add 1 tablespoon of the butter to the pan.  Once melted, add mushrooms, onions, a good pinch of salt, a few grinds of black pepper, and the thyme.  Stir frequently and cook about 5 minutes, or until mushrooms start to brown.  Stir in remaining tablespoon of butter.  Once melted, add the vermouth or wine and cook until the alcohol has evaporated.  Remove from heat and let cool.
Lightly dust flour over large cutting board and unwrap your puff.  Roll out until it's half the thickness it was when you first started.  Cut the dough into a cross shape.
Whisk together egg and one tablespoon of water for your egg wash.  Place your cooled beef in the center and with a couple of tablespoons of the duxelles on top.  (Make sure you have removed the twine from your beef if you tied it up!)  Fold the flaps over, brush egg wash and press to adhere.  You will have to trim excess puff and that's ok!  Using a Valentine cookie cutter, I cut a heart shape out of the excess puff and egg-washed it right onto the top.
Bake at 400 for 20-30 minutes.  I would check the temperature after 15 minutes, do not exceed medium, which is 140 degrees.  Let your welly rest for 7-10 minutes before eating.
Serve with roasted veg (toss veg-brussels, onions, bell peppers, mushrooms, whatever is your fave-tossed in olive oil with salt & pepper, roast in 400 degree oven for 20-30 minutes, stirring halfway through).  Collect accolades!