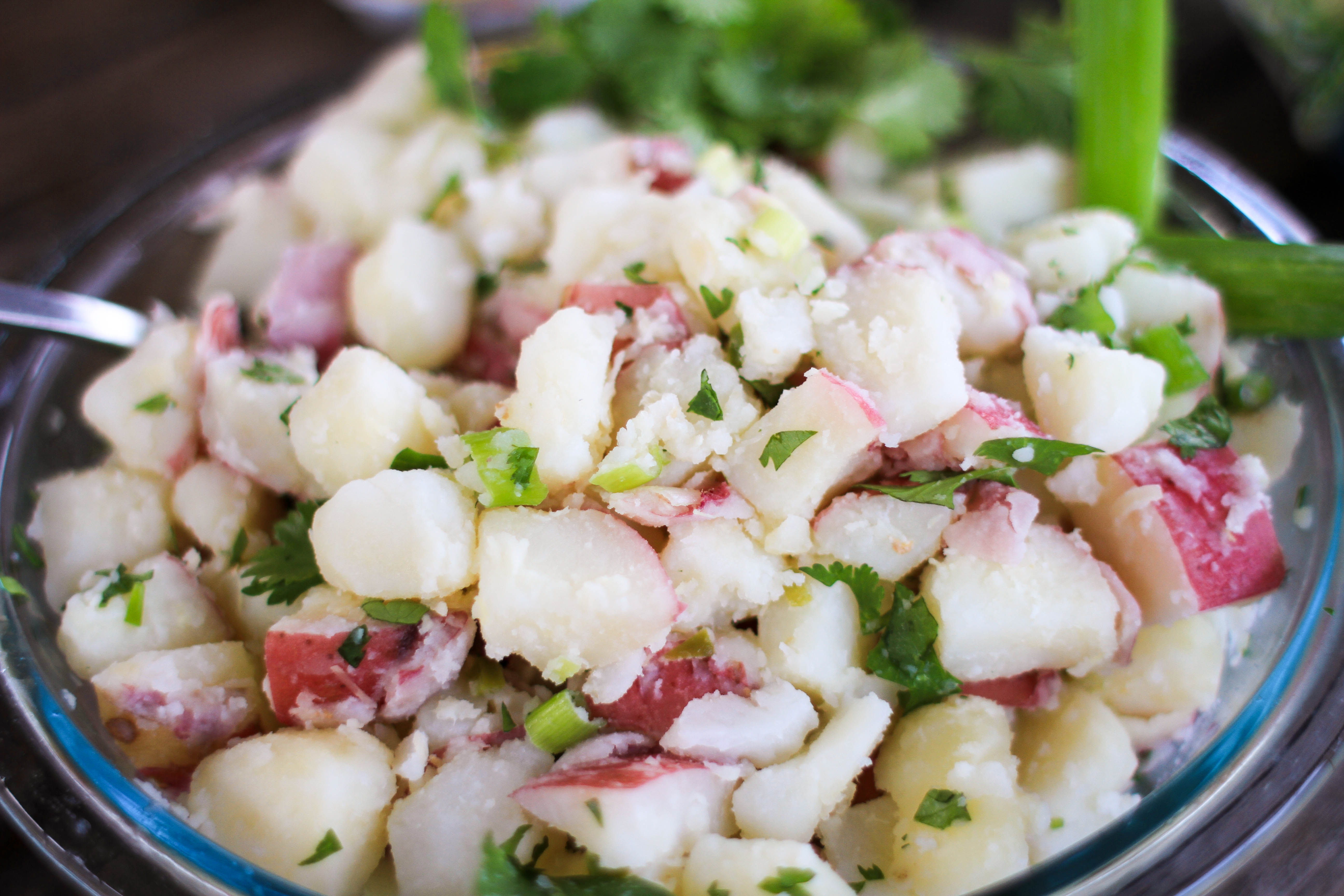 My girlfriend, Marianne, has made this potato salad for me a couple of times and I'm always so pleasantly surprised of it's lightness.  I have never been a fan of mustard/mayonnaise potato salad.  Omitting the mayo and mustard and instead using rice vinegar and sesame oil lightens this traditionally nap-inducing side dish.  Adding lemongrass and ginger gives it an exotic upgrade.  Marianne was nice enough to share her recipe.
Ingredients:
2 lbs red potatoes, cut into 1/2″ pieces
3 tablespoons rice vinegar
2 tablespoons dark sesame oil
1 tablespoon water
4 teaspoons peeled, minced lemongrass
2 teaspoons peeled, grated fresh ginger
1 jalapeño pepper, de-seeded and minced
3/4 teaspoon salt
1/3 cup diced chives
2 tablespoons torn, fresh cilantro
DO:
Clean potatoes, leaving skin on, and place in large saucepan.  Fill pan with cold water until potatoes are covered.  Bring to a boil, reduce heat and simmer for 12 minutes or until potatoes are fork tender.
Combine all above ingredients, EXCEPT the cilantro and chives, in a large bowl, whisking well to incorporate all.  Add potatoes to whisked mixture and toss gently to combine.  Cover and refrigerate for at least 1 hour before serving.
When ready to serve, garnish with cilantro and chives.  Collect accolades.
Print This Recipe!