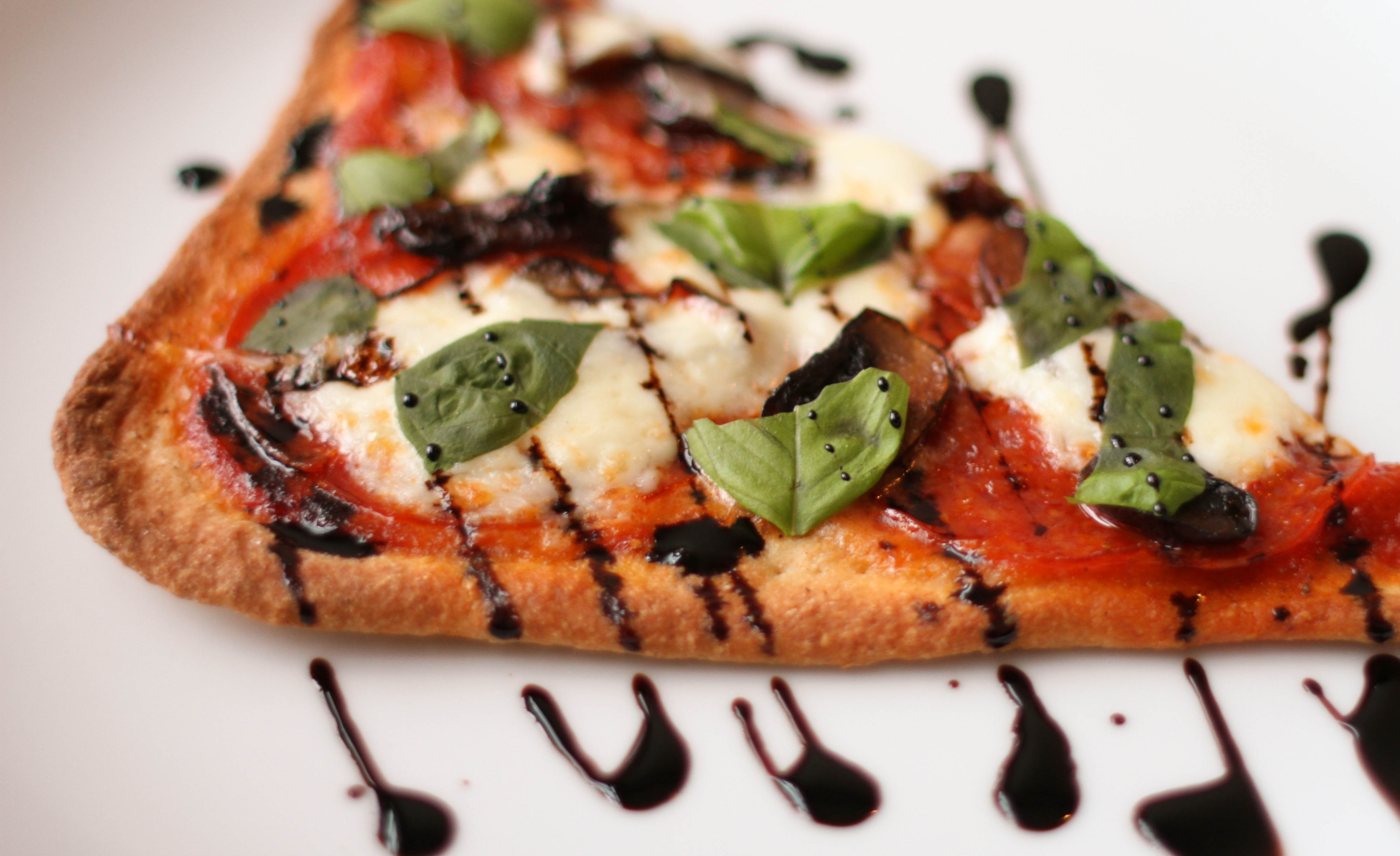 The hubs and I have completely spoiled ourselves with homemade pizza.  We literally can no longer enjoy  pizza delivery because of this recipe!  I do cheat a little bit and use store-bought frozen pizza dough from the Whole Foods freezer section.  The whole wheat dough tastes wheat-y and comes out thin, crispy, and chewy all at the same time.  (Honestly, I tried making my own dough once but yeast is scary and I don't like to self-sabotage, especially when I'm hungry, so here you have it.)  You have to plan ahead, because the dough takes 5 hours to thaw.  The hardest part about this recipe is the sauce, which is totally easy!  Once you learn how to make this homemade marinara you will have a super simple secret sauce weapon in your pocket!
Ingredients (sauce):
3 cloves garlic, zested

1/2 red onion, diced
2 tablespoons olive oil
1 can San Marzano whole roma tomatoes
3 tablespoons tomato paste
1 tablespoon brown sugar (you can also substitute a couple of tablespoons of shredded carrots)
1/4 cup chopped basil leaves
salt & pepper to taste
Ingredients (pizza topping):
fresh mozzarella 

fresh basil
sautéed carmelized onions with mushrooms
reduced balsamic for drizzling
goat cheese
pepperoni, prosciutto, ham (the hubs likes his without meat, I like a little 'roni!)
Instructions for sauce:
Heat the olive oil on stove over medium heat in a large saucepan.  Sauté the chopped onion until translucent, and then add garlic until fragrant.  Add your San Marzano tomatoes and break them up with a spoon the best you can.  Add the tomato paste, brown sugar, couple pinches of salt, and a couple cranks of pepper.  Bring to a boil, then reduce heat and let everything simmer together for a while.  The chopped basil is added about 30 minutes before you use the sauce.  If you like your sauce chunky, leave it as is.  If you prefer it smooth (like i do!) then get your blender or immersion stick blender out and start pureeing!
Instructions for the dough:
To thaw, place the frozen dough in a large bowl with a kitchen towel covering it.  Let sit for 2.5 hours, then flip over, drizzle a little olive oil over top and sides, replace towel on top and let sit for another 2.5 hours.  Once completely thawed, it will puff up a bit.  Heat the oven to 425 and depending on your desired crust thickness, cut your dough into pieces.  I like to cut the dough into 4ths, but we prefer out pizza super thin.  If you like a thick crust, use your hands, not a rolling pin, if you like a thin crust, use a rolling pin, not your hands.  Working one piece at a time, roll your dough out to your desired thickness, then drizzle a little olive oil over top and rub it into the dough.  Prick all over with a fork (so you don't have bubbles), add a little salt & pepper (trust me, a little coarse salt adds that perfect little crunch), and place in the oven for 6 minutes.  It will be partially cooked once you remove it from the oven.  Now are ready to add your toppings.
Top it:
For Margherita pizza, we top ours with sauce, caramelized onions and mushrooms, then fresh mozzarella.  If the motz is packed in water, then wrap a paper towel around it to squeeze as much moisture out of the cheese as possible.  Rip the mozzarella, don't cut it.  (NOTE: To caramelize onions and mushrooms together, I use sliced baby bella mushrooms and a whole red onion, sliced thinly into rings.  Heat a non-stick pan on medium and add a tablespoon of olive oil, sauté the onions with the lid on, add the mushrooms after 20 minutes, lid on, add a drizzle of balsamic after a while too.  Cook until desired caramelness is achieved.)  Bake your topped pizza at 425 for another 6-8 minutes, or until cheese is melted.  Finish with fresh torn basil, bits of goat cheese, and a drizzle of reduced balsamic.
Tip:  If you don't want to stink up your whole house reducing your own balsamic, the Silly Goose over in E. Nashville sells it by the jar for like $10 (they call it liquid gold, and boy is it ever!).