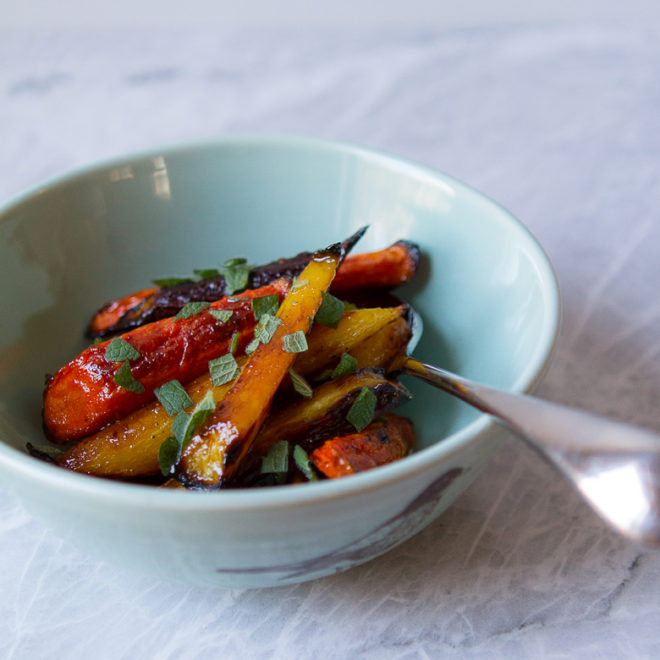 Thanksgiving tidbit #1 that you didn't know about me: I hate cooked carrots.  Like, nope, no thank-you, I only like 'em raw.  I can remember being six years old and secretly palming my mom's cooked carrots under the table to Brandy, the family golden retriever (sorry mom).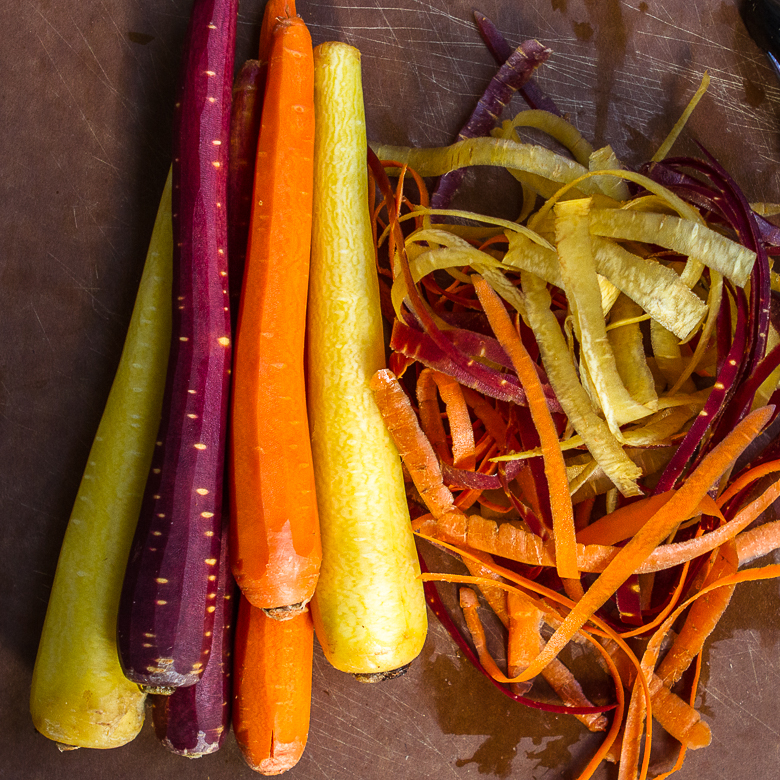 Leave it to Ina Garten to make cooked carrots not only palatable, but so downright delicious that I found myself unable to stop snitching them off the pan before serving them for dinner!  This maple glazed carrot is a vegetable you are going to want on your Thanksgiving table.  Her secret?  Maple syrup.  I know, it's been done before, mostly on sweet potatoes but man does it ever boost the sweetness of the carrot and help with exterior caramelization.  I bought the tri-colored carrots because WHY NOT?  They are festive, colorful and cheerful; most definitely something we could all use right now.  The purple carrots are especially vibrant.
Cut your peeled, trimmed carrots so they are 2″ long and 1″ in diameter.  If you have really thick pieces, cut those in half too.  Try to make everything the same size so they all roast evenly.  Toss the carrots in olive oil, salt, and pepper and toss onto a roasting pan.  Ina uses two pans so the carrots are sure to roast and brown up rather than steam if they are too crowded.
Roast at 425 for 10 minutes, toss, then roast another 5-10 minutes.  Keep a close eye on them because they can burn quickly (trust me).  Next, pour syrup over carrots and roast for an additional 5-10 minutes, or until the edges are browned and caramelized. Ina tossed her carrots in a salad with arugula and goat cheese, along with a few other ingredients.  I will be serving my carrots on their own as a Thanksgiving side to my parents this year.  I don't expect any leftovers!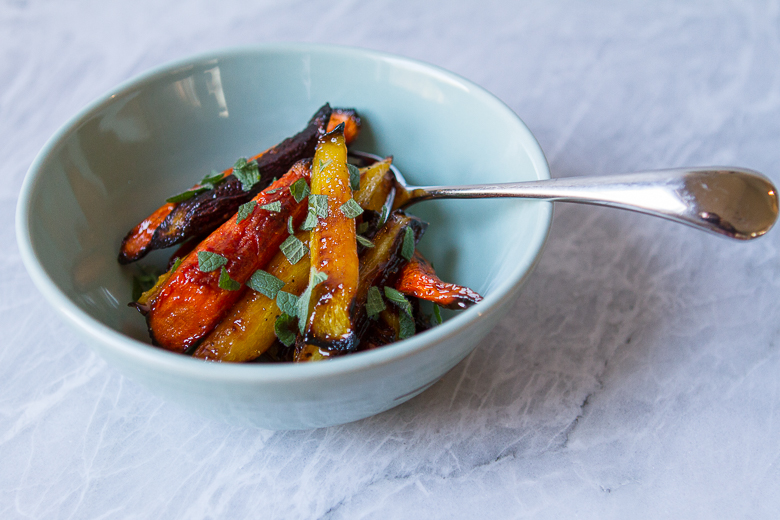 Maple Glazed Roasted Carrots (from Ina Garten)
Prep time: 10 minutes
Cook time: 30-35 minutes
Serves: 6-8 people
Ingredients:
2 lbs tri-colored carrots
1/4 cup olive oil
1/2 teaspoon salt
1/4 teaspoon pepper
1/4 cup pure Grade A maple syrup
mint or parsley for garnish
Method
Preheat the oven to 425 degrees F.  While oven is preheating, trim scrub and peel the carrots.
Cut the carrots in large diagonal slices 1 inch wide 2 inches long.  If the carrots are more than 1 inch in diameter, cut them in half lengthwise.
Toss the carrots with the olive oil, salt, and pepper and spread them over two sheet pans.
Roast at 425 for 10 minutes, toss, then roast for an additional 10 minutes, until the carrots are tender when pierced with a fork.
Transfer all the carrots to one of the sheet pans, toss with the maple syrup, toss, and roast for 10 to 15 minutes longer, or  until the edges are caramelized.  Keep a close watch, as they can quickly burn!
Toss again with a metal spatula and set aside for 10 minutes before eating.
Garnish with chopped mint or parsley; whatever your preference.