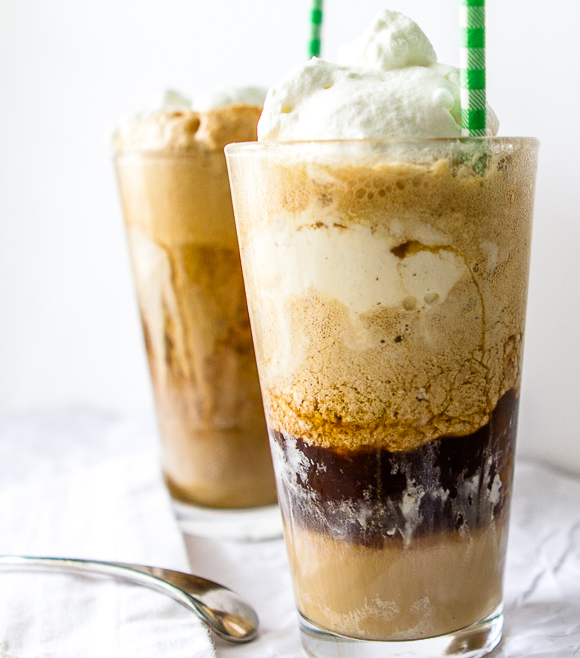 In prep for the big Irish Day, Bon Appétit emailed the masses a photo/recipe for a Guinness Affogato earlier this week.  One quick read of the ingredients; Bailey's Irish Cream, Guinness, espresso and ice cream, and I knew it was something I had to make and put it in my gob as soon as possible.
I didn't know what an affogato was either, so don't feel badly about your vocab. Affogato literally translates in Italian to "drowned". An affogato is a coffee-based beverage, usually vanilla gelato doused with a shot of espresso. Um, yes, sign me up please. Affogato entered the dictionary in 1992, so honestly, it's a brand new word as far as I'm concerned. I know I wasn't drinking espresso in 1992, i.e. my senior year in high school. More like I was drinking tangerine Fruitopia while driving around Woodward and 14 Mile in my Nana's very uncool hand-me-down silver Chrysler Fifth Avenue.  You would have heard me coming from a mile away because I was no doubt blasting some major hip hop base from my after market installed Kenwood sound system (complete with detachable face plate) I had purchased from Mickey Shorr electronics. Ah high school memories…
Per Bon Appétit's suggestion I added a shot of Bailey's to this affogato and as my own finishing touch, dolloped homemade whipped cream on top. I contemplated caramel sauce, but felt it was going a wee bit too far. Trust me, this drink is already sweet enough. The end result was a boozy, coffee-flavored sweet milky dessert drink. If you've had a big dinner maybe you'll want cut the recipe in half to have as dessert.
I give you the Guinness Affogato, in honor of my sister's St. Patrick's Day birthday! Happy Birthday, Sissy, and Happy St. Paddy's day everyone!
Guinness Affogato
Prep time: 35 minutes
Serves: 2 people
Ingredients:
4 scoops vanilla (or coffee) ice cream or gelato
2 shots hot espresso
2 shots Bailey's Irish Liqueur
1 can Guinness draught beer, divided
1/2 cup heavy whipping cream
1 tablespoon sugar
Method:
Place stand mixer metal mixing bowl, whisk attachment, and 2 glasses into freezer. Let chill for 30 minutes.
Once chilled, remove bowl and whisk attachment from freezer and beat whipping cream and sugar on low for a minute then increase speed to medium high for 2 more minutes, or until cream is whipped. Set aside until ready for use.
Remove chilled pint glasses from freezer and place 2 scoops of ice cream into each glass. Top each glass 1 shot of Bailey's, 1 shot of espresso, and as much of a can of Guinness that will fit. Finish with a dollop of whipped cream. Serve with a straw and spoon.