The in-laws visited last weekend so to celebrate we decided to grill a serious steak and potato meal for Sunday Supper.  Everyone agreed the potatoes were to die for, so much so, that they almost stole the steak show.  These tubers taste zingy, tart, tangy and salty. The skins are split and cracked on the outside, anew reveal fork-tender potato on the inside.  The whole mustard seeds pop in your mouth with each bite.  This potato recipe could very well replace french fries for me.  And that's saying something.  YUM.
First things first, you'll need to boil the potatoes for 10 minutes before placing them on the grill.  I like to buy the tri-colored baby potatoes because they are small enough to pop in your mouth for a single bite.  Plus the purple and red colors make for a prettier plate.
Boil them for 10 minutes, drain, then return to the pot.  Toss with canola oil until all the potatoes are coated, then place in your veggie grill basket.  Can you do this without a veggie grill basket?  Probably.  I would think a wire cookie cooling rack would work if you don't feel comfortable placing them directly on the grill.  The basket definitely contains the potatoes and allows for no escapees.  Grill over medium heat for about 10-15 minutes, shaking often to toss so all sides become nicely charred.
While the potatoes are grilling, it's time to make your dressing.  This dressing puts these potatoes over the edge and makes them super jazzy.
Whole grain mustard is the key, along with vinegar but mostly the whole grain mustard.  Zest the garlic cloves and place them along with the mustard, vinegar, salt & pepper into a medium sized bowl.  Using your whisk, blend the ingredients together while slowly drizzling the olive oil into the dressing.  Whisk until emulsified (or until an oil ring is no longer seen around the edge of the bowl).  It should look like this:
Once the potatoes have charred and the skin have begun to split, remove the potatoes from the heat.
Place potatoes in a large bowl and toss with dressing while they are still hot.  Finish with parsley if so desired.  Serve with gigantic steaks and some delicious veg!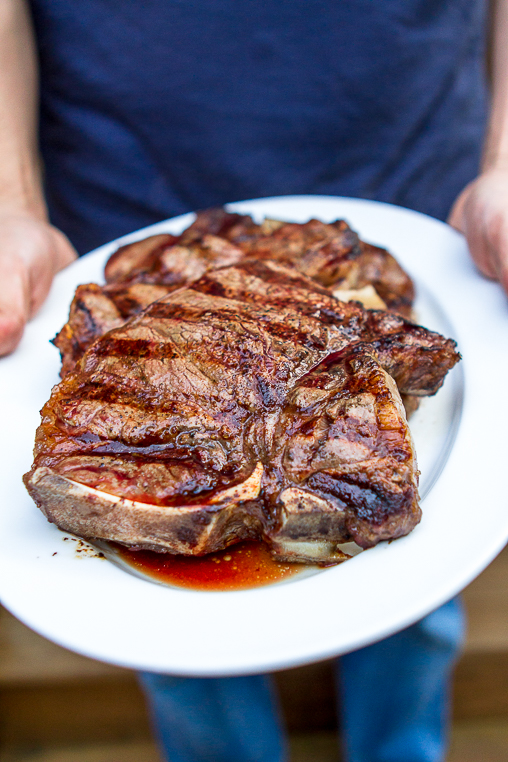 Grilled Potatoes with Mustard-Garlic Dressing (recipe adapted from Bobby Flay's BBQ Addiction)
Cook time: 20-25 minutes
Serves: 4-6 people (as a side)
Ingredients:
2 lbs tri-colored baby potatoes
3 tablespoons white vinegar
2 tablespoons whole grain mustard
2 cloves garlic, zested
1/2 cup olive oil
1 tablespoon canola oil, for tossing
kosher salt & fresh ground pepper to taste
1/4 cup flat leaf parsley (optional)
Method:
Generously salt a large pot of water and add potatoes.  Bring to a boil and let boil for 10 minutes.  Drain and allow potatoes to slightly cool.
Heat grill to high while potatoes are cooling.  Toss potatoes with canola oil and season with a couple of pinches of kosher salt and several cranks of fresh ground pepper.  Place potatoes in grill basket and grill on high, shaking the basket intermittently until charred, about 10 minutes.
While potatoes are grilling, whisk together the vinegar, mustard and garlic in a bowl.  Slowly stream in the olive oil until the mixture becomes emulsified.  Add salt and pepper to taste (a pinch of each).
Place the potatoes in a large bowl and toss with dressing while still hot.  Finish with flat leaf parsley garnish.
Serve with big-ass steaks and a side of veg or salad.
Collect accolades!!!