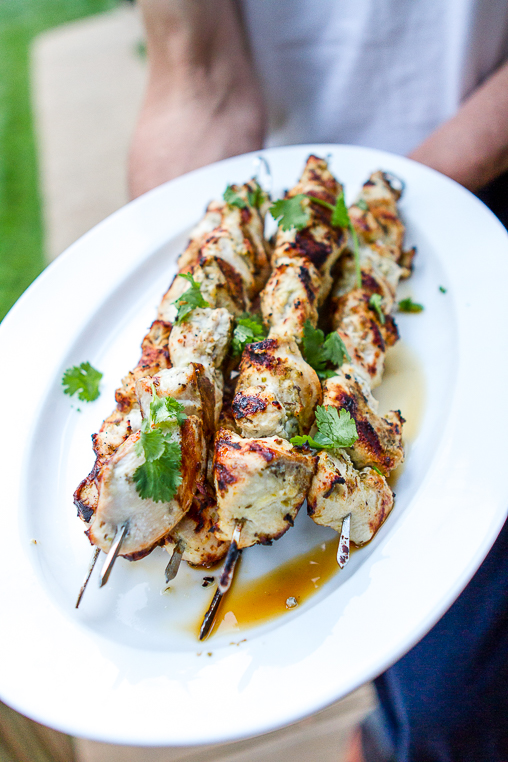 This is my new favorite summer grilling recipe. These kebabs are SO GOOD they will even impress a Persian father-in-law (and I would hazard a guess that he's eaten a few kebabs in his day)! I made a happy mistake and let the chicken marinate for two solid days in the fridge.
Seriously, the two-day marinate is the trick and the recipe is so simple – I guarantee the hardest part is cutting up the chicken.
As you've probably guessed it, we had family visiting us this past week. Because we are Nashville transplants without any family nearby, it is always nice to have family visit, and even more so now because of baby P! The biggest problem of the weekend was having two grandparents and only one baby. Seriously, they were fighting over holding him! He is lucky to be so loved.
The Hub's mama made one of his favorite meals this weekend; dal adas. I want to like dal adas.  Dal adas smells warm and spicy, like a hug from a Persian gramma. But in reality, dal adas is lentils and I've tried to eat lentils so many times but I just can not like them.  It's that whole bean thing, I simply have a textural aversion. So I decided to make the kebabs to go along with their dal adas and rice. Of course you can't forget the shirazi salad (tomato, cucumber and onion) and mast-o khiar (cucumber and mint yogurt) to go with everything else. We had a feast! If you don't have two nights to marinate the chicken, it's fine overnight or even for a few hours, but for maximum juicy, flavorful chicken, do the two night stint.
Chicken Kebabs
Kebabs adapted from: I Will Not Eat Oysters blog
Prep time: 20 minutes
Marinate time: 1-2 days
Serves: 6
Chicken Ingredients:
6 boneless chicken breasts, skin removed, cut into 1″ cubes
3 tablespoons olive oil
6 tablespoons lemon juice (about 3 lemons)
3 teaspoons dried oregano
2 teaspoons onion powder
2 teaspoons granulated garlic
1 teaspoon kosher salt
1 teaspoon of fresh dill or cilantro for garnish
Most-o Khiar Ingredients:
2 cups Greek yogurt
1/2 cup grated cucumber
2 teaspoons lemon juice
1/2 clove zested garlic
2 tablespoons chopped fresh dill
1 tablespoon chopped fresh mint
salt and pepper to taste
Shirazi Salad Ingredients:
2 large tomatoes, diced
1 english cucumber, peeled, seeded and chopped
1/2 white onion, thinly sliced
1 tablespoon chopped fresh dill
1 tablespoon chopped fresh cilantro
1 teaspoon olive oil
salt and pepper to taste
Chicken Method:
Using a gallon-sized ziplock bag, place olive oil, lemon juice, oregano, onion powder, granulated garlic, and salt. Squish together until well mixed, then add the chicken pieces. Zip the top and manhandle bag until all chicken pieces are coated. Leave in refrigerator from 4-48 hours.
Skewer chicken pieces and grill over medium heat, about 4-6 minutes a side, or until chicken is cooked through and all sides are charred. Remove from heat and cover with foil for 5 minutes. Serve with a garnish of fresh dill or cilantro.
Most-o Khiar and Shirazi Salad Methods:
Mix all ingredients of each recipe together (separately) and serve as sides to the chicken and rice.