When I was a little girl, mom and nana both made golumpki, or Polish stuffed cabbage.  Because raw cabbage smells like stinky feet, I refused to eat the cabbage part of the stuffed cabbage meal.  As a kid, I'd carefully unwrap each little cabbage package and dive straight in for the filling of tomato flavored beef, pork and rice, pushing aside the uneaten cabbage like unwanted baggage.  I think mom became tired of me wasting cabbage, (or she just realized her perfect cabbage rolling effort was lost on me – I appreciate it now, Mom, I do!), so she would toss in a few "naked" meatballs.  She called them "porcupines", because the rice sort of stuck out like the quills of a porcupine.  I loved them.  "Did you make me some porcupines, mom?"  She always did.  I suppose I was the worst kind of Polack; not liking cabbage, and spoiled by my mother to boot!  In my defense, raw cabbage still does smell like stinky feet!
It was another rainy day yesterday, so I asked mom for her golumpki recipe and also did a little on-line research.  This recipe is the end result of adding my additional likes and mom's recipe.  I am proud; my first attempt at golumpki was a success!  I got the savory double thumbs up from The Hubs and plan on incorporating golumpki into our monthly rotation.
First things first, over medium-low heat, sauté onions in a non-stick pan with butter and olive oil until softened.  Add salt, pepper, red pepper flakes, thyme leaves and mushrooms and cook 3 minutes longer.  Add garlic and cook until softened, taking care not to burn the garlic.  (No one likes burned garlic.)  Set aside to cool in a large bowl.
Add beef and pork to bowl of cooled onion-mushroom mixture, along with rice, beaten egg, and 1 tablespoon of tomato paste.  Mom uses minute rice, which is totally fine if you aren't married to a Persian rice snob.  Roll up the sleeves and get your hands alllll up in this mixture's business!  Once everything is well mixed, set the bowl aside.  The golumpki filling is complete!
I read on-line somewhere that you could avoid the cabbage blanching mess and scorched fingers by freezing the head of cabbage overnight and thawing it in the refrigerator the next day.  As a fan of less mess and stink, I was super excited to try this.  Of course, freezer AND fridge now smell like raw cabbage (ok, I'll stop about the raw cabbage smell, but I have a very sensitive nose!) and it totally did not work.  After a day of thawing in the fridge, then all morning on the counter, the cabbage was still pretty much frozen solid.  Even the outside leaves that were sort of thawed were still very difficult to bend and fold.
So, a-blanching we will go!  Rather than dumping the whole head into a pot, I blanched one leaf at a time, wrapping golumpkis in-between boiling singular leaves.  This is because I bought a ginormous Savoy cabbage (any green cabbage will do) and I didn't have a pot wide enough to boil the entire thing.  No lie.  I thought bigger leaves meant easier rolling.  (Ugh, that 5 pound sucker cost $9!!!  Isn't this supposed to be a peasant's dish?)  Anyway, don't be like me!  Instead, look for the cheapest green cabbage you can find that weighs about 2-3 pounds.  Using a paring knife, cut out the core as best you can.  You may have to do this again later as you peel off more leaves.
Take the first couple outer leaves and make a bed in your dutch oven or pot.  This will help the golumpkis to keep from burning and sticking to the bottom of the pot.
I formed an assembly line: blanch a leaf and fish it out with my Chinese strainer, allowing it to dry on paper towels.  After the fact, I read mom's notes mentioning using a colander to drain the cabbage leaves… yep, that probably would have been easier!  Next time.  Oh, and save your cabbage water!
Once the leaf is somewhat drained and dried, remove the rib.  Cut it out just like a pie piece.
My leaves were so ginormous I cut them in half and used 1 leaf for 2 golumpkis.  Grab a large spoon and see below for the rolling process.
Step 1: place large spoonful of meat mixture onto lower half of cabbage leaf.  Allow for at least an inch to an inch and a half on the sides for maximum tuckability.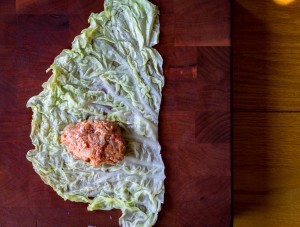 Step 2: fold sides overtop of the meat.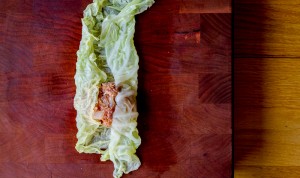 Step 3: Start rolling up the golumpki, from the bottom up, using ring fingertips to push in the sides of the cabbage as you roll.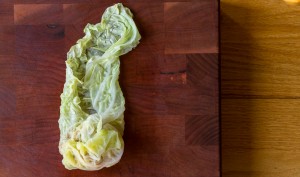 Step 4: Be careful!  The cabbage is delicate. If the roll splits a little bit, it's ok, just keep rolling and the rest of the leaf should cover any tears.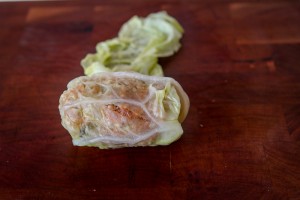 Bardzo dobry!  Very good!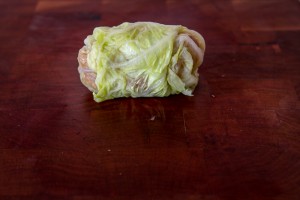 Continue rolling until you've exhausted all the meat.  Place each roll, seam side down, into cabbage leaf-lined dutch oven.
Pour the canned tomatoes and reserved cabbage water overtop of the golumpkis.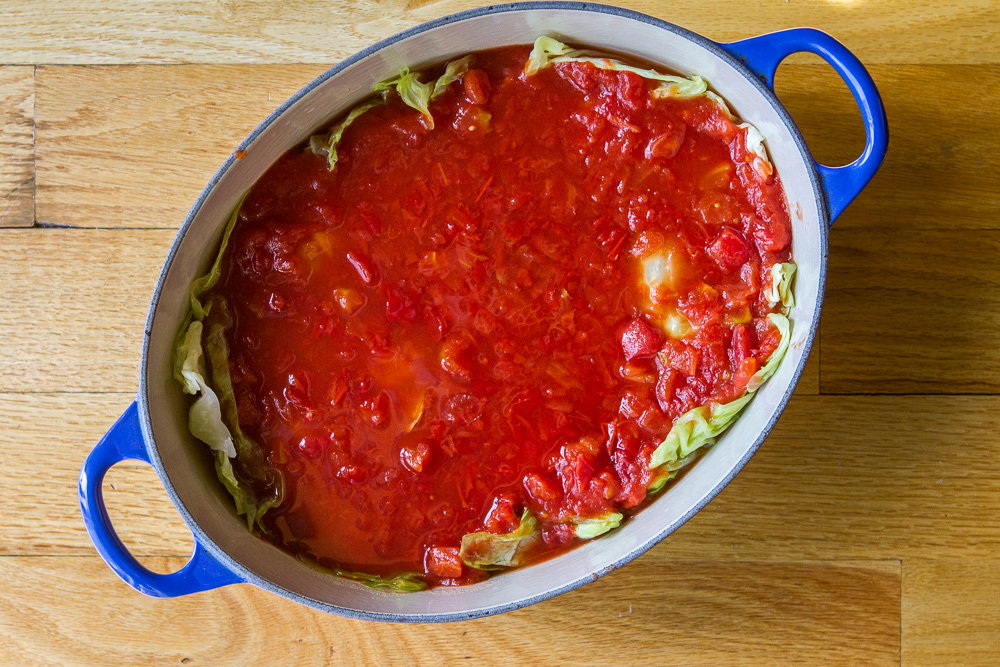 Bring to a boil over medium high heat, then reduce to a low simmer.  Simmer covered for 1 hour and 30 minutes, or until meat is cooked through and rice is tender.  You may have to do quality control (EAT ONE) to be sure they are ready.  It's a tough job, but someone has to do it!
Once the golumpkis are finished, remove them from the pot.  Take the tomato juice from the pot and use either a blender or immersion blender and blend tomatoes together with 2 tablespoons of sour cream (or Greek yogurt if you don't have any sour cream, either works).  The sauce should now be a pinkish hue, silken and savory.  Taste to add salt and pepper if needed.  Ladle sauce overtop of golumpkis upon serving.  Collect accolades!!!
The smell of the cooked golumpkis is such a nostalgic scent for me; it instantly took me back to memories of helping in nana's kitchen.  I misted up remembering all the happy times we spent cooking together.
Golumpki
Prep time: 1 hour
Cook time: 1 1/2 hours
Makes: 8-10 golumpkis (3-4 servings)
Print This Recipe!
Ingredients:
1/2 lb ground beef (I used grass fed 90/10)
1/2 lb ground pork
1 head 2-3 lb green cabbage
1 tablespoon tomato paste
1 egg, beaten
1/2 cup basmati rice (or minute, or whatever rice you have in the house…)
1 tablespoon butter
1 tablespoon olive oil
1 cup diced onions
4 baby bella mushrooms, chopped
3 cloves garlic, zested
1 teaspoon salt
1 teaspoon freshly ground pepper
1 teaspoon red pepper flakes
3 stems' worth of fresh thyme leaves
3 cups crushed tomatoes
2 cups (or more) reserved cabbage water
2 tablespoons sour cream (or Greek yogurt)
Method
1. Heat olive oil and butter over medium-low heat in a non-stick pan and sauté onions until softened.  Add salt, pepper, red pepper flakes, thyme leaves and mushrooms.  Cook 3 minutes longer.  Add garlic and cook until softened, taking care not to burn the garlic. ]Set aside to cool in a large bowl.
2. Once onion-mushroom mixture has cooled, add beef, pork, rice, tomato paste and beaten egg to bowl. Mix well to combine and set aside.
3. Remove core of cabbage with a paring knife.  Blanch either by the leaf or entire head (core-side down) at once.  Peel and drain leaves once pliable.  Use first few leaves to line bottom of dutch oven.  Remove the rib from each of the "rolling" cabbage leaves, just like taking out a slice of pie.  Reserve cabbage water.
4. Place large spoonful of meat mixture in bottom center of cabbage leaf.  Tuck sides with the tips of your ring fingers in as you roll up the golumpki.  Place cabbage roll, seam-side down, into leaf-lined pot.  Repeat until all the meat is gone.
5. Pour chopped tomatoes and cabbage water over golumpkis.  Use enough water so the golumpkis are completely covered, it may take more than 2 cups.  Bring to a boil, then reduce to a low simmer.  Simmer covered for 1 1/2 hours.
6.  Remove golumpkis from dutch oven.  Remove and discard (or eat?) cabbage leaves lining the dutch oven.  Puree tomato broth with 2 tablespoons of sour cream.  Taste for seasoning and add salt and pepper if necessary.  Pour overtop of plated golumpki.