I know other parts of the country have had snow, snow, and more snow, but here in Nashville we've had rain, rain, freezing rain, and then more rain.  So much so that we actually had a flash flood warning yesterday!  I'll take snow over all this rain in the dead of winter any day.  The instant I saw the photo of fennel, citrus, and roasted beet salad in this month's issue of Eating Well, I knew I had to eat it to try to help pull me out of my Winter's coma.  The photo was so bright, vibrant and fresh looking; it looked like warm sunshine on a plate!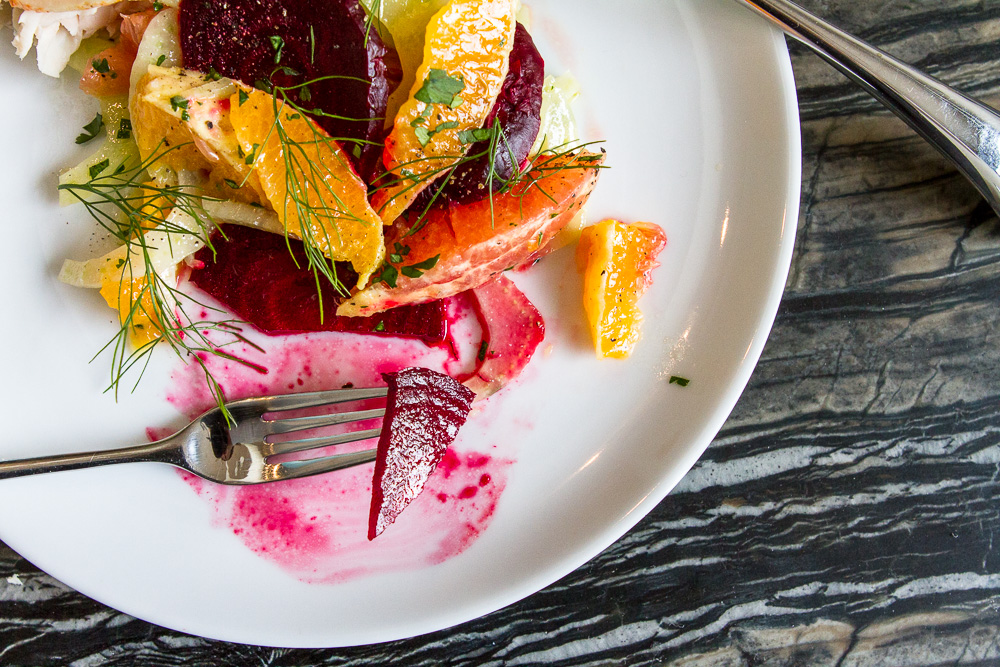 (Note to my Mom: you will not like this one mom, it's licorice and cilantro, two of your least favorite things!)  It's a different, rather sophisticated salad, with tons of flavors bursting all over the place.
This is my first time roasting beets and eating fennel.  I have to admit, I never liked beets as a kid and then didn't try them again until 2 summers ago, when I had them in a salad.  My mom always says beets taste like dirt.  They do, kind of, but it's more than dirt, it's like a deep mysterious earthy taste.  I'm sorry, I just can't do a better description than "earthy".  Raw fennel is interesting too.  I took one bite and was like, "OH it's Jager!".  Fennel totally tastes like Jagermeister!
Eating Well used only fennel as the base for the salad.  When I make this again, I will throw in frisée and cut the fennel in half, as it was just too much licorice flavoring for me.  Here we go!
Preheat your oven to 400 degrees and wash and dry the beets.  EW's recipe called for golden and red beets, I could only find red.  If you can find golden, have at it!  Make a foil packet with the beets inside, sealing tightly.
Bake at 400 for 40-60 minutes, or until tender when pierced with a fork.  Let cool, then peel and slice into rounds.  If you have a beautiful manicure, latex gloves might be a good choice at peeling time.  My nail beds are still pink!
Whisk mustard, vinegar, oil, chopped cilantro, salt & pepper in a small bowl.  (I used a measuring cup pyrex for easing pouring.)  I also added just a small (teaspoon) squidge of honey to the dressing.  It was just too bitter for me without it.  Whisk until well combined and set aside.
Slice your orange and grapefruit into segments.  Thinly slice your fennel bulb, but save the fronds for garnish.  Not sure how to slice fennel?  Check this video out for help: http://www.youtube.com/watch?v=IcGc_ZFHJWQ.
Drizzle salad dressing overtop the orange, fennel, beets, frisée and garnish with the fennel fronds.  Bitter, earthy, licorice-y, sweet, and fresh.  If you have a heavy main course, this might be a good choice to serve as an accompanying salad.  It's soooo pretty.
Fennel, Citrus, and Roasted Beet Salad
Prep time: 20 minutes
Cook time: 60 minutes
Serves: 4
Ingredients:
2 small to medium-sized red beets
2 small to medium-sized golden beets
1 medium pink grapefruit
1 orange
1/2 bulb fennel, cored and thinly sliced, fronds reserved
2 cups frisée
4 tablespoons extra virgin olive oil
1 teaspoon honey
1 tablespoon Dijon mustard
1 tablespoon apple cider vinegar
1 tablespoon finely chopped cilantro
1/4 teaspoon salt
fresh cracked pepper
1. Preheat oven to 400.  Wrap beets in foil and roast for 40-60 minutes, until fork-tender.  Let cool, then peel and slice into rounds.
2. Whisk oil, mustard, vinegar, honey, chopped cilantro, salt and pepper in a small bowl.  Set aside.
3. Cut orange and grapefruit segments out, discarding the membranes and pith.  Thinly slice fennel core.  Gently drizzle dressing overtop tossed beets, orange, grapefruit, fennel, and frisée.  Garnish with fennel fronds and extra cilantro leaves.  Take a picture, it's pretty!