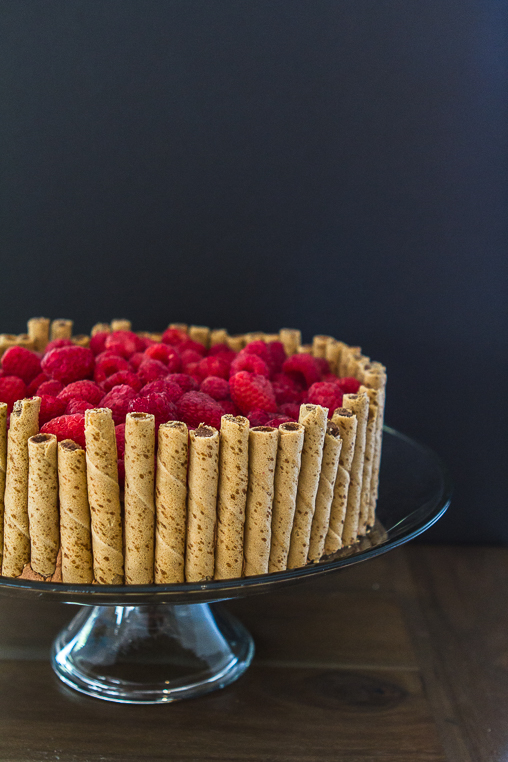 I've already had a pretty monumental month and it's not even over yet!  Being the amazingly advanced baby he is, P cut a bunch of 2 year molars at 14 months old.  Sigh.  Let me tell you, the past month has been sleepless in Nashville, y'all.  Good news though, those suckers are now visible and we've been sleeping through the night again!
The biggest news this month is that The Hubs, who I think from here on out I'll dub The Professor, has officially qualified as a candidate for a PhD in theoretical physics.  Oh happy days!  The Professor also celebrated a birthday, for which I made this gorgeous chocolate cake with raspberries.  I think this may be the second chocolate cake I've posted?  I don't know, I'm losing track of my sweets… is there such a thing as too much chocolate cake?  I think not.
This recipe is awesome for people who suck at frosting cakes.  You basically do not see any of the frosting, so you can glop it on with reckless abandon.  Just make sure to get a good thick, even layer in the middle.  Also awesome?  You can put whatever you want on top of the cake; strawberries, blueberries, figs, even flowers.
The original recipe called for cigarillo cookies, which I think are cylindrical wafers dipped in chocolate.  I couldn't find these so I opted instead for Pepperidge Farm's Pirouettes cookies, and after cutting them in half I found they worked just fine!
The cake baking instructions are pretty basic.  Mix wet into dry ingredients and pour into a 8″ cake pan, and bake until a toothpick comes out cleanly.  You must let the cake cool completely before cutting into it, but the toughest part of this recipe is evenly cutting it lengthwise horizontally through the middle so you have a top and a bottom piece.    Here are some images of my frosting sequence I'm sure you'll find riveting!
This cake makes you feel like you are eating healthily because, well, berries!
Raspberry Chocolate Cake (recipe from Lorraine Pascale's blog)
Prep time: 35 minutes
Cook time: 40 minutes
Cake Ingredients:
Non-stick baking spray
1 3/4 sticks butter, softened on a countertop for 1 hour
I cup superfine sugar (buzz it in the food processor for 10 second increments 3 or 4 times)
4 eggs
1/2 cup all purpose flour
2/3 cup cake flour
2/3 cup unsweetened cocoa
Pinch of salt
2 teaspoons baking powder
14 oz chocolate rolled wafers (50-60 total)
3 pints raspberries
Buttercream Ingredients:
2 1/4 sticks butter, softened on the countertop for 1 hour
4 1/2 cups of confectioners sugar
3 1/2 oz dark chocolate, melted and slightly cooled
Method:
Preheat oven to 350.  Line the cake pan bottom with parchment paper and spray with non-stick spray.
Beat together the butter and sugar in a large bowl (or stand mixer with paddle attachment) until they begin to go pale.
Add 2 of the eggs and all of the all purpose flour and mix well until incorporated.  Add the remaining 2 eggs, cake flour, unsweetened cocoa, salt, and baking powder and beat for a minute or two until the mixture is uniform.
Spread the batter into the greased pan and bake in the oven for 30-40 minutes, or until a toothpick poked in the middle comes out cleanly.
Let cake cool in pan before removing from pan.
While the cake is cooling make the buttercream frosting.  Place the butter and confectioners sugar in the bowl of a stand mixer fitted with the whisk attachment and whisk together until the mixture begins to go light and fluffy.  Add the cooled melted chocolate and whisk for 2 minutes longer.
Take the cooled cake and slice it horizontally so you have a top half and a bottom half.  Frost the cake, then begin to stick the cookies to the cake sides.  Cut the cookies in half if they are too long.
Lastly, fill the cake center with raspberries.  Cut and serve carefully, and enjoy!
NOTE: you can bake the cake ahead of time, let it cool, cut it, then freeze it for up to a week.  Double wrap each half separately in plastic wrap before freezing.  When you are ready to frost, frost the cake still frozen and let it thaw at room temp for a few hours before serving.