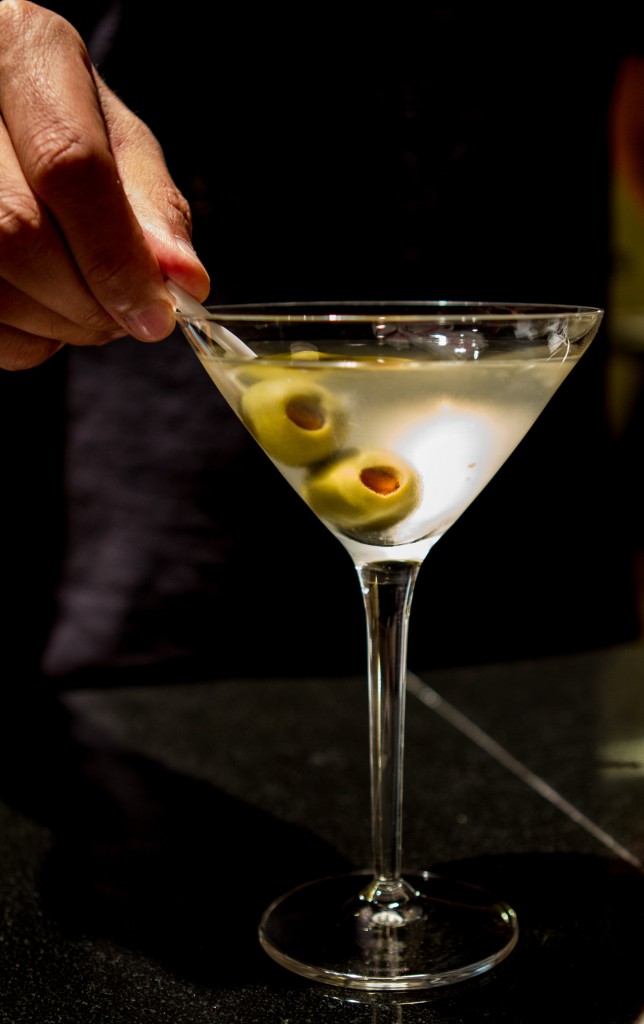 Have you ever noticed how particular people are about their Martinis?  Ordering a martini is very much like ordering coffee at Starbucks.  I once heard a woman (whom I can only assume is a very complicated person) order a triple venti, sugar-free, non-fat, no foam, extra carmel, with whip, macchaito.  Much like your favorite coffee, ordering a martini is also ritual a person uses to assert their individuality.  "Shaken not stirred" has to be the most famous martini ordering line on the planet.  Assertive ordering says something about a person; Bond is a guy who knows and takes what he wants.
My father's martini MUST be made with Bombay Sapphire gin and anchovy stuffed olives.  I do not know exactly what fish in your cocktail says about you.  Perhaps it's, "I'm from the midwest and enjoy fishing the great outdoors?".  Unsure, all I do know is I have walked out of restaurants before with my parents upon learning Bombay Sapphire was not available.  Dad: "No Sapphire?  What kind of a place IS this?".  My parents are from the martini era.  They own an antique piece they call a "libations suitcase".  It's a thirty year old worn, hard-cased, plastic travel suitcase which, upon opening reveals cups, a shaker, strainer, jigger, stirrer spoon, and space for a bottle of vermouth and a booze fifth of your choice.
These items are all snugly secured with well worn elastic bands.  The libations suitcase is pretty awesome.  It hails from that golden age of drinking where it was acceptable to bring your own booze to parties.  It totally reminds me of something Don Draper would bring into a client's boardroom.  My parents still take the libations suitcase on golf trips with friends and are always 5 o'clock the life of the party!
My favorite drink is an extra dirty, extra bruised, grey goose martini!  I used to think I made the best dirty martini on the planet until I met The Hubs.  He showed me the light and corrected my method, shaking the olive juice with the vodka.  Such a small thing, but it really made a difference for the perfect dirty blend.  From that day forward, he has become my "dirty mixologist"!  Ha.  Thankfully, we stocked up on a ginormous bottle of goose last week, so we were all set for last Friday night's festivities to kick off our weekend.
One very weird thing about me, I don't like olives.  Salty olive brine, however, is another story.  It works out well, as The Hubs loves olives, so he always acquires my extra garnish if we order a dirty in a restaurant or bar.  He's not as particular about olives as my dad is, so any old kind will do for him.  The Hubs does prefer the premium "queen" larger sized olives.
First things first, you will need barware:
cocktail shaker
cocktail strainer
jigger
2 martini glasses
dishtowel
Fill your martini glasses with ice while you are mixing the drinks.  This will chill the glasses and help to keep your martini colder longer.
Grab your shaker and fill it 3/4 of the way with ice cubes.  Pour in 4 large jiggers (6 oz) of vodka, and 1 large jigger (1 and 1/2 oz) of olive juice.  Make sure your lid is tightly secured and wrap the towel around the shaker to protect your hands.  Start shakin'!
"Extra bruised" means shake it violently for at least a minute or more.  I like ice crystals to float on top of my martini.  Ice crystals help to keep your drink cold, and also (somewhat) dilute the vodka.  Shaking the shaker extra hard and long helps to create the smaller ice chips that will slip through your strainer.  The towel will stick to the shaker's canister, indicating the dirty is ready.  Remove the ice from the martini glasses, and using a strainer, pour the martini mixture from your shaker.  Here is a birds-eye view of the finished product:
Dirty Martini
prep time: 5 minutes
Print This Recipe!
Serves 2 people
Ingredients:
4 large jiggers (6 oz) of vodka
1 jigger (1 1/2 oz) of olive juice
ice
olives for garnish
Method:
Fill the martini glasses to the rim with ice.  Set aside.  Fill martini shaker 3/4 full with ice.  Add 4 large jiggers (the large end of the jigger) of vodka, and 1 large jigger of olive juice.  Wrap shaker with towel and shake for 1 minute or longer.  Remove ice from martini glasses and strain shaker mixture into chilled glasses, allowing small ice crystals and chips to escape the strainer.  Garnish martinis with olives.