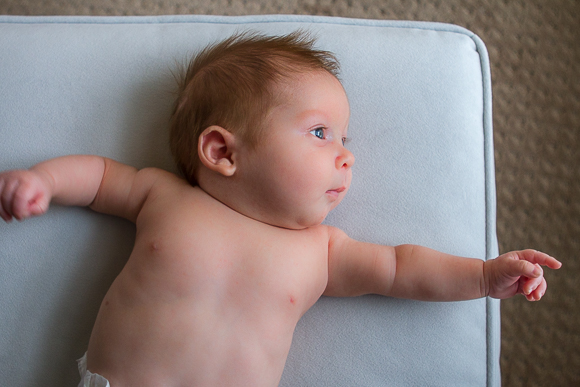 The week after I had baby P my mom made us oven "fried" chicken per my dad's request. Along with spaghetti and meatballs (which she also made) her oven fried chicken is one of my dad's favorite meals. The Hubs and I liked it so much that we requested it two more times over the remaining twelve days of their stay. The leftovers (she made a ton of chicken!) were especially our favorite the next day. Because we were eating at odd hours (i.e. whenever we remembered to) it was lovely to have a quick and tasty protein on hand with which we made wraps, sandwiches and salads. It's amazing how sleep depravation makes you feel like you are starving when you wake for a 3AM feeding.
I can't believe baby P is already two months old today! He's grown and changed so much already. He pretty much has his daddy and me wrapped around his finger and plays us for chumps on a daily basis. Anyway, back to the chicken… did I mention yet that the leftovers are the best!? Hot or cold, this chicken does not disappoint. The Italian dressing marinade makes the chicken super tender and the chili powder and paprika give it a little kick right where it's needed. We could eat this (at least) once a week. Serve with roasted veg and some potatoes and you'll have one happy belly. The ingredients are pretty simple and the prep is quick and easy. Let's get started!
I was stoked to find already cut up Bell & Evans chicken breasts, normally the only Bell & Evans chicken option is for a whole chicken. Less prep work has been key these past couple of months, so any shortcuts I can take are greatly appreciated. Use whatever Italian dressing you prefer. My personal favorite is Ken's SteakHouse Northern Italian. In a gallon-sized ziplock, place the chicken breasts and a cup of the Italian dressing. Let marinate in the fridge for an hour.
Mix the seasoned panko and Italian breadcrumbs together with the sugar, chili powder, paprika and parmesan cheese and place in a shallow bowl for dredging. Remove the chicken from the Italian dressing marinade, press each breast into the breading and place onto a baking sheet with a wire rack inserted. The wire rack ensures all sides of the chicken breast will get crispy. Discard the used marinade.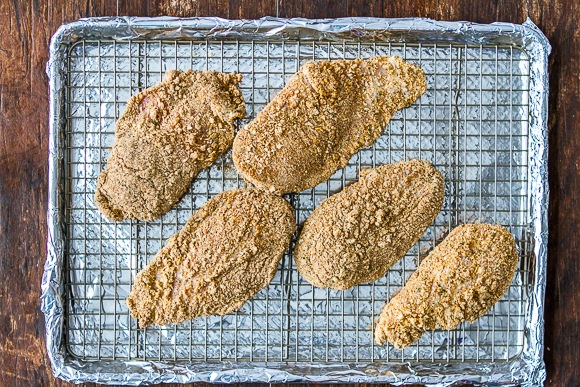 Drizzle olive oil over top of the chicken and bake at 375 for 25-30 minutes. Lastly, broil for 2-3 minutes, or until chicken is crisped on the outside.
Oven Fried Chicken
Prep time: 1 hour, 20 minutes
Bake Time: 30 minutes
Serves: 1 breast per person
Ingredients:
4-5 chicken breasts
1 cup Italian salad dressing
1 cup seasoned panko breadcrumbs
1 cup seasoned Italian breadcrumbs
1/3 cup grated parmesan cheese
1 1/2 teaspoons chili powder
1 1/2 teaspoons paprika
1 teaspoon sugar
pinch of salt
fresh cracked pepper (5-7 cranks)
two tablespoons olive oil
Method:
Place chicken breasts into large ziplock bag. Pour Italian salad dressing over chicken, zip top, and massage into chicken. Place in refrigerator for 1 hour.
In a shallow bowl, mix remaining ingredients except for olive oil. Dredge chicken in breading mixture and place on baking sheet with wire rack. Lightly drizzle olive oil over top of chicken.
Bake at 375 for 25-30 minutes, broil for remaining 2-3 minutes.
Serve with veg and a favorite starch. Use leftover chicken in wraps, sandwiches and salads!