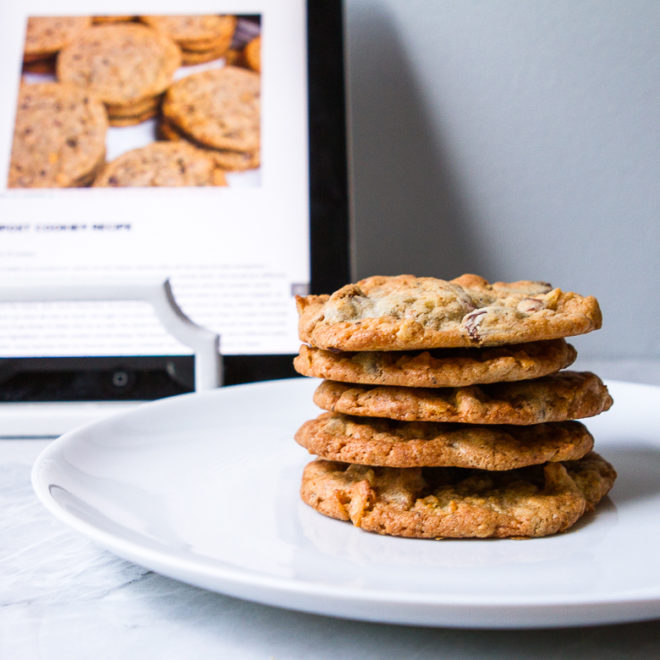 The Compost Cookie® is my first attempt at a Christina Tosi Milk Bar recipe, but it will not be my last.  I really want to try her birthday cake recipe (complete with funfetti sprinkles and birthday cake crumbs!) but figured I'd first cut my teeth on something as simple as her cookies.  Simple.  HA.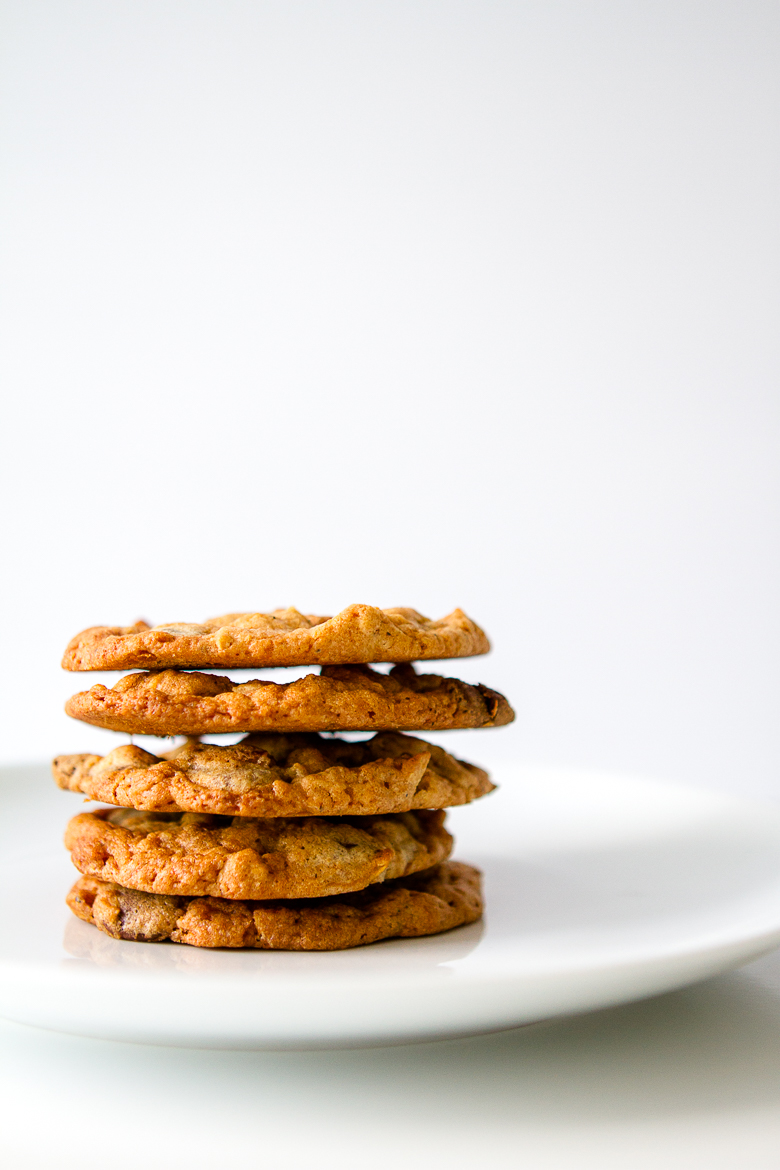 This recipe is involved so you must pay attention and I'll admit to losing focus on the first batch.  They turned out thin, extra crispy and did not look at all like the photos on Milk Bar's website.
Luckily I swallowed my pride (and ate my mistakes – which still tasted sweet, salty and very crunchy) and gave it another go.   The recipe has a lot of different ingredients and you have to really pay attention (and did I mention you have to pay attention?) to the instructions or else the next thing you know you'll… SQUIRREL!!  And now your cookies are the size of a salad plate.
Seriously though, set aside a couple of hours to make these and implicitly follow the recipe.
Upward and onward to round 2… smaller cookie dough scoops with lots more breathing room in-between.  The Milk Bar recipe says leave 4″ in between the cookies but who has that much time or that large of cookie sheet??  I think I left 2 1/2″ and at 1″ sized drops it worked just fine.  Some other things I screwed up; I used instant espresso powder in place of freshly ground coffee (I think that may have had something to do with the severe spreading and over-crisping) and I made my cookies too large and didn't space them far enough apart.  I would recommend investing in a scale that can be zeroed out, as measuring the ingredients in grams definitely contributed to second time success.
Firstly, make the graham cracker crust.  The weirdest ingredient for this crust is the powdered milk but I found it in the baking aisle with a little help from the professor.  Make sure you whisk the heavy cream with the melted butter before pouring it over the dry ingredients.  I dumped one then the other but it still tasted great.  I can't wait to make a chocolate pie for Thanksgiving with this crust.  HOLY YUM.
Secondly, this pretty much starts off as your standard choco-chip cookie recipe.  Whisk together the dry ingredients in a bowl and set aside.  Cream room temp butter with sugars and add glucose (I substituted corn syrup as I could not find glucose at my local grocer), then add egg and vanilla, then add the dry ingredients.  The recipe starts getting interesting at this part.  I think I would call these Kitchen Sink Cookies, because Ms. Tosi puts pretty much everything in her cookies at this point.  Chocolate and butterscotch chips, check.  Pretzels, check.  Potato chips, check.  Oatmeal, check.  Coffee grounds, check.  Oh and that graham cracker crust you made earlier?  Check.  I feel like you could put any kind of crunchy cereal in this cookie (rice krispies, I'm looking at you) and it would totally work.  I omitted the butterscotch chips (because, gross), and cut the recipe in half.  My halved recipe made 18 cookies and the end result with the smaller sizes better spaced did the trick.  Oh, and my little one-and-a-half year old taste tester whole-heartedly approved.  (How did he get to be 1 1/2 already!?!?)
Milk Bar's Compost Cookie® 
Prep time: 2 hours
Cook time: 15 minutes
Makes: 16-20 cookies
Cookie Ingredients:
1 stick (8 tablespoons) unsalted butter, at room temperature
100 g granulated sugar
75 g light brown sugar
1/2 tablespoon corn syrup
1 egg
1/4 tsp vanilla extract
115 g flour
1/4 tsp baking powder
1/8 tsp baking soda
1/2 tsp kosher salt
125 g dark chocolate chips
20 g (1/4 cup) graham crust (see below recipe)
20 g old-fashioned rolled oats
1 1/4 tsp freshly ground coffee
25 g potato chips (thicker plain kettle chips hold up best)
25 g mini pretzels
Graham Cracker Crust Ingredients:
1 1/2 cups graham cracker crumbs
1/4 cup milk powder
2 tablespoons sugar
3/4 tsp kosher salt
4 tablespoons butter, melted, or as needed
1/4 cup heavy cream
Graham Cracker Crust Method:
Crumble the graham cracker crumbs as finely as you can by hand.  Using your hands, toss the graham cracker crumbs, powdered milk, sugar and salt together in a medium bowl until well mixed.
2.  Whisk together the butter and heavy cream.  Pour over the dry ingredients and toss again so everything is coated in the butter mixture.  The butter mixture will form small clumps which is what you want going into the cookie batter.  You'll only need 1/4 cup so save the rest for a pie.  The crust should hold its shape if squeezed tightly in the palm of your hand.  If it doesn't do this, add an additional 1 to 1½ tablespoons of melted butter.
3.  Since you use so little of this graham mixture in the cookie recipe, place it in an airtight container and store for up to 1 month in the fridge or freezer.
Cookie Instructions:
1.  In a small bowl, whisk together flour, baking powder & soda, and salt.  Set aside.
2.  Cream butter, sugars and corn syrup together in a stand mixer fitted with a paddle attachment for 2 minutes. Scrape down the sides of the bowl and add the egg and vanilla.  Set a timer and beat for 7 to 8 minutes ensuring extra fluffiness.
3.  Next, add the flour, baking powder, baking soda, and salt mixture. Mix on low just until the dough comes together, no longer than 1 minute.   Do not over mix the dough.  Scrape down the sides of the bowl with a spatula.
4.  Add the chocolate chips, crumbled graham crust, oats and coffee.  Mix on low for about 30 seconds, just long enough to move all the added ingredients through the dough.  Next add the potato chips and pretzels (whole) and mix another 30 seconds, so as not to break them up too much.
4.  Use 2 spoons to get 1″ sized round dough balls portioned out on a parchment lined baking sheet 2 1/2″ apart from one another.  Pat the tops of the cookies flat then wrap the sheet pan tightly in plastic wrap and refrigerate for at least 1 hour, or up to 1 week. Do not try to bake your cookies from room temperature— they will fail.
5. heat the oven to 375°f.
6.  Bake the cookies at 375°f for 15-18 minutes.  They will puff, crack, and spread.  The cookies should be very faintly browned on the edges yet still bright yellow, and somewhat raw, in the center.
7.  Let the cookies cool completely on the sheet pans for at least 10 minutes before transferring to a plate or an airtight container for storage.  At room temperature, the cookies will keep fresh for 5 days; in the freezer, they will keep for 1 month.