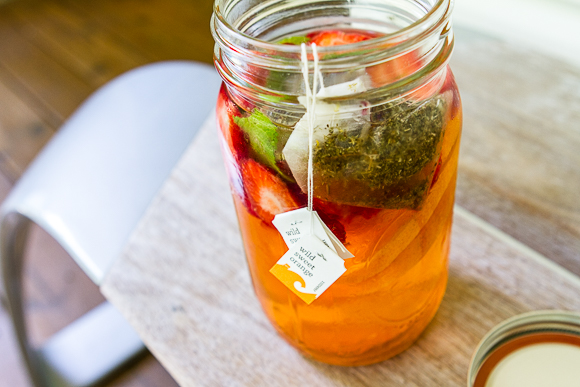 I've got strawberry fever and the cure is to put them in EVERYTHING! This fruit-infused tea is a refreshing and summery Memorial Day treat well worth the 24 hour wait!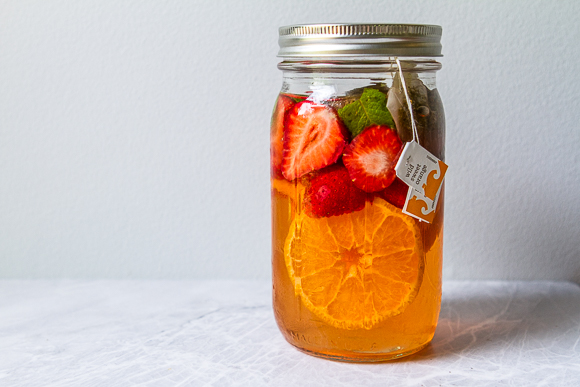 Cold-brewed fruit-infused tea is great for using up all the weird tea left behind by our visiting parents.  They buy different tea each visit yet never drink it because they realize they preferred the loose black tea you already had!  Seriously, I found EIGHT boxes of differently flavored tea while cleaning out the pantry this weekend.  I need a tea display box like restaurants have so I can properly offer all these tea bags with a flourish to our parents next time they arrive.
Fruit-infused tea is not to be confused with southern fruit tea.  A distinctive difference lies between fruit-infused tea and fruit tea.  I'd never before had fruit tea until I moved to the south – and let me tell you, I do not like it.  Fruit tea has orange juice or pineapple juice added along with spices like cinnamon sticks making for a cloudy drink that does not remotely resemble tea.  It's like your taste buds gets ready for tea but then you end up drinking fruit juice.  It just tastes weird to this Northern Yankee Girl.  Fruit infused tea, however, I can get behind!
This recipe is pretty simple.  Add two teabags along with sliced strawberries and oranges to a quart of cold water.  Feel free to also add fresh mint or thyme sprigs, whatever you like.  Give it a stir-shake-dunk and let it sit in the fridge overnight. Strain, add sweetener if you choose, and enjoy over ice!
P.S. I love all our parents!!!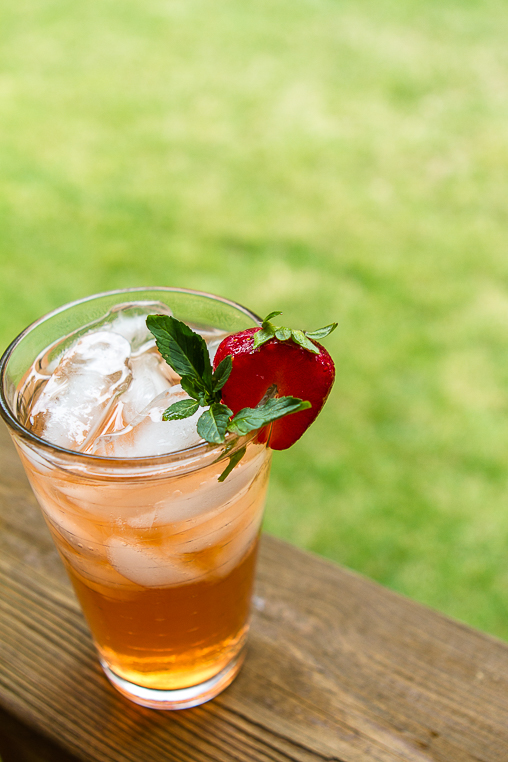 Cold-Brewed Strawberry-Orange Tea (inspired by Cooking Light)
Prep time: 5 minutes
Infuse time: 24 Hours
Ingredients:
1 quart filtered water
2 orange or black tea bags (or whatever you find lurking in your pantry!)
3 strawberries, sliced
4 slices orange
4 mint leaves
Method:
Add all above ingredients to quart of water.
Let sit in refrigerator overnight for fruit infusion.
Strain liquid and serve over ice with a sprig of mint.
If preferred, dissolve 4 teaspoons honey with 4 tablespoons warm water, divide among 4 glasses to add an extra amount of sweetness.