I must miss the tropical paradise of St. Martin just a wee bit, because I have seriously been craving Caribbean pineapple coconut drinks!  With a forecasted low in the 30's tomorrow morning, I'm hoping it's possible to will Spring to arrive faster if I have a tropical drink in my hand.  When I first made this smoothie for The Hubs, he declared, "all this needs is some rum!", which made me laugh because it was breakfast, and definitely not yet time to imbibe in libations.  Then he reminded me of our first night in St. Martin last December.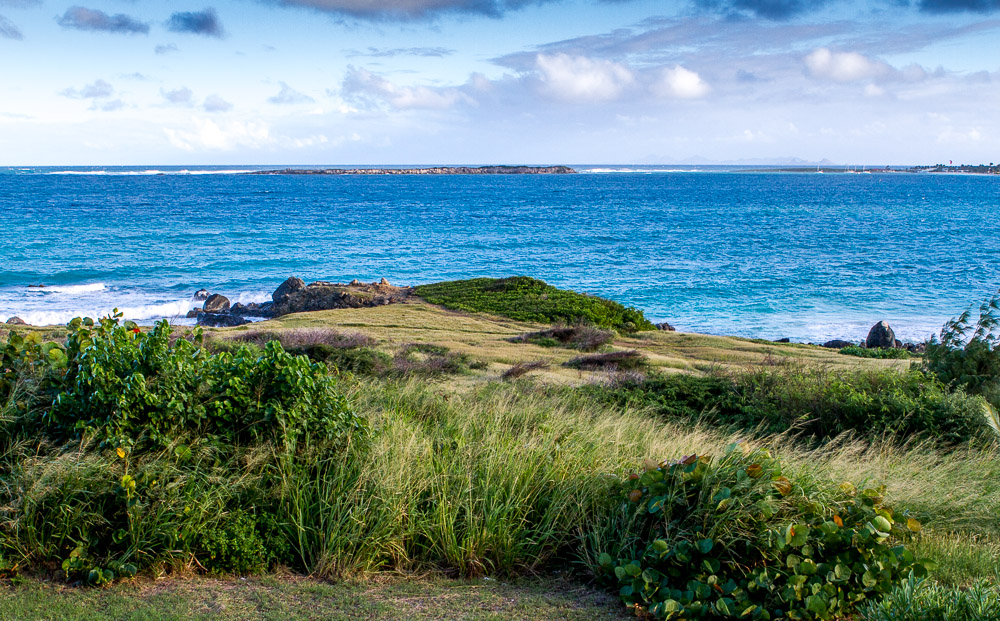 Our actual journey to St. Martin this past December was not an enjoyable travel day.  It began with a no-show cabbie which prompted a mad dash, unplanned drive to the airport.  We continued our journey enduring a three hour flight delay, an airsick passenger (so gross), and finally navigating a shoebox of a car through third world roundabouts in the dark to get to our accommodations.  The day ended with an inability (because of aforementioned late flight) to meet on time with the property manager to get into our vrbo-rented condo.  I'm not going to lie, some locals may have witnessed a brief ten minute scene of me sitting atop my luggage, pitifully wiping tears while waiting for the manager.   She eventually showed to give us the keys to our condo.  Since all we had for lunch that day was a very sparse airplane cheese plate (again, so gross), by the time we got into the condo it was way past dinner time, so of course we were both extremely hungry and crabby, emphasis on the crabby.  We washed up, quickly changed out of our airplane clothes and got back in the car to drive to the tiny town of Grand Case.  We parked and started walking, bickering about where to eat (hangry!), and all of a sudden it started raining.  To escape the sudden torrential downpour, The Hubs steered me into La Villa where we enjoyed the very warm hospitality of the owner, Christoph.  The food was wonderful (OMG escargot) and the rain falling outside through open window wooden plantation shutters was seriously romantic.  We instantly felt well cared for and relaxed.  Christop ended our meal with his homemade rum punch, and told us it was "on the house", then wiggled his eyebrows up and down, implying, "I know what you two are going to do later"!  Needless to say, a few glasses of his tropical rum punch plus Christop's comedy eyebrow show melted away the final tinges of my travel crabbiness.
Let's get to it, I swear, once you get this down, it will only take like 10 minutes or less to prepare your smoothie.  I like to chop the pineapple at the beginning of the week, core it, and refrigerate what I don't use.  One pineapple will usually provide four days of smoothies.  Same goes for the mango.  To choose a good pineapple, don't go by looks, go by smell.  If there is no smell, it is probably underripe.  If it smells sweet, it is ripe.  When choosing a mango, do not go by color, go by touch (should feel slightly soft when pressure is applied) and sweet smell.  Did you know you can cut a kiwi in half and scoop out the insides with a spoon like you would a hard boiled egg?  No peeling necessary.  Adding avocado makes the smoothie super creamy.  I use the So Delicious brand of  "culinary coconut LITE" milk, found at the health food store.  It is a little more concentrated than just regular light coconut milk, so I use less of it.  Plus, bonus, the So Delicious culinary coconut milk comes in a resealable little carton rather than a can.  If you are using regular light coconut milk, use half the can.  (Save the other half for tomorrow.)  You really can't go wrong with this recipe.  Add your favorite fruits, add yogurt, go crazy and make it your own!
To make, add ice to your blender or immersion blender approved vessel, then add all the other ingredients.  Experiment with how much water you want to use, less if you prefer a thicker smoothie, more if you prefer a thinner smoothie.
Buzz it up until smooth and divvy among two glasses.  Garnish with kiwi or pineapple and enjoy!
Pineapple-Coconut Smoothie
Prep time: 10 minutes
Serves: 2 people
Print This Recipe!
Ingredients:
1 cup chopped pineapple
1/2 cup chopped mango
1/4 avocado
1 banana
1 kiwi
1 tablespoon honey
1/3 cup Lite Culinary Coconut milk
1/2 cup coconut water
1/2 cup water
1 cup ice
Method: blend together above ingredients until smooth.  Garnish with reserved fruit of choice and divide among two glasses for serving.