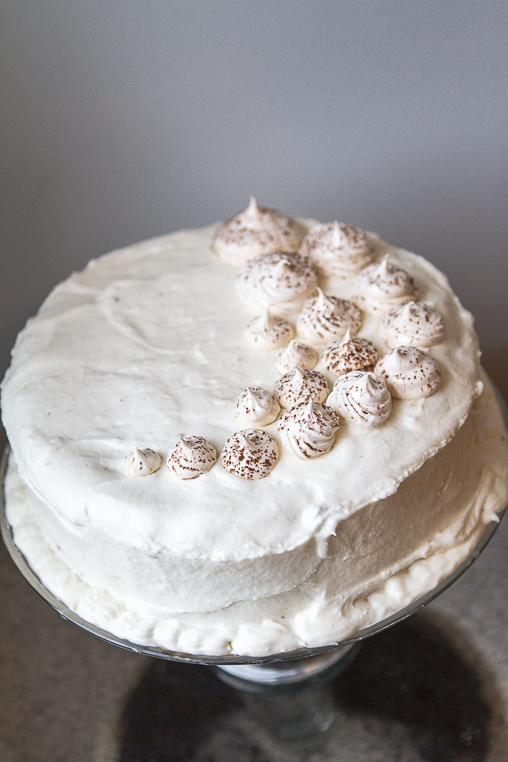 January was a huge month for our household.  We celebrated Baby P's first birthday, complete with a decadent chocolate cake, lots of presents, a kiddie party, out-of-town grandparents, Snowpacolypse and only one meltdown (from me)!  I'd say that's pretty good, considering everything…
I made two cakes for Baby P's first  birthday; white funfetti for the kiddies and a chocolate cake for the adults, both with vanilla buttercream frosting. This decadent chocolate cake is "grown up" because of the added espresso powder.  It makes the cake slightly bitter, much like dark chocolate.  Perfect for adult palates, maybe not-so-much for those ages 12 and under.
I always feel like when it comes to baking cakes I do very well with the cake part, but when it comes to frosting the cake, it ends up looking like a hot mess.  Part of this has to do with making your own frosting and I can't ever seem to get the consistency of buttercream frosting thick enough for piping decorations.  By the time the cakes are baked and cooled I'm usually tired and end up slapping on a crumb coat and then a gloppy final frost.  I think I'll eventually need to invest in a turntable and a few other cake decorating necessities. I have to say Lindsay's meringue decoration idea saved the chocolate cake from looking like slop and the sequin dallies I found at Kroger worked well to make the funfetti insides and also festively decorate the outside of the cakes and cupcakes.
So this recipe will be for chocolate cake only, as I'm still searching for that perfect pipeable buttercream frosting recipe.  I'm hoping The Hubs will buy me a cake decorating class for my birthday (hint hint). In the meanwhile, enjoy these b-day photos!
Chocolate Cake (from Joy The Baker's book Homemade Decadence)
Prep time: 20 minutes
Bake time: 25-30 minutes
Makes: This cake will make either one 3-layer 9″ round cake or one 2-layer 9″ round cake + 10 cupcakes
Ingredients:
3 cups cake flour
3/4 cup unsweetened cocoa powder
2 teaspoons baking powder
1 1/2 teaspoons baking soda
1 teaspoon salt
1 teaspoon instant espresso powder
1 cup unsalted butter (2 sticks),  room temp
1 1/2 cups packed brown sugar
1 1/2 cups granulated sugar
4 large eggs, room temp
1 tablespoon pure vanilla extract
2 cups buttermilk
Method:
Preheat oven to 350 degrees and grease, flour and parchment paper your 9″ round baking tins.  (To measure, place piece of parchment on the bottom of an upside down cake tin and cut a circle using the bottom of the tin as your guide.)
In a medium bowl whisk together the dry ingredients; cake flour, cocoa powder, baking powder & soda, salt and espresso powder.  Set aside for later use.
Using the paddle attachment on a stand mixer, cream together the room temperature butter and both sugars until fluffy, about five minutes on medium speed.  Next add the eggs, one at a time, until each one is incorporated before adding the next.  Finally, beat in the vanilla extract.
Reduce the mixer speed to the lowest setting and add half the flour mixture to the mixing bowl, beating until incorporated.  Next slowly stream the buttermilk into the batter until it's well mixed, then add the remainder of the flour mixture.  Beat until combined, then remove bowl from mixer and stir with a spatula, stirring together any flour or sugars missed from the bottom and sides.  Divide batter between cake pans or cupcake papers.
Bake at 350 until a wooden toothpick comes out cleanly when inserted in the center of the cakes.  Between 25-30 minutes.  If baking cupcakes, check for doneness at 20 minutes, as they will bake faster than the cakes.
Let cakes cool in pans for 20 minutes before inverting onto wire cake racks to further cool.  Cakes should be completely cooled before frosting.
Cakes can be double wrapped in plastic wrap and frozen for up to seven days.  When ready to frost, remove from freezer, unwrap and frost frozen for best results!