Mmmmmm chicken pot pie.  The most comforting of comfort foods.  When I was little I LOVED those little frozen pies packaged in the tiny tin foil pan that had the cubed chunks of processed turkey or chicken in them!  This pie recipe is definitely a grown up version of the store-bought processed pie and great for chilly nights.  (Although, it's hard to believe it's already November 8th when the weather outside is still in the 70's!)  I made this potpie for The Hubs and he declared it was The Best Pot Pie he'd ever eaten in HIS LIFE.  This is big praise coming from him!  Best part about this recipe?  It's a kitchen sink recipe.  Do you have leftover chicken or turkey?  What veg is in your fridge or freezer?  Well, you will be having leftover turkey soon, so this is a great repurpose for those leftovers.  We visited Silo for the first time ever last week and they gave huge portions of hot chicken (for The Hubs) and confit chicken leg/thigh (for moi).  We doggie bagged our uneaten halves of chicken, diced the meat the following day and threw it in this pot pie!  The hot chicken gave the potpie a spicy, warmer edge.  Brilliant!
First things first, put a tablespoon of butter in your pan and sauté your diced onions, potatoes, celery and carrots until they begin to soften.  Let cook for 10 minutes or so, until everything softens.  You may want to add more butter.  Use your own butter discretion.  Add the garlic and cook for one minute longer.
Add mushrooms and whatever else you might want to throw in there.  Broccoli?  Cauliflower?  What's in your fridge?  Whateves!  It's your creation, just go with what feels right.  Time to add the cooked chicken (or turkey).  If you don't have leftovers, another simple solution would be to buy a rotisserie chicken at the market and shred the meat for your pie.  Sprinkle 1 teaspoon of flour over top of your mixture, then add 2 cups of low sodium chicken broth and 1/2 cup of white wine.
Let it simmer and cook down until the mixture thickens, about 5 minutes.  Add the fresh thyme and season with salt & pepper.
Lastly, add in a splash of milk or half & half if you have it.  Just a splash.  Let it cook for about 3 minutes longer,  add a handful of frozen (or fresh if you feel like shellin') peas, then turn off the heat and set aside to cool.  Time to roll out your pie crust.  I made homemade pie crust (I swear, it's super easy, especially if you make it in advance!), but I will not go all judgey wudgey on you if you buy a store bought pie crust.  Heck, even puff pastry would work.  Whatever you have, roll it out so that the dough will overlap the pie plate or ramekins you are using by 1/2″ to 3/4″.
Fill your vessel of choice with the cooled pot pie filling and place the dough overtop, pushing down slightly around the inside edges.
I folded half-inch mini sections of the pie edge over on itself and ended up with a pretty edge all around.  If you'd rather just push it down on the sides, that's fine too, or you can even crimp with a fork.  This is what mine looked like when almost finished:
After the crust is sorted, make sure you brush an egg wash overtop to ensure maximum golden brownness.  Don't forget to cut some slats to allow steam to escape!  Place your beautiful glossy masterpieces on a baking sheet and pop in the oven.
I baked my pot pies for 40 minutes at 400 degrees in our convection oven.  The crust turned out golden and flaky, the pot pie filling was warm, flavorful and succulent.  Perfect dinner for a fall day.
Chicken Pot Pie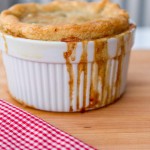 Serves: 3-4 people
Ingredients:
1 tablespoon butter
1/2 a finely diced purple onion
2 cloves minced/zested garlic
1 cup chopped potatoes (1/2″ cuts)
3/4 cup chopped carrots
3/4 cup chopped celery
3/4 cup sliced mushrooms
1/2 cup frozen peas
1 cup chopped cooked chicken
1 tablespoon flour (or wondra)
2 cups low sodium chicken broth
1/2 cup dry white wine (like côtes du rhone)
1 teaspoon fresh thyme leaves
splash of half & half
salt & pepper
1 egg, beaten with 1 tablespoon water
1 raw pie crust
Method:
1. Preheat oven to 400 degrees.
2. Melt the butter in a large skillet over medium heat.  Add onion, potato, carrots and celery and cook for about 10 minutes, until potatoes are almost cooked.  Add garlic and cook for one minute longer.  Add the mushrooms, chicken, and a tablespoon of flour.  Stir until all is combined.
3. Add chicken broth and wine to your skillet.  Stir to combine and let simmer until it begins to thicken.  Add the thyme now, and season with salt and pepper.  Stir in the half and half and cook about 3 minutes longer, until thickened.  Stir in the peas and remove your filling from the heat.  Set aside the skillet and let it cool.
4. Roll out the chilled pie dough so it overlaps the pan, (casserole dish, ramekin, whateves) you are using by 1/2″.  Pour chicken mixture into your vessel(s) of choice.  Fold 1/2″ mini pie overlap sections over onto itself and you will form a pretty crust!  (Or you can crimp with a fork, either way is acceptable, it's your pie, make it your own!)
5. Beat 1 egg with 1 tablespoon water and brush egg mixture overtop of the dough.  Cut vents in top of pie dough to let steam escape.
6. Place pies onto a baking sheet and bake at 400 degrees for 40 minutes, or until crust is browned.  You are welcome!