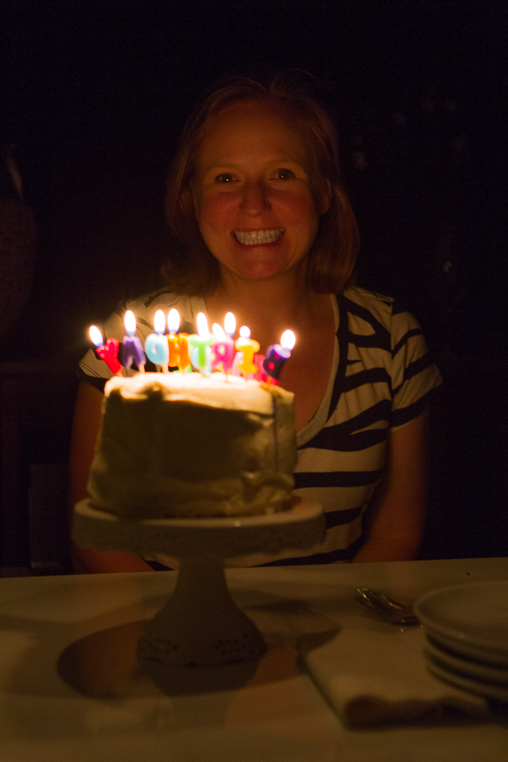 Blah blah blah, new moms have no time and are perpetually tired. Blah blah, seasoned moms have no time and are perpetually tired. Blah. I really don't want to be one of those people who complain about having NO TIME for myself and the things I wanted to do anymore post baby. I wanted to be super mom who could bring home the bacon, fry it up in the pan, AND make homemade sweet potato baby purée after story time and singing Baby P to sleep with sweet lullabies.
I went to my GP for a regular check-up and post baby everyone (your GP, the OB, Husband, the neighbor down the street, EVERYONE) seems concerned (well, except for crazy Tom Cruise) that you might have post partum depression. My GP is a fairly young, energetic woman who definitely has no children. She asked if I'd been back to my "normal activities" since having the baby 7 months ago. Well, let's see, I've missed the last 4 books in book club because I'm simply too tired and I don't want to wear real pants past 6PM and book club meets at 7. Is that depression or a shift in wardrobe priority? Unsure. She seemed concerned about the no-real-pants-after-6-PM-rule. Clearly she'd forgotten my modus operandi is sarcasm. Anyway, she said, "you need to make time for yourself to do things that fulfill you – Michele the person, not Michele the mom". Well isn't that the solution to happiness in everyone's life, not just new a mom's? When you figure out how to balance baby and life and not feel like you've forced yourself to wear real pants and attend an event because you are too tired to stay awake, let me know and I'll be all over it! In the meanwhile, I'm going to continue to try to fit photographing, cooking, and blogging in where I can, real pants be damned! That being said, this post is more than 2 months in the making.
These photos have been sitting, forlorn and untouched since the end of June when my two best girlfriends came to meet Baby P and celebrate RG's 40th birthday, Nashville-style. When I asked the Birthday Girl what kind of birthday cake she wanted, she said "carrot with cream cheese frosting". My heart sank a little bit because I had never before made carrot cake OR cream cheese frosting! I'm not going to lie, I did buy a back-up boxed version just in case I ran out of time (or gumption). Cue the food processor. Ever since I realized that thing can go in the dishwasher, I've reacquainted myself with it. The food processor buzzed up the insane amount of carrots needed in no time flat. I think I'd probably STILL be shredding carrots if I had used a grater… anyway, the cakes turned out pretty darn good for a first attempt, if I do say so myself!
This recipe will make one 3-layer 6″ cake and still have enough batter left over for a few cupcakes OR two dozen cupcakes OR one 2-layer 9″ cake.
It was good to have the girls here, they made me feel human again. For RG's big night out, we had dinner at Chauhan's Ale House, then toasted prosecco in champagne flutes overlooking Union Station atop Virago's deck. Never one for country music, I was overjoyed to skip the Broadway strip. It felt nice to get out, but it did not come with a small tinge of guilt, leaving The Hubs at home alone with Baby P while I enjoyed a nice meal out in the real world. I was relieved to see these moms of two were just as tired and eager as I was to get back to the house, into yoga pants, and watch tv uninterrupted. BIRTHDAY BLISS.  Slightly different from last year's hootenanny when I celebrated my 40th pre-baby.
Alrighty, this carrot cake isn't going to bake itself! Preheat your oven to 350 and whisk together all the dry ingredients, except for the sugars, into a large bowl.
Grate the carrots. If you have a food processor with the grating attachment – USE IT. Fit your stand mixer with the paddle attachment and in it's bowl mix together the sugars, oil, egg, and vanilla. Add the carrots in four parts, mixing in-between additions to make sure they are all incorporated. Begin to add the dry mix to the wet, adding it in thirds. When finished, your mixture will look like this:
Grease your cake pans and add a tablespoon of flour to each, tapping all around until the greased pan is coated in flour, bottom and sides. Tap pans on the side of your sink to get rid of the excess flour. Divide  the cake batter evenly into prepared pans, leaving 1/2″ for the cake to expand. Bake until golden brown on top and a wooden toothpick poked in the middle of the cake comes out clean. It will take about 20-25 minutes. Let your cake cool inside the pan for 10 minutes before inverting it onto a wire rack to further cool. You can't frost a hot cake, so you need to plan ahead for this part. It's going to take a good couple of hours for your cakes to cool off to room temp. You can make these cakes ahead, tightly wrap them in a couple of layers of plastic wrap and freeze for up to seven days. Once you are ready to frost the cakes, trim the tops so all the cakes are flat-topped and even. This is a great time to check if your cake is awesome or not. Taste those trimmings! Next, place three triangles of torn parchment paper on a cake plate. The purpose is to prevent frosting from getting on your plate, so mind where your parchment ends go. The first layer should go top-side up, schmear 1/2 cup of frosting on top of the first layer and spread evenly so it's the same width up to the edges. Place the second layer on the first, if this is a two-tier cake, place it top side down, if it's a three-layer cake, place the second layer top side up. Repeat with frosting the second layer. The final layer should be placed top-side down. Work the frosting from the center of the cake and over the edges, smoothing as you go. It's ok not to be perfect, that's how your guests will know it's homemade!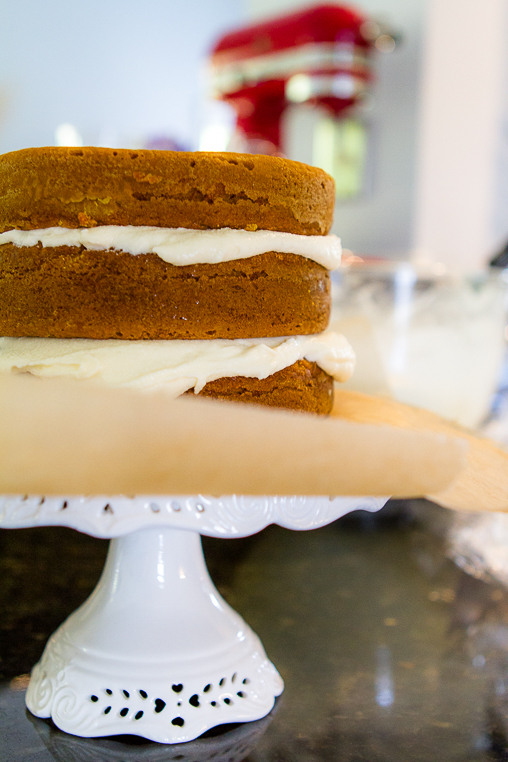 Carrot Cake
(adapted from Homemade Decadence by Joy Wilson)
Prep time: 30 minutes
Bake time: 20-25 minutes
Cool time: 1 hour
Makes: 1 three-layer 6″ cake (with leftover batter for 6 cupcakes or so)
Cake Ingredients:
3 cups all-purpose flour
1 1/2 teaspoons baking powder
1 teaspoon baking soda
1 teaspoon salt
1 teaspoon ground cinnamon
1 teaspoon ground garam masala
1 teaspoon ground ginger
1 cup granulated sugar
1 cup packed brown sugar
1 cup canola oil
2 large eggs
2 tablespoons pure vanilla extract
4 cups finely grated carrots
Frosting Ingredients:
2 8oz packages cream cheese, at room temp
3 sticks unsalted butter, at room temp
1/3 cup pure maple syrup
3 teaspoons pure vanilla extract
1/8 teaspoon salt
6-7 cups sifted confectioners' sugar
3-4 tablespoons 2% milk
Cake Method:
Place oven racks in the center and upper third of the oven and preheat to 350 degrees F. Line grease and flour three 6″ cake pans.
In a medium sized bowl, whisk together flour, baking powder, baking soda, salt, cinnamon, garam masala, and ginger. Set aside.
In a stand mixer's bowl fitted with a paddle attachment, combine sugars, oil, eggs and vanilla. Slowly mix in the carrots until incorporated. Add flour mixture in thirds, mixing well in-between each addition.
Evenly divide the batter between the floured cake pans, filling each pan halfway to allow for rising room. Discard extra batter or pour into cupcake papers.
Bake 20-25 minutes or until a wooden toothpick comes cleanly out when inserted in the middle of the cakes.
Let cakes cool in pans for 20 minutes, then let cool further on wire stands before frosting.
Frosting Method:
In the bowl of a stand mixer fitted with a paddle attachment, beat cream cheese on medium speed for one minute. Add butter and beat for another minute.
Add maple syrup, vanilla, and salt and beat until incorporated.
With the mixer turned off, add 2 cups of the sifted confectioners' sugar. Mix on low and add 2 tablespoons of milk. Add another 2 cups of the confectioners' sugar, alternating with tablespoons of milk and so forth, until all the sugar is used.
Turn the mixer on medium speed and beat the frosting until it's smooth and fluffy, about 4-5 minutes.
See paragraph above final picture for frosting instructions.