Cinco de Mayo, or the fifth of May, celebrates the Mexican army's victory in 1862 over France at the Battle of Puebla during the Franco-Mexican War.  Obviously, a perfect excuse for a day dedicated to eating carnitas and drinking Coronas!  Yay, go Mexico!  This may very well be my most favorite recipe.  Perfect for Cinco de Mayo, these slow-roasted pork tacos are to die for.  I mean it, I would die for them.  My hubs took one bite and declared he wanted to marry me all over again.  Crispy, slow-roasted (did I mention they are slow-roasted?), falling apart, succulent pork shoulder.  The basis of the recipe is simple, but the roasting (slowly) takes time, so give a good 4-5 hours from start to finish.  This serves 4+ people or 2 people with the best leftovers on the planet.  Everyone knows carnitas are always better on day two.
Ingredients
3 lbs of trimmed pork shoulder (or boston butt, same thing)

1 medium purple onion, cut into large chunks
1 medium tomato, cut into 1/4″ thin slices and seeded (hubs hates tomato seeds, if you like them, leave them in!)
8 cloves of garlic, peeled and smashed
2 jalapeños (1 sliced and seeded, the other just sliced, seeds left in)
1/2 tablespoon cumin
1/4 tablespoon salt
1/4 tablespoon chili powder
1/4 tablespoon garlic powder
1/8 tablespoon cayenne
Juice from 1 1/2 limes
Bring it on home…
corn tortillas (2-3 per person)

1/2 cup cotija (mexican farmer's) cheese crumbled

guacamole (mash 2 avocados with 1 clove zested garlic, 1/2 of a lime's juice, salt, and pepper)
pico de gallo (dice 2 tomatoes, 1/4 red onion, 1 garlic clove, 1/2 jalapeño, fistful of cilantro, and salt & pepper)
Coronas / Dos Equis / Sol – favorite Mexican beer
1. Preheat  oven to 300 degrees
2. Place all the chopped veg in dutch oven (or large oven safe pot with tightly fitting lid) EXCEPT for the tomato slices.  Squeeze in the lime juice and discard the rinds.  (We initially threw the limes into the pot, like the below photo shows, but found the rinds gave the meat a overtly bitter quality.)
3. Trim the fat from the pork shoulder.  We buy our shoulder from Porter Road Butcher.  I think they know every piggy's name before it comes to their shop from the farm.  It's the closest I'll get from farm-to-table.  The first time I bought the pork shoulder, however, I didn't know to tell them to trim off the fat.  Not only will this save time, but it also saves $$$!!  This is what my shoulder looked like when we got it home.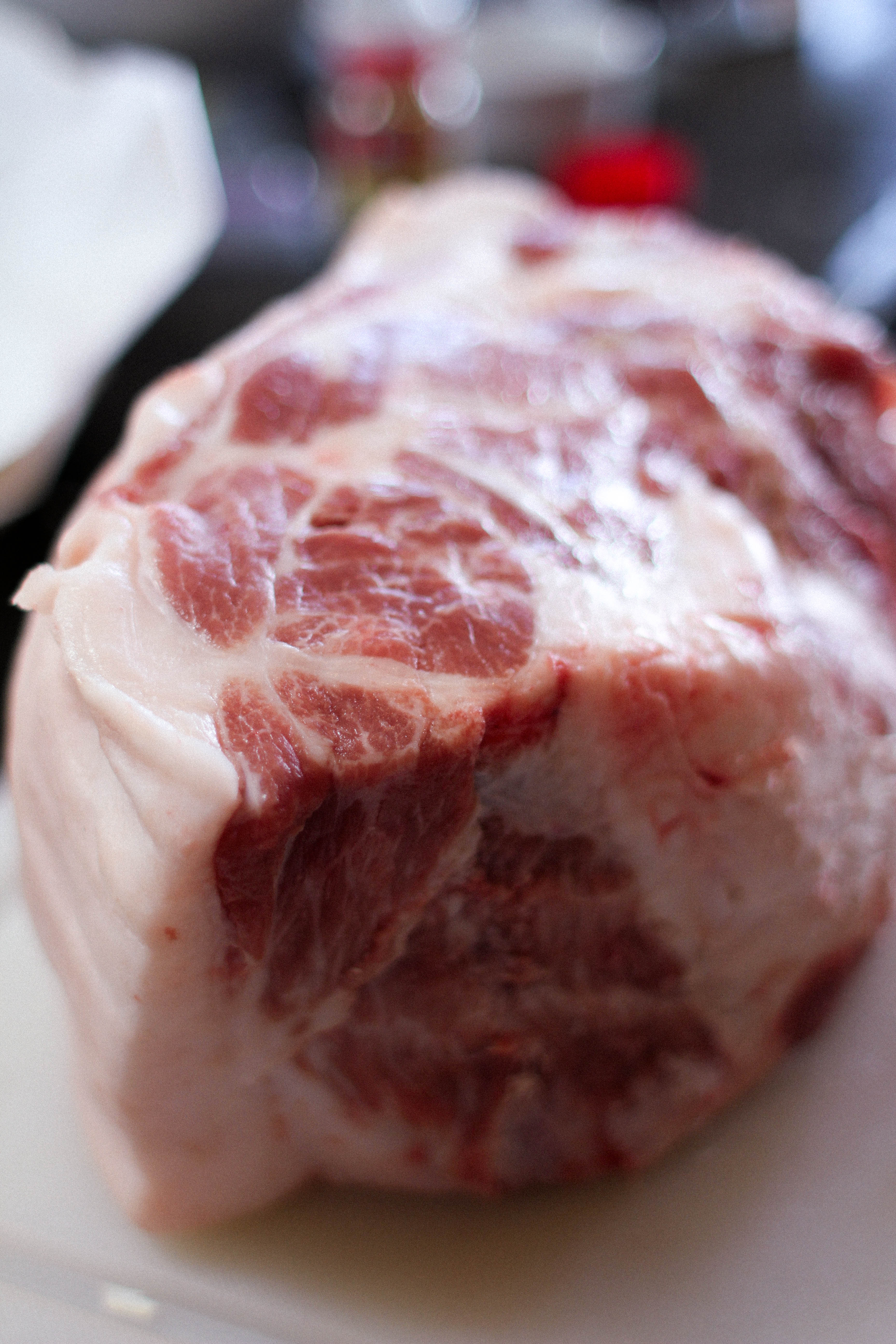 I immediately enlisted the hubs and ordered (=politely asked) him to start trimming the fat.  Trim away all the outside fat, as the meat is so marbled with fat that it will still melt into your carnitas concoction making for a delicious Cinco de Mayo.
4. Cut the shoulder into 1″x1″ sized pieces, add to your dutch oven with the veg.
5. In a small bowl, mix together cumin, salt, chili powder, garlic powder, and cayenne and dump over top of the dutch oven ingredients.  Start massaging the ingredients in the dutch together, working the dry spices into the meat.  lastly, place the tomato slices on top of all.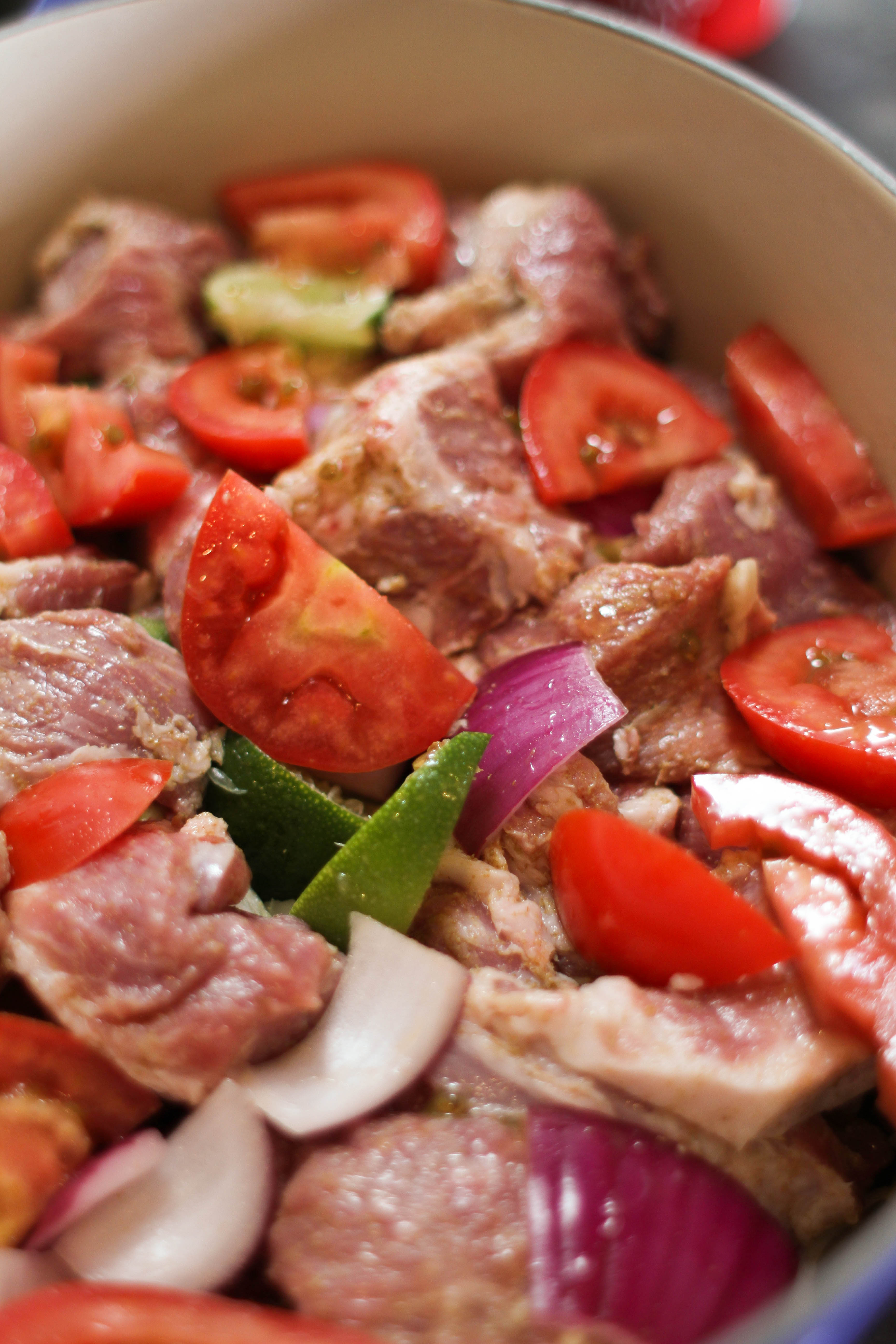 6. Place covered into the oven at 300 degrees for four hours.  Stir halfway through.  About an hour in, you'll start smelling something A-MAY-ZING, but keep your pants on, you've got three more hours to wait.  Make good use of those four hours and whip up some guac and pico.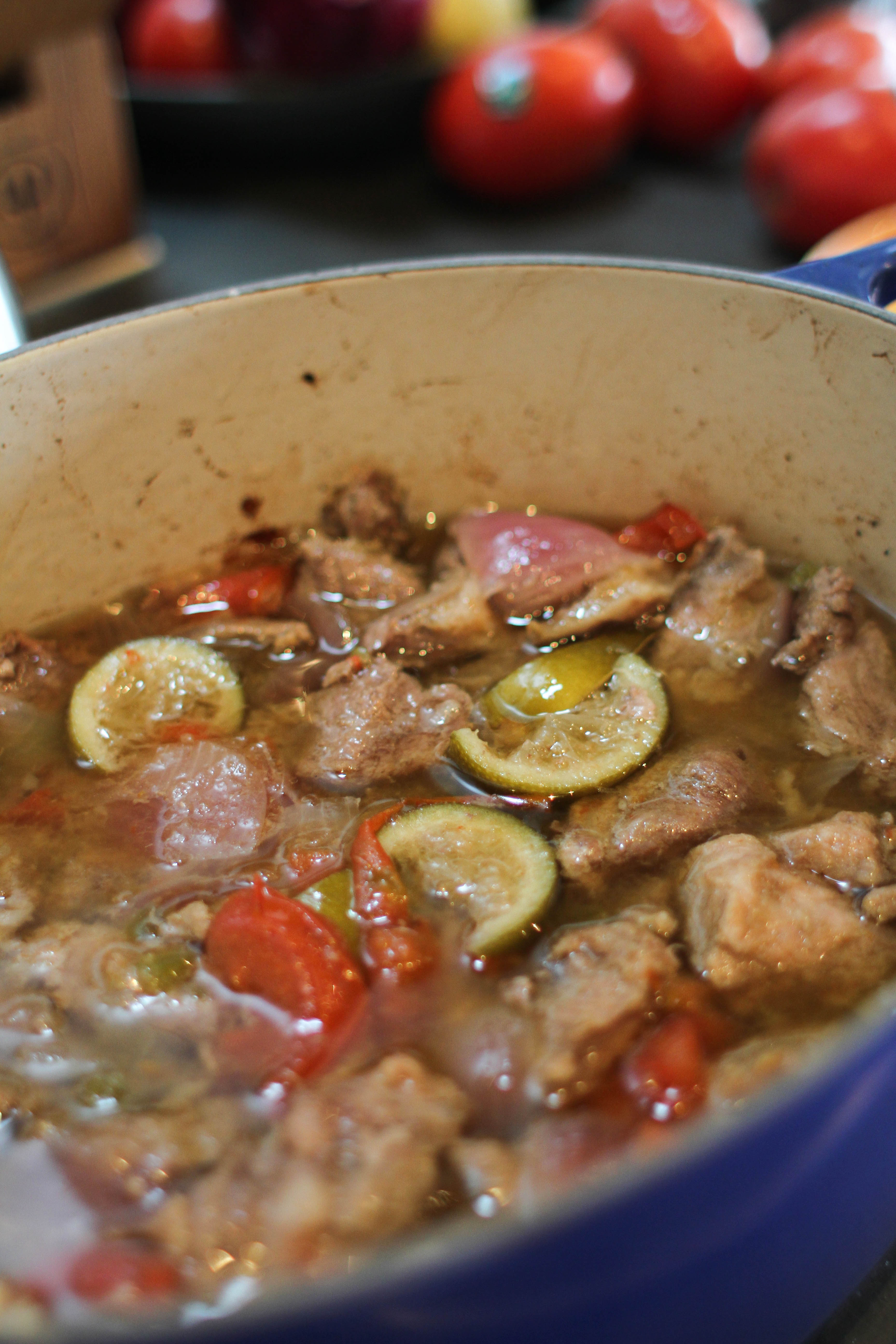 7. Resist the urge to chow down, snap yourself out of the intoxicating pork aroma that has filled your kitchen, nay, your HOUSE, and forage for a cookie sheet pan.  Scoop pork chunks and cover the entire lined sheet pan.  Get a ladle and spoon one ladle full of juice from the dutch oven over the meat on your sheet pan.
8. Crank the oven to 425 and place the cookie sheet of prized pork on the topmost rack for 7-10 minutes, just until the pork begins to brown and crisp.  It will not dry out, it just gives a little crunch of texture to the meat.  However, keep an eye on it, no one likes burned carnitas!
9. Lastly, prepare your tortillas.  Heat a non-stick skillet on medium high (no oil needed) and start slapping tortillas down, flipping every 10 seconds or so.  Wrap them in a warm towel as you finish heating them.  Build your carnitas taco: pork, guac, pico, cotija cheese, and serve with Mexican beer of choice.  I swear, this will be one of the best things you've ever eaten.  NOTE: Save your juice from the dutch oven in a separate container for day 2 application.  It will solidify (scoop fat off the top and discard) but the gelatinous goo proves even more delicious on day 2 leftovers.