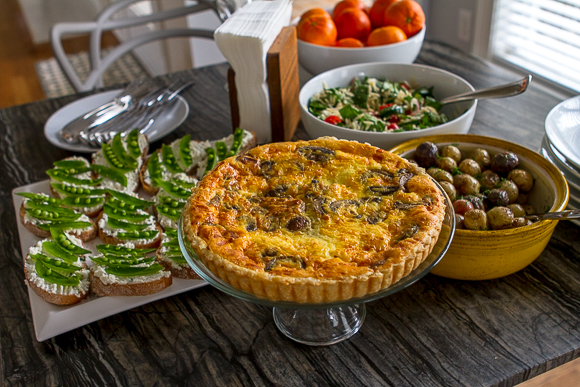 Why is this quiche the Best Quiche Ever? Because I've put all my favorite things into it, and so can you. For me it's bacon (no-brainer), mushrooms, and gruyere cheese. That's it. Oh and eggs and cream of course. And maybe sautéed the mushrooms in shallots too. For you, maybe it's spinach, leeks and zucchini? Ham and Swiss? Whatever you choose to make it your Best Quiche Ever because it's all up to you. I figure quiche comes around only a couple of times a year (like Easter and Mother's Day – hint hint?) so you should totally go balls out when making it.
The secret to relieving a little bit of the time and stress from this recipe is to make the pastry dough the day before. So if you are looking for something awesome to serve up next to that baked ham at Easter tomorrow, make your pastry dough for this quiche tonight and you'll be ready to roll (literally) in the morning. Chill the dough in the fridge for up to two days, or you can freeze it for up to a month. If you freeze it, just make sure to allow 24 hours of defrosting time in the fridge. Since my recipe makes two crusts and this quiche only calls for one, I always freeze the second for a later use. (No time to make dough?  No judgement if you choose to buy the store bought, pre-rolled kind!) Remove your dough from the fridge and let it set for thirty minutes before you start to "work it". If it's too cold, it will be harder to roll out and will easily crack. After setting out for 30 minutes, a little trick I've learned that takes some of the tearing out when you roll is to bash the dough with a rolling pin, continually turning it so it stays in a circular form. I bash it until it's the size of a small salad plate, then begin rolling on a floured surface. Roll it so when you place it into your tart pan it will hang over the sides by a couple of inches. Lop off the excess dough simply by rolling your pin overtop of the tart pan, effectively cutting off the extra dough. Side note: for a lovely snack and to also see how your dough is going to turn out, peel away the pastry dough scraps, dust with cinnamon sugar, and bake them at 350 for ten minutes.
Give the dough an egg white wash, as this will provide a barrier between the filling and pastry and will help keep the pastry from getting soggy. Reserve the egg yolk, as you'll use it for your quiche custard later.
Place the egg washed pastry dough into the fridge for at least 30 minutes. While the dough is chilling, it's time to fry the bacon, sauté the mushrooms and grate the cheese. Preheat the oven to 350 and place the crisped bacon and cooked mushrooms evenly in the pastry dough.
Sprinkle cheese evenly over the bacon and mushrooms.
Lastly, pour the custard over top of all, taking care not to disturb your carefully placed ingredients. Sprinkle a pinch of salt and crack some fresh pepper over top of the quiche.
Next, bake at 350 for 40 minutes. The filling will be browned on top and have a slight jiggle to it when finished. It will be puffed up fresh out of the oven and will deflate slightly as it cools. Let the quiche cool for 20 minutes. Once cooled, remove from tart pan and serve warm. Happy Easter!
Best Quiche Ever
(Adapted from Rachel Khoo's Quiche Lorraine recipe)
Prep time: 60 minutes
Bake time: 40 minutes
Serves: 4-6 people
Ingredients:
4 eggs plus 2 yolks (reserve egg white from one of the yolks)
1 1/4 cups heavy whipping cream
3/4 cup bacon lardons (bits)
6 baby bella mushrooms, thickly sliced
1 shallot, finely diced
1/2 cup gruyere cheese
salt and pepper to taste
Method:
Roll out the pastry dough and press into your tart pan. Brush with egg white wash and place into the refrigerator for 30 minutes. Reserve unused egg yolk for custard.
Preheat oven to 350 degrees F. Fry bacon lardons until crisp. Remove bacon from pan and place onto paper towels to drain. Place shallots into same pan and sauté for 1 minute until translucent. Add mushrooms and sauté until cooked just through, about 4 minutes. Remove mushrooms from pan. Grate cheese and set aside.
Beat together 4 whole large eggs and 2 egg yolks with heavy whipping cream. Set aside.
Distribute mushrooms, bacon and cheese evenly throughout pastry dough shell. Pour custard over top of ingredients.
Bake at 350 for 40 minutes. Let cool 20 minutes before serving warm.