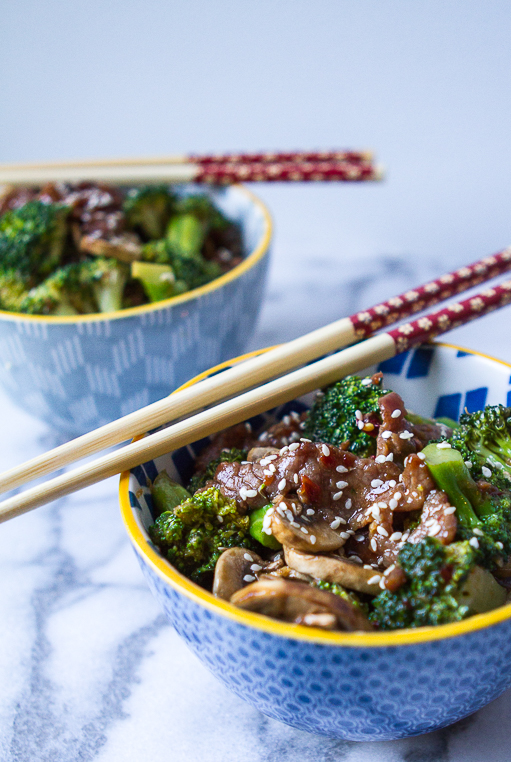 I just looked back at the last 5 posts I made and they are all for sweets.  I swear we've been eating lots of good things other than sugar!  I've been perfecting this stir fry since mid-December.  Nothing is more comforting in wintertime than a warm beef and broccoli mushroom stir fry.  This rice bowl has made it into our weeknight meal rotation and it's one of The Hub's favorites – I swear every time he tucks into his weekly bowl it's like he's never before tasted anything so awesome.  The beef gets all melty and tender when sliced thinly and massaged in the quick marinade.  The addition of sambal oelek, a Thai chili paste now found in most grocery stores, gives it just enough of a spicy punch to wake your sinuses.  This is the perfect winter weeknight dish to warm you up from the inside out.
Firstly, if you are using beef, buy a flank steak or skirt steak.  When I can find it, I buy bison because it's lean and actually better for you than chicken breast (less cholesterol and fat)!  Place the steak in the freezer for 30 minutes to get it cold and firm, then remove and slice as thinly as possible, going against the grain on an angle.
Prepare the meat marinade in a small bowl and pour it into a ziplock bag, add the meat, massage for a moment, then set aside while you cook the rice and chop the veg.
Prepare your rice according to the package directions.  I like to use calrose short grain white rice.  Once cooked, this is optional, but I like to stir in 1 tablespoon of mirin (rice wine) and 1 tablespoon of soy sauce.  The mirin makes the rice stick together so it's easier to pick it up with chopsticks.
Cut the broccoli into bite sized pieces and place into a bowl big enough to hold everything.  The two of us love broccoli and can eat an entire head of broccoli in one sitting, so adjust your broccoli intake accordingly.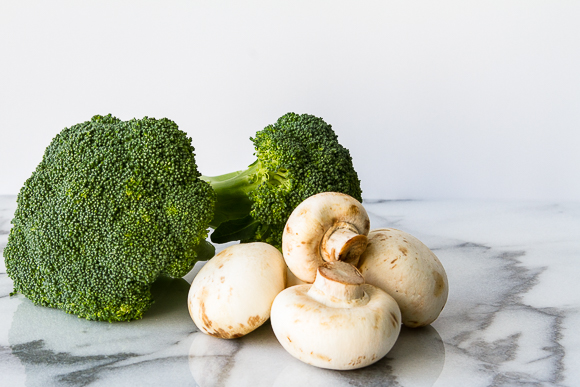 Cut the mushrooms and whatever other veg you might add and toss it into the bowl with the broccoli.  Pour 1/8 cup of water over the veg and cover tightly with cling wrap or another plate fitted upside down on top (this is what I do).  If you have a fancy veg steamer by all means use that too, this was just a brilliant quick clean up shortcut that works for me.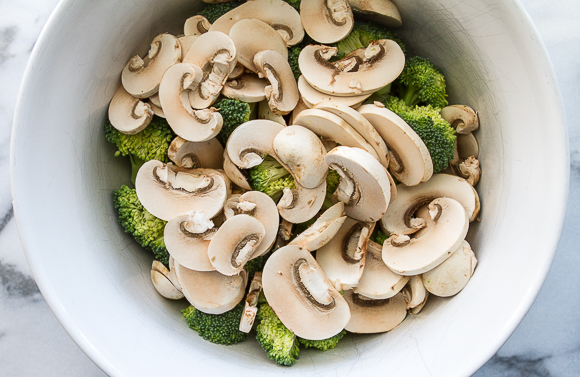 Place covered bowl of veg in microwave and cook on full heat for four to five minutes.  Test it for doneness, it should be firm, not wilty, but still cooked.
Whisk together all the sauce ingredients.
I whisk mine directly in a mixing cup, adding in the soy sauce first, then the rest of the ingredients after. Heat canola oil in skillet or wok over medium high heat and add the marinated sliced steak with all it's marinade along with 1/4 cup (about half if you are eyeballing it) of the sauce mixture.  Sauté until meat gets a browned crust, stirring and turning every 60 seconds or so.  This should only take a few minutes.  Once cooked, add the remainder of the sauce along with the steamed broccoli and mushrooms.  (Don't forget to drain the water before adding veg to the stir fry.  If you do forget, it's ok, you sauce will just be a little bit thinner.)  Cook everything for one minute longer to allow the sauce to thicken before removing from heat.  Stir until all ingredients are combined and serve immediately over warmed rice with sesame seeds as a garnish.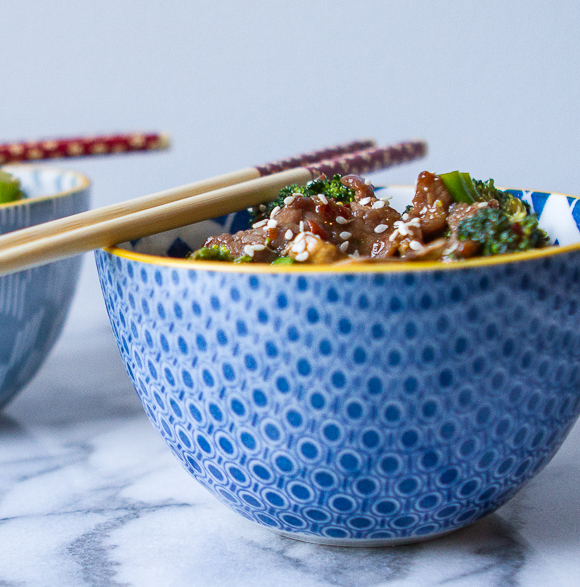 Beef & Broccoli Mushroom Stir Fry
Prep time: 40 minutes
Cook time: 5 minutes (excluding rice cooking time)
Serves: 2-4 people (depending on how hungry you are!)
Stir Fry Ingredients:
1 head broccoli, stalk removed, trees cut into bite sized pieces
6 baby bella mushrooms (or button), sliced
1/2 lb flank or skirt steak
1 tablespoon canola oil
1 1/2 cups calrose rice
2 cups water
1 tablespoon reduced sodium soy sauce
1 tablespoon mirin
1 teaspoon sesame seeds for garnish
Meat Marinade Ingredients:
2 teaspoons cornstarch
1 teaspoon sugar
1/2 teaspoon baking soda
1 tablespoon water
1 tablespoon canola oil
1 tablespoon sesame oil
1 tablespoon reduced sodium soy sauce
Sauce Ingredients
1/4 cup reduced sodium soy sauce
2 tablespoons flour
2 tablespoons brown sugar
2 tablespoons water
4 cloves zested garlic
1 tablespoon rice vinegar
1 tablespoon sesame oil
1 tablespoon sambal oelek (spicy chili paste – omit this if you prefer no heat)
Method:
Place steak in freezer while you begin rice prep.
Follow rice instructions on label (typically it's 1 1/2 cups rice to 2 cups water, bring to a boil, reduce to a simmer for 20 min, then let stand for another 10 minutes)
Slice semi-frozen steak, cutting on a bias against the grain, into the thinnest strips possible.  Prep marinade and toss steak with marinade.  Set aside.
Prep veg and place in large, covered microwaveable bowl and microwave on high for 5 minutes.
Mix sauce ingredients together and heat 1 tablespoon canola oil in wok over medium-high heat and add meat and half the sauce (about 1/4 a cup), cooking until the meat is browned on both sides.
Add the steamed veg and remaining sauce, taking care to drain the veg of water before adding it to the meat mixture.  Cook one minute longer and stir well until sauce thickens and everything is coated.  Remove from heat.
Mix the cooked rice with 1 tablespoon of mirin and 1 tablespoon of soy sauce.
Serve stir fry immediately over warm rice, sprinkle with sesame seeds and enjoy!