I am particularly fired up over Bon Appétit's March cover recipe: Savory Short Rib Pot Pies.  I'm a sucker for braised, slow-roasted meat, and placing it in pie form only further encourages me to want to cook this recipe.  Short rib pot pie reminds me of the beef and potato pasties (say: paah-stie) my parents fed me while visiting my brothers and sister in Marquette, Michigan.  My siblings all attended Northern Michigan University, in Michigan's great white upper peninsula.  My parents (and I) visited Marquette frequently to check on the educational investment they were making within their children.  The fondest memory I have of Marquette is of dad picking up pasties from Jean Kay's shop and driving us over to Presque Isle Park to enjoy a picnic lunch on the shores of Lake Superior.  Think of a pastie as a handheld pot pie only without the pot.  Copper miner's wives used to pack them in lunches because they stayed warm for hours, were filling, and of course, tasty.  I'm sure it was the single delight of a miner's day to eat a savory pastie lunch in the dark dank depths of the underground mines.
When The Hubs took his first bite of the short rib pot pie, he blurted out an expletive statement; "this is !@#*@$% awesome!!!".  And oh, is it ever.  I'm not going to lie, this is a lazy Sunday supper that takes all day to cook.  The recipe is involved and has a lot of steps but the end result is a serious Sunday supper masterpiece.  If you have time and patience, it is well worth the effort.
I changed the recipe to include potato, because what is the sum of a pot pie's parts without potato?  I also added beefy baby bella mushrooms to enhance the savory swoon.  WIN.  The red wine-braised rib meat is fork tender in a thick and rich sauce flavored with a rosemary and thyme herb bundle.  The crust is, well, crusty, but also buttery, flakey, crunchy and salty.  I want to eat this on every cold winter day.
Let's get started!
BA's recipe calls for boneless beef short ribs, which is what I thought I had purchased until I got home and unwrapped the butcher paper, oopsie.  No matter, bone-in short ribs worked just as well.  By the time the ribs are finished cooking, rib bone removal is a snap.  Plus, bones only add to the meaty flavor, right?  Anyway, the recipe calls for 3 pounds of boneless beef short ribs.  Since we are a family of only two who appreciates leftovers, I opted for 1 1/2 pounds of short ribs which probably yielded 1/2 to 3/4 of a pound of meat after de-boning and fat removal.  Begin by tempering for at least an hour outside of the fridge, then salt and pepper the ribs.  Dredge each rib in flour and shake to release the excess flour.  Using a Dutch oven or large pot, heat olive oil over medium-high and begin searing the short ribs.  I seared each rib on all 6 sides until golden brown.  Once browned, using a slotted spoon to keep the juices in the pot, remove the ribs and place in a bowl off to the side.
Add the pearl onions to the rib juices in the pot.  (Make sure they are mostly thawed.  You can totally buy fresh pearl onions and clean a billion of them to get your 10 oz worth, but why bother?)  Cook the pearl onions over medium heat for 8-10 minutes, stirring frequently to coat in the leftover rib juices.  Once browned and caramelized, use the slotted spoon to remove the onions and place them into a bowl for later use.
Lower the heat in the pot and add the garlic.  If you have enough reserved liquid in the pot, scrape up the browned bits while stirring the garlic.  Cook until fragrant, about 2 minutes.  Add the tomato paste to the garlic and cook until the color deepens, 5-8 minutes.
Tie the rosemary and thyme sprigs into a bundle with kitchen twine.  Bundling the herbs makes for easy later removal.  Add the herb bundle and wine to the pot with the garlic and tomato paste.  Bring to a boil and let boil for 8-10 minutes, or until wine has reduced by half.  Add water and, again, bring to a boil.  Add the short ribs back into the pot and reduce the heat to a low simmer.  Let simmer for 2 1/2 hours Uncovered.  Now is the time for you to make and chill your dough.  BA uses crisco (or lard) but I use good old butter.  Here is my recipe link for flaky pie dough.  At the 2 1/2 hour point, add the potato and mushroom to the pot and simmer for 30 more minutes or until short ribs are fork-tender and the sauce is thick enough to coat the back of a spoon.
Remove the rib bones (if you have them) and shred the beef, discarding any large pieces of fat that has not dissolved into the sauce.  Remove the herb bundle and add the shredded beef and pearl onions back into the pot along with the chopped thyme. Taste and add salt and pepper if needed.
Roll out the pie dough on a well-floured surface until it is about 1/8″ thick.  Choose your vessel (I used both a casserole dish and ramekins) and scoop filling to the top of the vessel.
Cut the shape of your baking dish out of your dough, leaving at least 1/2″ for overhang.
Tuck the overhanging ends under and crimp with a fork.
Brush beaten egg yolk over top of the pies, then cut small slits to allow steam to escape.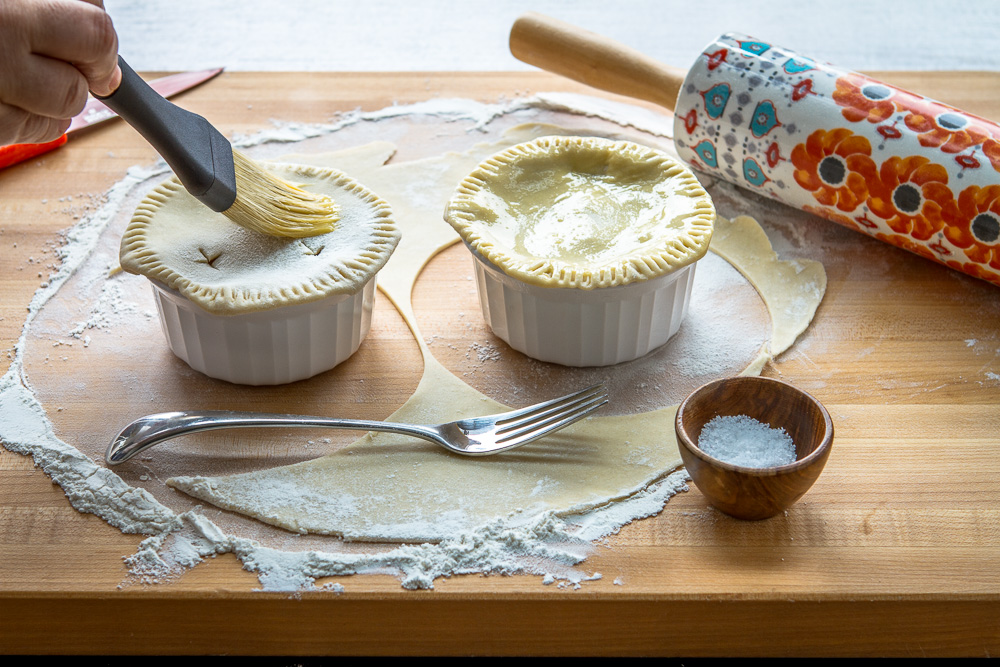 Lastly, sprinkle with coarse salt, such as Maldon or kosher.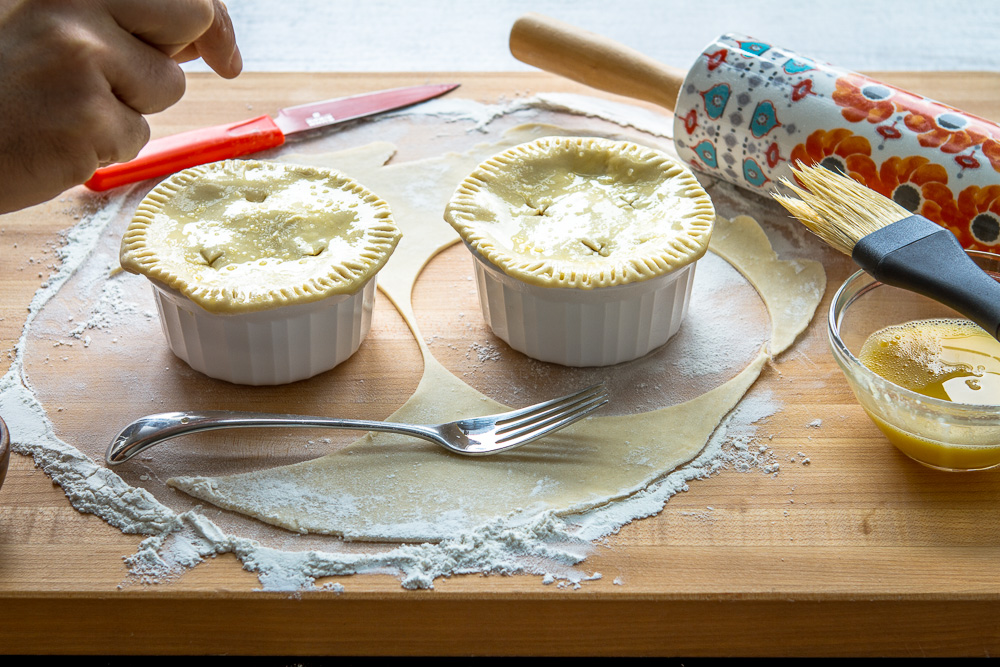 Bake at 375 for 45 minutes to 1 hour, or until crust is well-browned.
Garnish with thyme sprigs and collect accolades!!!  I'll be shocked if this isn't the fanciest, most savory, flavorful, and best tasting beef pot pie you've ever eaten.
Short Rib Beef Pot Pie
Prep time: 45 minutes
Cook time: 3 hours minutes
Bake time: 1 hour
Serves: 4-6
Print This Recipe!
Ingredients:
1 1/2 lbs boneless beef short ribs, cut into 3″ pieces
kosher salt & freshly ground pepper
1/2 cup all purpose flour
2 tablespoons olive oil
1 10 oz package frozen pearl onions, thawed
1 medium russet potato, peeled and diced
2 handfuls chopped baby Bella mushrooms
4 garlic cloves, zested
2 tablespoons tomato paste
2 cups dry red wine (pick one you'll want to later serve/drink!)
2 sprigs rosemary
6 sprigs thyme, plus 2 tablespoons chopped thyme
one egg, beaten with 1 tablespoon water
1 big pinch maldon salt
Dough:
2 cups all-purpose flour
2 sticks unsalted, cold butter, cut into cubes
pinch of sea salt
6-8 tablespoons ice water
Do this:
1. THE RIBS: Season short ribs on all sides with kosher salt and freshly ground pepper.  Dredge ribs in flour placed in a shallow dish, making sure to shake off the excess flour.  Pour olive oil in Dutch oven over medium high heat and once hot, begin searing all sides of the short ribs until well-browned.  Do not crowd the ribs, it's ok to work in batches.  Once ribs are browned, scoop with a slotted spoon into a bowl.  Set aside ribs for later use.
2. THE ONIONS: place onions in the same pot and cook, stirring occasionally to coat in rib juice until browned.  Once browned, use slotted spoon to transfer onions to a bowl for later use.
3. Reduce heat and add garlic to the pot, stirring until fragrant, about 2 minutes.  Add tomato paste and cook, stirring often, until darkened in color, 5-8 minutes.
4. Pour wine into the pot with the garlic and tomato paste.  Tie the rosemary and thyme sprigs with kitchen twine into a bundle.  Add herb bundle to wine and bring pot to a boil.  Let boil for 8-10 minutes, until the wine is reduced by half.  Once reduced, add water and bring the pot back up to a boil.
5. Return short ribs to the boiling pot.  Reduce heat to a gentle simmer, and simmer uncovered for 2 1/2 hours.
6. Make and chill your
dough
at this time.
7. At the 2 1/2 hour mark, add the mushrooms and potatoes to the pot.  Let simmer, uncovered, for 30 more minutes.
8. Once the sauce is thick enough to coat the back of a spoon and ribs are fork tender, remove the bones (if the ribs happen to have them), and start shredding the beef into the sauce.  Discard any large pieces of fat.  Place the onions back into the pot along with the shredded beef and 2 tablespoons of chopped thyme.  Taste for seasoning and use more salt and pepper if necessary.
9. Roll out the dough on a floured surface until it is 1/8″ thick.  Scoop filling into vessel of choice (ramekins or 2 quart baking dish) and place dough overtop of filling, leaving 1/2″ of overhang on the sides of the vessel.  Tuck sides under and crimp with fork.   Brush with egg wash (beat 1 egg with 1 tablespoon water) and cut slits in the top for steam venting.  Sprinkle maldon salt overtop of the dough.  Bake at 375 for 50-60 minutes (35-40 minutes for ramekins), or until crust is golden brown.