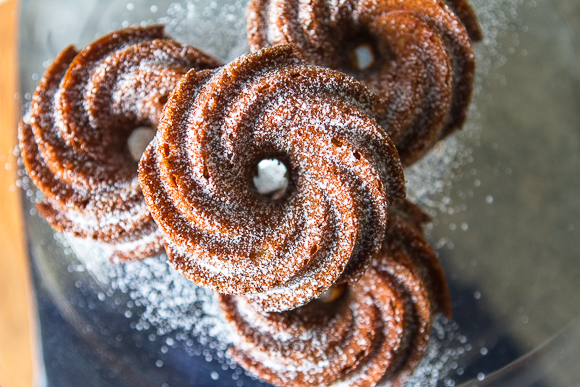 This banana muffin mini-bundt post almost didn't happen today… almost.  I always post a recipe in honor of my sister's birthday, which happens to fall on St. Patrick's day.  These banana bundts have nothing to do with St. Patrick's day other than if my sister were here, I'd have made them for her for breakfast.  This treat is simple to whip up and they bake in less than 30 minutes.  You can make the batter the night before, cover with plastic wrap, and put it in the fridge for morning.  Don't have Greek yogurt?  You can easily substitute sour cream.  I like to use a tablespoon scooper and do 2-3 scoops per bundt.  Be sure to spray your bundt pan, otherwise the batter WILL stick.  Don't have a fancy mini bundt pan?  Muffin tins work just as well, just be sure to use cupcake paper.
I have been fiercely missing the ladies in my life this week; mom's been on vacation for what seems like FOREVER and I always miss my sister on our birthdays.
I'm not sure what I'd do without either of them and I am forever thankful to call them mine.  I keep thinking about where I was at this time last year, with a 2 month old and trying figure everything out.  I'm still trying but things do seem to be getting easier, thank goodness!!  Baking seems to help me feel calm and centered, so I'm going with it.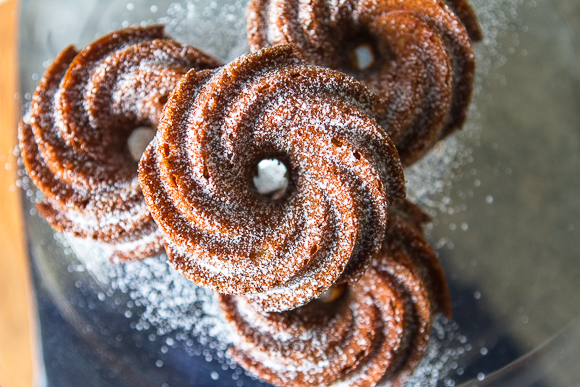 Banana Muffin Mini-Bundts
Prep time: 15 minutes (plus an hour to temper the butter)
Cook time: 1:10 minutes
Ingredients:
1 stick butter at room temperature
1 cup granulated sugar
2 large eggs
1 1/2 cups all-purpose flour
1 teaspoon baking soda
1 teaspoon kosher salt
1 cup overripe (see above photo!) bananas, mashed
1/2 cup nonfat plain Greek yogurt
1 tablespoon good vanilla extract
Method:
Preheat oven to 350 and remove butter allowing it to come to room temperature
Whisk together flour, baking soda and salt in a medium-sized bowl, then set aside.
In a stand blender or handheld mixer, blend the softened butter with the sugar until fluffy and creamy.
Add eggs to the butter mixture and blend until incorporated.
Add flour mixture into butter and egg mixture and mix until just blended, do not overmix.
Lastly, add mashed bananas, yogurt, and vanilla to the batter.
Scoop batter into a greased mini bundt pan and bake at 350 for 25-30 minutes.  The muffins are done when a toothpick inserted in the center comes out clean.
Remove muffins from mini bundt pan and place on rack to allow to cool
Dust with powdered sugar, serve warm