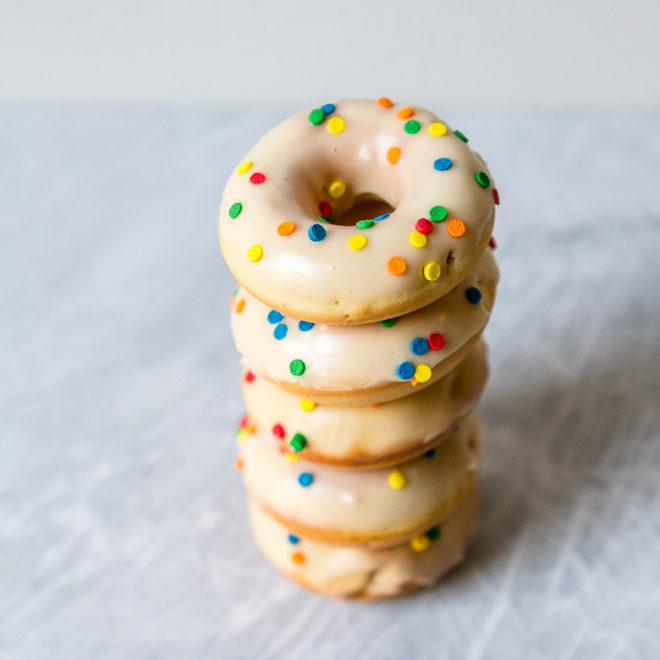 Baked doughnuts are definitely not fried doughnuts but basically eating a doughnut for breakfast is like eating cake for breakfast so everyone still wins.  This particular doughnut is in fact called a cake doughnut, meaning there isn't any yeast involved.  You can totally be eating doughnuts in roughly 30 minutes from beginning to end and I like that timeframe!  P ate his first doughnut ever, or rather, stole and ate his first doughnut ever.  I looked down to check my camera settings and turned around to this face…
Here are a couple of first time doughnut baking tips…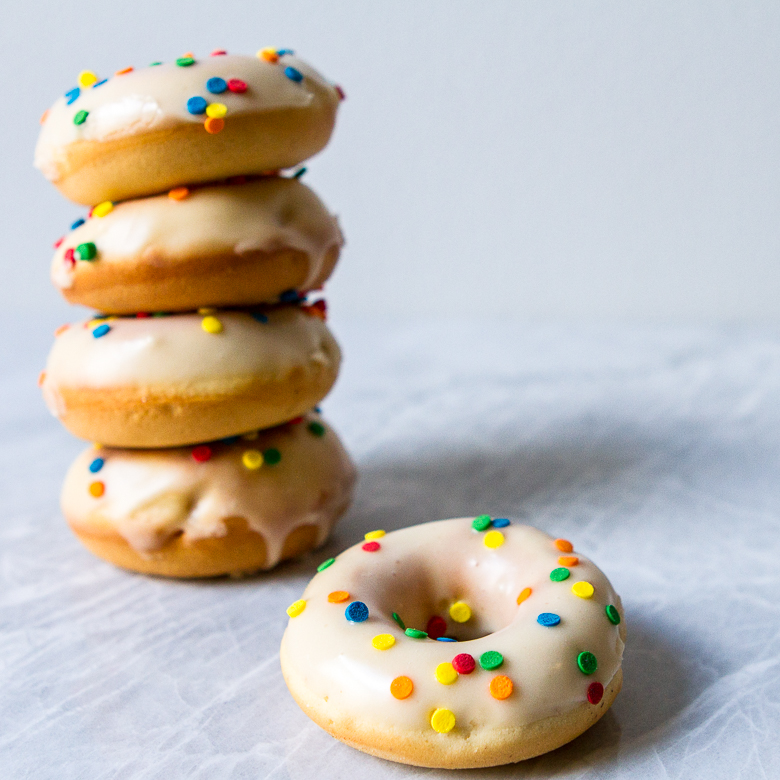 I started with a big bowl and an electric hand mixer and wished I had used a stand mixer instead.   The batter will be very thick and it's better to let a stand mixer do all the work.  I bought my mini doughnut pan from Williams Sonoma.  If you are baking for a crowd, I'd recommend buying two pans to bake at once and cut down on bake time.  Take the paper from your butter and use it to grease your doughnut pan.  Also, I found using chop sticks very helpful for flipping the doughnuts over in the pans.  They might leave a little hole in the side but at least you won't burn your fingers.  I below included a recipe for a vanilla glaze but if that's not your jam you can always shake the warm doughnuts in cinnamon sugar or powdered sugar.
Baked Glazed Mini-Doughnuts
Recipe from King Arthur Flour
Prep time: 20 minutes
Cook time: 10 minutes
Makes: 24-36 mini donuts or 12 big doughnuts
Ingredients:
4 tablespoons softened butter
1/4 cup veg oil
1/2 cup granulated sugar
1/3 cup brown sugar
2 large eggs
1 1/2 teaspoons baking powder
1/4 teaspoon baking soda
1/2 teaspoon ground nutmeg
3/4 teaspoon salt
1 teaspoon vanilla extract
2 2/3 cups all purpose flour
1 cup milk
Method:
Preheat oven to 425 and grease the doughnut pan.
Using a stand mixer with paddle attachment, beat together on medium speed the butter, oil, and both sugars until smooth.
Add the eggs, one at a time, beating in-between each one to be sure the first is well-mixed until adding the second egg.
Add the baking powder, baking soda, nutmeg, salt and vanilla extract.  Beat on medium speed until incorporated.
Next, add some of the flour to your mixture, 1/2 a cup at a time, alternating with adding milk, 1/4 of a cup at a time.  Start and end with adding flour last.
Fill piping bag or ziplock back with batter and pipe into pre-greased doughnut pans, filling just 1/4″ shy of the rim.
Bake at 425 for 5 minutes, flip, then bake another 5 minutes, until browned on top.
Bonus: while the doughnuts are baking, make a vanilla glaze.  Whisk together 1 1/4 cup confectioners sugar with 1 tablespoon melted butter, 1 tablespoon light corn syrup, 2 tablespoons milk, 1 teaspoon vanilla extract.  Dunk warm doughnuts into glaze and finish with sprinkles!