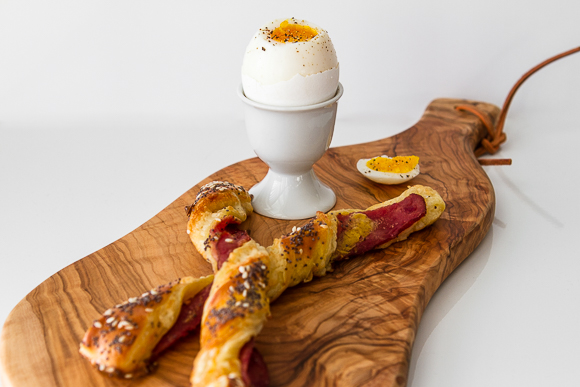 OMGGGGGGG.  When Bobby Flay came up with this recipe, he really hit it out of the park.  Homer.  It looks so impressive but is fantastically easy.  Like "serve-it-to-guests" impressive but "you-only-need-30-minutes-to-make-it" easy.  And the twists are the perfect dunking width and length, specifically made for sopping up all that glorious runny yellow yolk.
As long as you thought ahead to thaw your puff pastry, you are all set to go.  Roll out the puff so it's about 12″ by 16″.  Position the dough so the 12″ length is at your belly.  Sprinkle the bottom half of it with cheese and fold the top half over the bottom half.  Use your rolling pin and roll to meld the  two halves together and make the cheese part of the pastry.  With a knife or a pizza cutter, cut 12 even strips, the longest way.  They should be about 1″ wide each.
(You can do this part a day in advance and put the strips into the fridge to save for the next morning.)
I did see a flaw in Bob's recipe.  He uses real bacon and the end result looked suspiciously floppy for the fatty bacon parts covered with baked puff.  Because no one likes floppy, undercooked bacon, I instead used solid meat turkey bacon.  I found really good turkey bacon that tastes like real meat!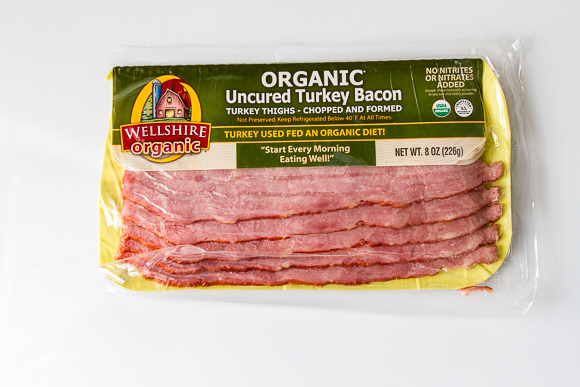 Since this turkey bacon is so wide, I cut it in half, lengthwise, before placing the strips onto the puff.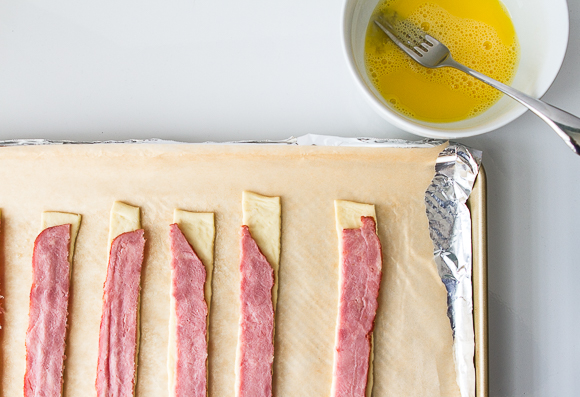 Twist the puff no more than two times, holding one end straight while turning the other.  Wash with egg and sprinkle with poppy seeds, sesame seeds and flaky salt.
Bake at 375 for 15-20 minutes.  Transfer twists to a wire rack to cool, otherwise they'll get soggy.  Eat them while they are still warm though!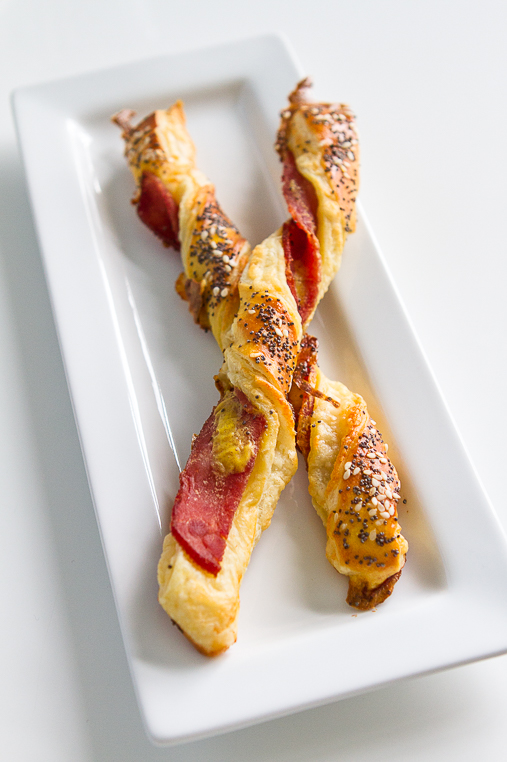 Boil water in a saucepan that is high enough so 1″ of water will cover the egg while boiling.  Once boiling, add eggs to pan and cook for 5 1/2 minutes.  Pour off most of the water, then rinse for 30 seconds with cold water.  The yolks should be perfect and runny with the whites firm and cooked.  Serve in an egg cup (I scored these for $.99 at World Market) with the top peeled off and dunk your bacon puff sticks into the yolk.  Thanks, Bobby!
Bacon Cheddar Twists with Soft Boiled Eggs
(recipe only slightly altered from Bobby Flay's Brunch with Bobby)
Prep time: 10 minutes
Bake Time: 15-20 minutes
Egg Boil Time: 5.5 minutes
Makes: 12 twists, as many eggs as you like
Bacon Cheddar Twist Ingredients:
non-stick spray
1 extra large egg
2 teaspoons Dijon mustard
1 sheet frozen puff pastry, thawed
flour, for rolling
1/2 grated sharp white cheddar cheese
6 strips Wellshire organic turkey bacon, cut in half lengthwise
sesame seeds, poppy seeds and flaky salt
Soft Boiled Egg Ingredients:
2 – 4 eggs, based on how many folks are eating
salt & pepper to taste
Method:
Preheat the oven to 375 and line a baking sheet with parchment paper.  Spray parchment with non-stick cooking spray.
Whisk the egg with dijon and a teaspoon of water, set aside.
Sprinkle flour on work surface and roll out the puff pastry to a 12″ x 16″ rectangle.  The shorter length should face the bottom of the surface.  Sprinkle cheese over the bottom half of the puff.  Fold the top half over the bottom, encasing the cheese in the puff.  Roll with rolling pin to seal in the cheese.
Cut the dough into twelve 1″ strips lengthwise.
Place 1/2 a piece of turkey bacon onto each strip, then twist and place onto the parchment lined baking sheet.  Brush exposed puff with egg wash and sprinkle with seeds and salt.
Bake at 375 until golden and puffed, about 15-20 minutes.  Transfer from baking sheet to a wire rack to cool for 5 minutes before eating.
Boil water in a medium saucepan so it will cover the egg by 1″.  Place eggs into boiling water and boil for 5 1/2 minutes.  Drain almost all the water in the sink, then run under cold water for 30 seconds.
Serve eggs in egg cups and peel upper half of egg to expose yolk.  Season with salt and pepper and serve with twists for dipping.
Thanks BOB!