Happy Anniversary to my blog!  I started M's Belly on WordPress officially 60 posts and one year ago today, with a post about mini beef wellingtons.  To commemorate the occasion, I baked my friend Alena's zucchini cake recipe.  Alena is the first official friend I made after moving to Nashville, waaay back in 2008.  On the day we met, I had gone up to my building's rooftop to read a book.  Two hours, a nap, and one sunburn later, I realized I had locked myself out of my condo.  I began knocking frantically on all of my neighbor's doors, on the verge of tears, desperate for the use of a phone (because of course I had forgotten mine in my tightly locked condo).  Hers was the last door I tried, and thankfully, she answered.  More importantly, she was totally game to try to help me break into my condo.  In fits of awkward giggles, we quickly destroyed her plastic library and Kroger cards on my seemingly impenetrable lock.
An hour, seventy-five dollars later, and faster than you can say, "slim jim", a locksmith showed me just how easy it was to jimmy open my door.  By that time, however, I had made my first Nashville friend.  Alena invited me to her place for a Fourth of July party later that evening where she introduced me to her work friends and also to her very well-organized sister.  It was at the party that Alena and I bonded over our ACL replacement knee scars, sharing the same middle name, an embarrassing love for shih-tzu's (on my part), and growing up in Polish, Catholic households.  I ended the evening watching fireworks with a new friend from our shared rooftop, and this time, I remembered my keys.  Alena was my first guinea pig when I took up cooking as a hobby.  However, on the day we met, she was the first to cook for me and she baked this zucchini cake.  It's her "go to" dessert and it's everything; crusty on the outside and moist on the inside, with tons of warm flavor.  Bake this cake and your home will smell like holidays.  Just don't forget your keys if you step outside.
I may have jazzed A's cake up just a wee bit with my favorite Indian spice, garam masala.  She bakes hers in a 9×12″ glass pan and slathers it with thick cream cheese frosting.  DELICIOUS, yes, but I wanted to put my own spin on her recipe so I'm making mine in a bundt pan with a garam masala and cardamom glaze.  The spices in the glaze really warm up the cake!
First things first, preheat your oven to 375 degrees.  Using a box-grater, grate your zucchini until you have about three cups.  (It took me two and a half medium-sized zucchinis to get three cups worth of grated zucchini.)  Do not wring out the grated zucchini, the liquid held in the zucchini helps to make a very moist cake!  Using a stand or handheld mixer, beat eggs, sugar, vanilla, and oil on low until blended.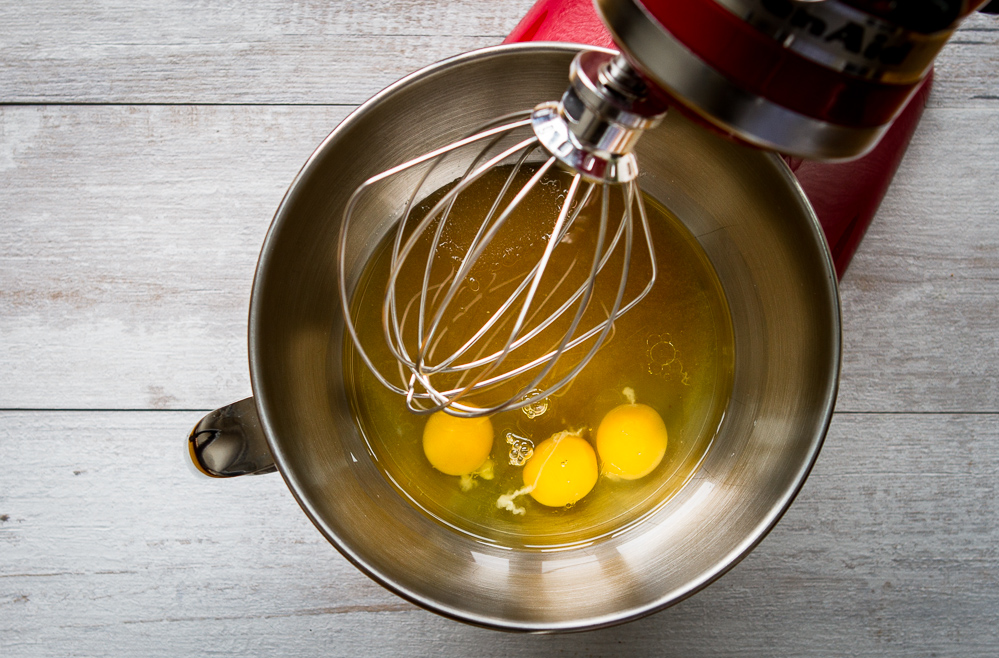 In a separate bowl, whisk together flour, cinnamon, nutmeg, garam masala, baking soda and salt.  Slowly add the flour mixture to the egg mixture, beating on low, then increasing speed to medium.  Lastly, remove bowl from stand and, using a spatula, fold in the zucchini by hand.  Grease and flour the bundt pan (or whatever pan you are using).  Remember to tap the bundt pan, upside down, against the side of your sink to release the excess flour.
Pour the batter into the pan, leaving an inch of room at the top for the cake to expand.  Have extra batter?  Make cupcakes!
I baked my zucchini bundt cake at 375 for 1 hour and 20 minutes.  Using a toothpick, check the cake after 60 minutes of baking, and then every 10 minutes following the initial 60 minutes.  When the toothpick comes out cleanly, you'll know the cake is ready.  If you are using a 9×12″ pan, you may only need 40-50 minutes total.  The thicker the cake, the longer time it will take!  I would give cupcakes probably 30-40 minutes.
Time for the glaze… By all means, please google a cream cheese frosting recipe if that is your preference.  I've rarely met a cream cheese frosting I didn't like.  However, with a bundt cake, I think a glaze is a better fit.  In a small bowl mix confectioner's sugar, milk and scant pinches of garam masala and ground cardamom seed.  I gave each spice a four-fingered pinch, then added more to my taste after the initial pinches.  The cardamom gives a barely-there floral taste, and the garam masala lends warmth and depth.  Too thick?  Add more milk.  Too thin?  Add more sugar.  Drizzle over top of bundt, making sure to get into all the cracks and crevasses.  This cake also works very well for impressing your book club ladies!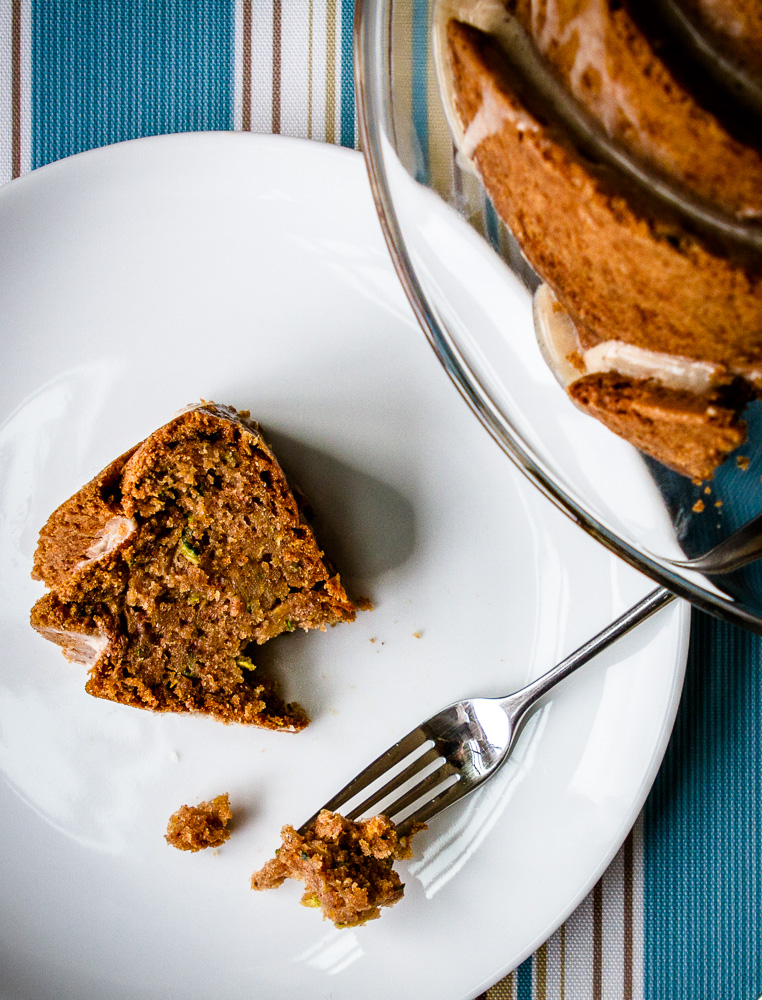 Alena's Zucchini Cake
Prep time: 20 minutes
Cook time: 40-80 minutes
Makes: 1 bundt cake (8-10 servings)
Print This Recipe!
Bundt Cake Ingredients:
1 1/2 cups sugar
1 cup canola oil
3 eggs
1 1/2 teaspoons vanilla
2 cups all purpose flour
1 teaspoon baking soda
1 1/2 teaspoons ground cinnamon
1 teaspoon ground nutmeg
1/4 teaspoon garam masala
1/2 teaspoon salt
3 cups shredded zucchini
Glaze Ingredients:
3/4 cup powdered sugar
2 tablespoons milk
1 large pinch garam masala
1 large pinch ground cardamom
Method
Preheat oven to 375 degrees.  Beat sugar, oil, vanilla, and eggs on low until well mixed.  In separate bowl, whisk together flour, baking soda, cinnamon, nutmeg, 1/4 teaspoon garam masala, and salt.
Slowly add flour mixture to egg mixture, increasing speed as necessary.  Using a spatula, scrape down the sides of the bowl, and fold in the shredded zucchini.
Add batter to bundt pan, leaving 1″ of room at top of pan for cake expansion.
Bake at 375 for 60 minutes, check with toothpick, and add more time, if needed, making sure to check every 10 minutes.
Let cake cool for 30 minutes before glazing.  To make glaze, in a small bowl combine confectioner's sugar, a pinch of garam masala, a pinch of ground cardamom seed, and 2 tablespoons milk.  Mix with a fork until well-combined.  Taste and add more spice, scant pinches at a time, if desired.  Drizzle glaze overtop of bundt.